Dining at Keene State

Dining on campus isn't only about the food—it's also about convenience, new experiences, friends, and fun. In addition to a variety of daily dining options, your meal plan is also your ticket to special dining events like Localvore Lunch and Global Chef. There are many ways to use your Meal Plan to fit your schedule and tastes.
---
Meal Plan Information
Residential students are required to purchase a meal plan. Only students living in Bushnell or Pondside II are exempt from this requirement. Board meals may be used at the Zorn Dining Commons, Hoot 'n' Scoot, and Night Owl Café. All of our dining locations accept cash, Owl Cash, Dining Dollars, Meal Plan Dollars, and Owl Cash.
---
Menus and More
---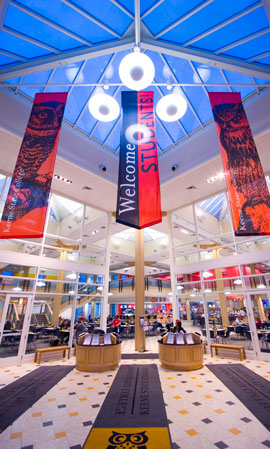 The Zorn Dining Commons is a modern, light-filled, dine-in, "all you care to eat" facility. Once you enter "the DC" you'll find seven permanent service stations offering myriad choices including pizza, full course meals, deli, stir-fry, soups, salads, a grill, a vegan station, and a gluten-free area. Seating options that allow you to comfortably sit with a group or on your own. WiFi is available in the DC so you can catch up online.
The Hoot 'n' Scoot is a grab-n-go dining option. Here you can "Pick 4" items to make up a full board meal, or purchase individual items from the menu. The Hoot is the place on campus to get a board meal to go, which is ideal for those days when you have a late class, will be off-campus for the day, or if you just want to have "something for later" in your fridge.
The Night Owl Café is located on the 2nd floor of the L.P. Young Student Center. During the week you can use a board meal to get the famous "NOC Sizzler" made especially for you! The NOC Sizzler comes complete with chips and soda to make it a meal.
Lloyd's Marketplace the Bean & Bagel Express and Food on the Wing are open early and stay open long after the DC and Hoot are closed. Use your Meal Plan Dollars, Owl Cash and Dining Dollars for made-to-order smoothies, breakfast sandwiches, pizza, burgers, sandwiches, wraps, fries, cheese sticks, quesadillas and more — just the way you like 'em. Located on the 1st floor of the L.P. Young Student Center.
---
Contact Dining Services
Owl Card Office
Academic Year Hours: 8 a.m. - 4:30 p.m. Monday - Friday
Summer Session Hours: 11 a.m. - 1 p.m. Monday - Friday
owlcard@keene.edu
603-358-2673