Disability Services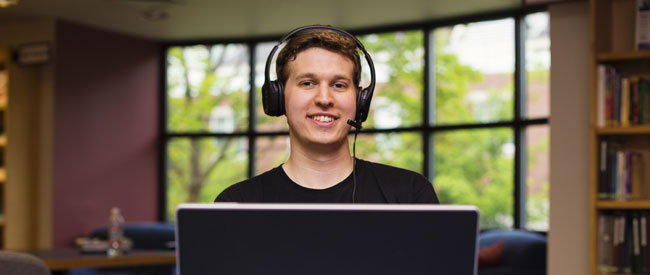 The Office of Disability Services (ODS) is where students with documented disabilities can request accommodations provided under Section 504 of the Rehabilitation Act of 1973 and the Americans with Disabilities Act (ADA) of 1990, which enable equal access to College programs and activities.
---
To establish eligibility for services, the Office of Disability Services requires documentation that both verifies the existence of a disability and provides a rationale for accommodations. More about How Do I Qualify?
---
"Disability Services assigns note-takers for free, provides a place where I can view the notes, and makes sure they are clear. The office also apprises my professors on my hearing impairment and suggests ways they can help me during class, e.g. to look directly at the class, speak clearly, etc."
– Jaime Del Pizzo '13
Film Studies major
---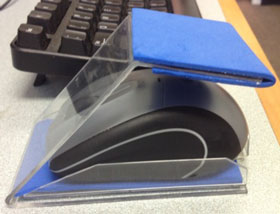 A button adapter built by ODS to assist a student with wheel-button heavy, computer aided drafting software.
Assistive technology (AT) is any tool that helps students with disabilities do things more quickly, easily or independently. It can be elaborate and expensive or simple and low-cost.
---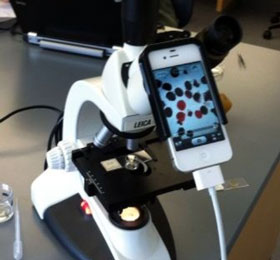 Professor Karen Cangialosi, Biology, is successfully using assistive technology in the classroom by using an iPhone to help student's see what's under the microscope.
For students with disabilities, many times the recipe for success is a combination of accommodations and active utilization of additional support services.
---
"As a transfer student to KSC, the change was overwhelming and the academics very challenging. If it were not for the ODS support team I wouldn't have had a 3.7 GPA last semester. The accommodations of extra time for exams, a quiet space to take my exams, using digital textbooks with my screen reader technology, and note taking services have really contributed to my success as a student."
– Bradley Bookbinder '15
Psychology major
---
Contact ODS
Office of Disability Services
229 Main Street
Keene, NH 03435-2609
Phone: 603-358-2353
Fax: 603-358-2313