Recreational Sports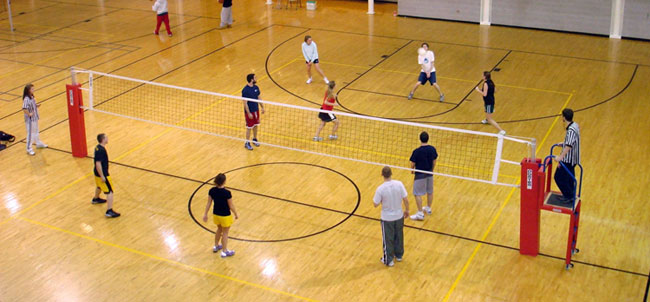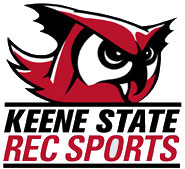 Do you want to become fit? Do you want to stay fit? Do you want to enhance your overall well-being? Then try one of the many programs offered by Recreational Sports, such as intramural sports, group fitness classes, or just work out in the weight room or cardio room on your own.
The Recreational Sports program provides fitness and wellness activities for the development of healthy lifestyles for the entire Keene State College community. Whether you like to work out individually or you are into competitive activities, Recreational Sports and the Recreation Center has something for everyone. Get Fit, Be Healthy, and Have Fun Doing It!
---
The Rec Center offers student, faculty and staff numerous membership options throughout the year. Please take a look at our plans, benefits and eligibility details.
---
The Rec Center strives to be open and available as much as possible. Please check out our hours of operation for more details.
---
The mission BodyWorks is to help motivate everyone in the campus community to achieve and maintain a lifestyle of wellness; defined as a high level of physical, emotional, and intellectual health. The goals of BodyWorks are based on the expectation of improved physical health and vitality, as well as enhancement of academic and workplace productivity that result from regular physical activity.
---
A very popular extracurricular activity on campus, intramural sports is a great way to meet new people, reconnect with friends, continue playing the sports you have grown to love, or try a new activity.
KSC offers team, dual, and individual leagues in which participants compete for the coveted champion t-shirt. Through participation in physical activity, the Intramural Sports Program seeks to promote wellness, develop friendships, and to encourage the wise use of leisure time.
---
The purpose of the Sport Club Program is to provide students an opportunity to participate in an organized team or individual sport program and to enhance their skills in a particular sport.
The benefits of club sport participation may include the development of student leadership skills, a team-oriented environment, enhanced physical fitness, development of skills in a particular sport, stress reduction, and friendship.
---
The group fitness program is open to all Recreation Center members and Walking Track/Group Fitness members. Take a look at what we have to offer today!
---
Recreational Sports offers several special events throughout the year that are open to all KSC students, faculty, and staff. These events include the Owl 5K Fun Run/Walk and the Indoor Triathlon Challenge.
Be on the lookout for announcements when the event sign-ups take place throughout the year or inquire at the front desk of the Recreation Center.
---
Recreational Sports offers pool hours for lap and recreation swim for KSC students, faculty, staff and alumni during the academic year and summer. For more information about how to use the pool and what the pool hours are for the year, click on Pool on the right-hand side bar..
Find out more about how to use the pool and what the pool hours are for the year.
---
Keene State is home to some of the region's top facilities. The campus community has access to indoor recreation and athletic facilities in Spaulding Gymnasium and the Recreation Center as well as outdoor athletic fields and facilities on Sumner Joyce athletic field and at the Owl Stadium Complex.
---
Looking for good places to walk or jog? The KSC campus and surrounding area is replete with great routes for both.
---
Are you a student who is interested in working at the Rec Center? Learn more about opportunities to teach, referee and more!
---
For a complete reference of all rules, policies and practices for the Rec Center, please visit this site.
---
Lynne Andrews
Director of Recreational Sports
603-358-2815
Front Desk: 603.358.2826