Think critically. Act creatively. Serve the greater good.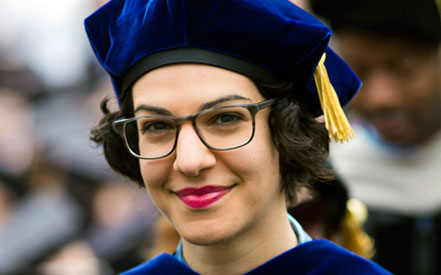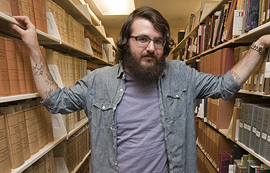 "The faculty and students here are on a first-name basis, with great opportunities for research."
Ryan LaLiberty, American Studies major, now in graduate school
Your education – as a scholar, as a citizen – is our goal. At Keene State, academic excellence and civic responsibility go hand in hand. Working as an academic community, we accomplish this through:
Small classes and access to faculty from the start
A 100-year tradition of hands-on learning and service to others
Thorough preparation for careers and a purposeful life
Encouraging students to discern, to distill, to synthesize
This is the power of a liberal arts education. We call it wisdom to make a difference. More about Education with Purpose and Passion
---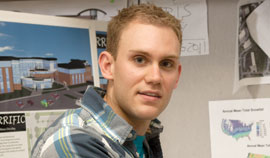 "What I love about my major is that our design solutions have an enormous impact on people's lives. We are designing the future."
Chris Riley, Architecture major
Whatever you plan for your future, Keene State can give you the knowledge and skills to put you on the path to success. Whether you see yourself as an artist, a teacher, a nurse, a scientist, a physical trainer, a business leader, a designer for high-tech manufacturing – let your imagination be your guide – we offer over 40 areas of study to get you where you want to go. More about Areas of Study
Check out our list of programs – plenty of wise choices await.
---
---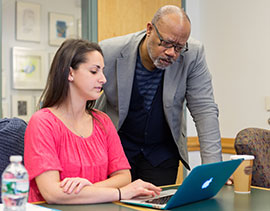 Education (M.Ed. and certification programs): Keene State began as a teachers college, dedicated to raising the standards in that profession. Today we graduate hundreds of teachers each year with dual bachelor's degrees in teaching and in a content area, and we also offer several graduate programs for educators. Our Graduate Studies office can help you reach your professional goal.
Safety & Occupational Health Applied Sciences (M.S.): Advanced study for individuals engaged in protecting the health and safety of employees in the workplace. More about Graduate Studies
---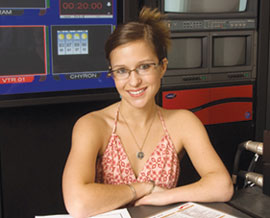 "Because of KSC's summer courses, I am graduating on time."
Morgan Mitchell, Journalism major
Continuing Education offers courses year-round:
For professional development
For students wanting to earn credits in the summer
To upgrade workforce skills
To satisfy your curiosity
The courses are open to all – simply pay tuition and fees on a per-credit basis at registration. Our programs are flexible to accommodate busy schedules. More about Continuing Education
---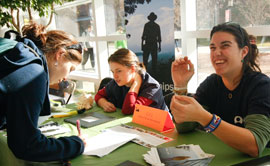 Job fairs bring students face-to-face with prospective employers
The Academic and Career Advising (ACA) office helps students connect academic success in college with jobs and careers. KSC advisors help students develop realistic educational plans to meet their goals.
ACA helps new students make the transition to college
ACA helps all students decide on a major and map out the path to graduation
ACA sponsors job and internship fairs and career advisories
ACA teaches students how to write effective résumés and cover letters
Learn more about the wealth of services and support available to students. More about Academic and Career Advising
---
---
Where to Study?

Keene State offers study away programs in 25 countries

Financial Fact

KSC students' financial aid can be used to study away
The Global Education Office (GEO) creates and supports opportunities for KSC faculty and students to undertake engaged learning in global settings. GEO works with KSC students who study away, incoming international exchange students, and faculty-led programs. Our students and faculty broaden their horizons around the world. More about Global Education Office
---
"We see that students are developing stronger skills in writing, are more challenged and more confident in their ability to meet new challenges, and are getting a better sense of what is happening in the world around them."
Dr. Gordon Leversee
Keene State believes in the value of a liberal arts education—that the best way we can prepare you for the future is to teach you to think critically and creatively, to communicate effectively, and to understand the connections between the different branches of knowledge. More about Integrative Studies Program
---
The Morris-August Honors Program provides exceptional students with intellectual stimulation and academically rich experiences for personal and professional growth. Students work closely with fellow students and professors and engage in creative and critical inquiry. They integrate and expand on what they are learning in Honors courses by attending enrichment activities and events both on and off campus. More about The Morris-August Honors Program
---
Faculty Enrichment includes programs that focus on faculty—often as teachers, but also as scholars, as members of the community, and as individuals. Faculty Enrichment also includes a variety of efforts to facilitate faculty success, increase student learning, and stimulate organizational change toward those important ends. More about Faculty Enrichment
---
Contact Academic Affairs
Academic Affairs Office
Provost and Vice President for Academic Affairs
603-358-2112
provost@keene.edu
229 Main Street
Keene, New Hampshire 03435-1501