Alumni

Alumni Association
Founded by graduates in 1910, the Keene State College Alumni Association has a robust network of graduates. Through committees, regional activities, college involvement, alumni events, programs, benefits, and services, the Alumni Association promotes the welfare of alumni and Keene State College.
---
a network of
33,000+
graduates
Make your connection casual or constant – and please let us know how to stay in touch with you! Here are ways to connect:
---
All KSC alumni can take advantage of on-campus benefits, such as summer Rec Center membership, pool and racquetball use at Spaulding Gym, library privileges at Mason Library, discounts at the KSC bookstore, and lower rates at arts events and area lodging. Need to book a meeting room at the Alumni Center or use the College Camp for a day? Need a transcript, career counseling, or help with job searches? The Alumni Office is here to help. More about Benefits & Services
---
A Proud Heritage of Achievement and Service
Keene State College has nearly 34,000 living alumni, people who took to heart the College motto, "Enter to learn, go forth to serve," when they graduated.
Keene State alumni make a positive difference in the world every day: in education, the sciences, the arts, business, and industry. Alumni apply their knowledge and wisdom to their work, their personal lives, and their communities. They volunteer. They connect. They speak out. They step up.
---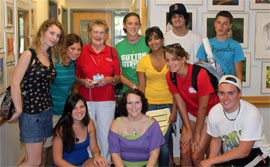 Whether it's sharing the history and tradition of the college, giving advice on a major or graduate school or offering guidance along a career path, Keene State alumni are valuable resources for students in many ways.
---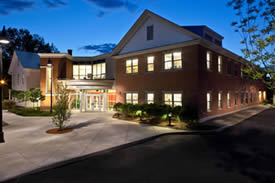 Built in 2009 during the Centennial, and dedicated in 2010, the Alumni Center is a gathering place for alumni, students, and friends of Keene State. Spacious Centennial Hall hosts alumni meetings, job fairs, Golden Circle luncheons, lectures, concerts, and many other events. Conference rooms, a call center, and project spaces throughout the building allow alumni to meet with students, the business community, nonprofit groups, and others. More about Alumni Center
---
---
Contact the Alumni Office
Alumni & Constituent Engagement
Barry Alumni House
229 Main Street
Keene, New Hampshire 03435-2701
603-358-2369
800-572-1909