Academic and Career Advising

Campus Connection - Fall 2017
Welcome to KSC. Time, on a college campus, has a rhythm of its own. Weeks zoom by and soon critical deadlines are upon us. In this first issue of Campus Connection, 2017-2018 we provide you dates of upcoming events that are bound to make a difference to your semester.
REQUIRED ADVISING
Registration for Spring 2018 classes begins Monday, October 16. See your advisor early.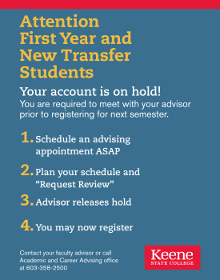 Your account is on hold!
You are required to meet with an advisor prior to registering for next semester.
Schedule an advising appointment ASAP
Plan your schedule and "Request Review"
Advisor releases hold
You may now register
---
Check out useful Academic and Career Advising tools:
FOCUS2, an online assessment tool to help you determine your academic major and desired career path. The tool uses surveys to assess interests and aptitudes and help you find academic programs at KSC and potential career paths that would be a good match.
JobWISE, an online career services tool listing jobs and internships. Additionally, you can log into the system to use additional tools such as applying for jobs directly through JobWISE, bookmarking favorite job listings, and referencing our Career Resource Library with helpful information about resumes, cover letters, and other career related subjects.
---
Hosted by Admissions and Academic and Career Advising
Numerous Campus Locations
Saturday, October 14 and Friday, November 3
11:00 am - 12:30 pm
This event is in conjunction with the Keene State College Fall Open Houses for students and families beginning the college application process. Each academic department welcomes students to learn more majors and minors. This is a great opportunity for undecided students to identify a major and for those with a major to identify a minor.
---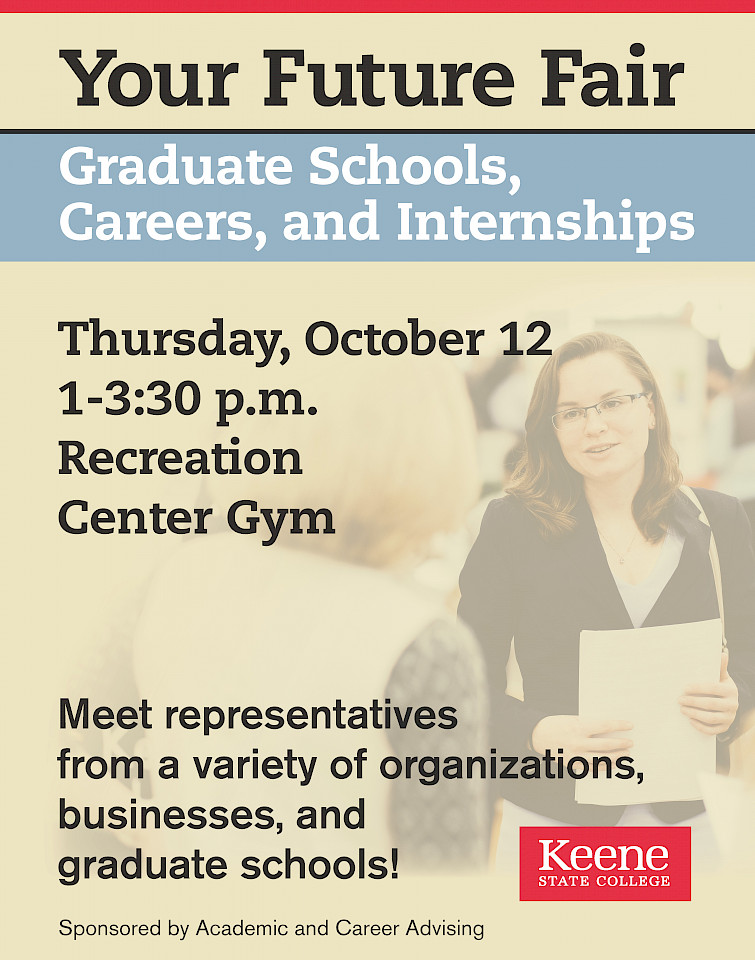 THURSDAY, OCTOBER 12, 2017
1:00-3:30 PM
Recreation Center Gym
Over 120 schools and employers
Talk with employers from a variety of organizations and businesses!
---
---
Contact Academic and Career Advising
Academic and Career Advising Office
603-358-2500
Elliot Center
229 Main Street
Keene, New Hampshire 03435