Links Program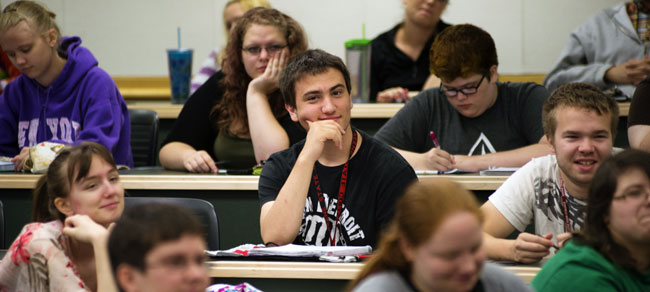 A Summer College Experience
Want to feel comfortable and be familiar with the campus before fall?
Want to get a start on your college program this summer?
Would you like to develop leadership skills and make friends before fall?
Imagine. You arrive on campus with thousands of other students, but you know this campus. You know people, what resources are available, where they're located and who to see in each office.
And imagine feeling confident when classes begin because you're familiar with this new academic environment. And you've already completed three college courses and earned nine credits!
For Current Links faculty & staff: Please go to the Links staff portal.
What is Links?
The Links Program is a five-week summer program designed for first-time college students. The purpose of Links is to expose students to the academic and social expectations of college in a supportive learning community. The program takes place in classrooms, a residence hall, around campus and in the local Keene community.
Co-curricular and classroom components are integrated thematically in an attempt to make learning relevant and meaningful. Links components are designed to enhance critical skills such as college reading, writing, critical thinking and communication. At the close of six-weeks, students are better able to handle the varied demands of college and be active, contributing members of the Keene State College community.
Why Links?
The Links Program is designed to ensure beginning college students have a successful and fulfilling academic experience. It allows students to enter college through a challenging, yet rewarding program that builds confidence and the connections that lead to making the most out of their time on campus. They earn college credits and make contacts at KSC and in the greater Keene community. The Links students form relationships with KSC faculty, staff and other students that give them a head start on their fall semester and the rest of their college career. Many students take a summer course or two at some point before graduation. Links is your chance to create a solid foundation for your academic career!
Links offers:
Introduction to campus life and the KSC community
Leadership and volunteer opportunities
Small classes
Skills enhancement and practice
Tutoring and group study sessions
Are you a Links student?
You may well be! Links students are recent high school graduates and those out of school for a while. Most are planning to attend Keene State; some will attend other institutions. Most live on campus during the program, but some do not.
Yet, all Links students work hard to develop clear priorities during the five weeks of the program. And all Links students are strongly encouraged to take advantage of the activities and events the program offers as well as the individual and group advising and assistance.
The Links residential staff coordinates social, cultural and recreational events for Links students, keeping in mind students' interests and preferences.
---
Contact Aspire
Beth Zinn
Sr Program Support Assistant
603-358-2325
The Aspire office is located on the first floor of the Elliot Center (map).