Kids on Campus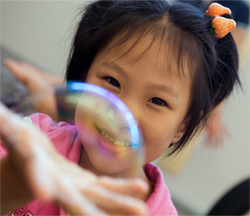 2017 Summer Programs
Designed for children in preschool through eighth grades, Kids on Campus combines equal parts fun and learning. Kids on Campus sessions run half a day for one week, either in the morning (9 am-noon) or afternoon (1-4 pm).
Classes for Summer 2017 ran during the weeks of
June 26 - 30 (The Great Green Show for Grades 4 - 8, offered in collaboration with NHDI). Please note! No before or after care available for this camp.
July 10 - 14
July 17 - 21
July 24 - 28
July 31 - August 4
Summer 2017 courses
Cost is $125/week for a half day of classes, and $200/week for a full day of classes. Preschool camps are $225/week, and Go STEM is $250/week.
Limited Counselor in Training (CIT) opportunities are available. CITs work directly with the teachers and children in the classrooms. The cost is $75. Contact hjasmin@keene.edu.
For more information, contact the Continuing Education Office at 603-358-2290 or continuing-ed@keene.edu.
Keene State College's federal tax ID number is 02-6000-937.