Kids on Campus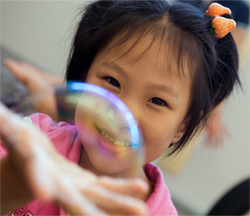 2018 Summer Programs
Welcome to the 13th year of Kids on Campus! Offered by Keene State's Office of Continuing Education, and held on our beautiful campus, this program combines fun and learning for youth entering preschool through grade 8. We're excited about our 2018 offerings and look forward to having your child join us.
Most classes run a half day (9 a.m.-noon or 1-4 p.m.) and are designed for students in grades 1 - 2, 3 - 5, and 6 - 8. We encourage you to select classes based on your child's interest and maturity level. If you have questions about class content, please don't hesitate to contact us.
Registration will begin on March 5!
The Summer 2018 schedule is as follows:
June 25 - 29 (Full day dance camp, offered in collaboration with the NH Dance Institute). Please note: Before or after care not available for this camp.
July 9 - 13
July 16 - 20
July 23 - 27
July 30 - August 3
Prior to May 1, weekly fees are $125/half day; $200/full day; $225/Preschool; and $250/Go STEM! After May 1, fees increase by $25 per program. Before and after care fees do not change.
Parents are responsible for supplying snacks and drinks for break time, and lunch for full day campers. Parents are also responsible for waking children to their class and picking them up in the same area at the end of their camper's day. Keene State staff members supervise all breaks, bring full day campers to a lunch area, and lead an activity before bringing campers to their afternoon classes.
Limited Counselor in Training (CIT) opportunities are available. CITs gain valuable experience by working directly with the teachers and children in the classrooms. The cost is $75. Contact hjasmin@keene.edu for more information.
If you have any questions about Kids on Campus, please contact the Continuing Education Office at 603-358-2290 or continuing-ed@keene.edu.
Keene State College's federal tax ID number is 02-6000-937.
Refund

Kids on Campus prides itself on small, hands-on classes. Many of our classes fill up quickly and have waitlists. Therefore, we ask that you let us know as soon as possible if your child will not be taking a class. Refunds for camps requested between the point of registration and six business days prior to the start of your Kids on Campus class will be refunded at 100%. Within the five business days prior to the start of class, 50% of the cost will be refunded. There will be no refunds after the start of the class.
Behavior
By registering your child for camp, you agree to the following behavior expectations: Kids on Campus is held on the Keene State College campus, and students need to remember that college is in session and administrative offices are open for business. Our campers are expected to respect the rules and exhibit appropriate behavior in order to provide a supportive learning environment for all. Our experienced staff provide clear expectations on conduct in order to ensure a safe and enjoyable experience for all campers. Campers may be removed from class or sent home if their behavior is continuously dangerous or a detriment to themselves, others, or the learning environment. No refunds will be given if a child is sent home for failing to meet the behavioral guidelines.
Student one-to-one aide policy
Keene State and Kids on Campus welcomes children with all abilities and circumstances to take our classes. Our classes have a very low ratio or children to adults so that children will receive plenty of attention. However, we are not staffed to provide one-on-one care to campers who may need extra assistance. If your child requires a one-on-one aide, we ask you to contact Heather Jasmin (hjasmin@keene.edu) about making arrangements to bring an aide with them to camp.