Shane Molloy '22 Enjoying A High-Rising Start to His Career As A Safety Professional In DC Area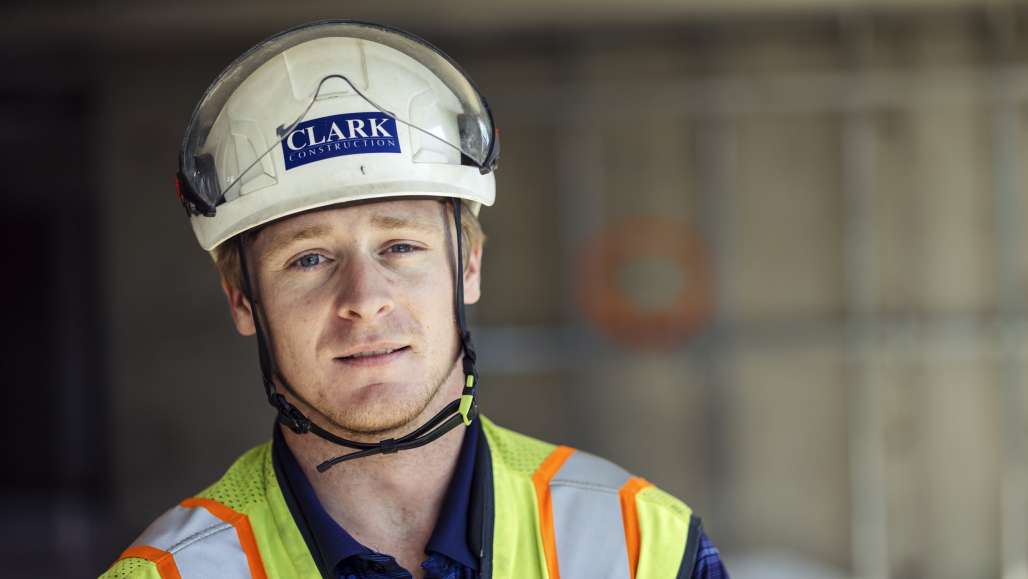 When finished, the new mixed-use hi-rise will tower 40 stories and be one of the tallest structures in Reston, Virginia, with spectacular views of Washington Dulles International Airport, Tysons Corner, and other nearby cities.
Reston Town Center Block D will feature 1.3 million square feet of combined retail, residential, and office space, with five levels of parking.
The site is the workspace for Keene State graduate Shane Molloy'22 for the next couple of years or until project completion sometime in 2025. Shane is a safety coordinator for Clark Construction, the project contractor. With 4,400 employees and annual revenue of more than $6 billion, Clark is one of the largest commercial and civil contractors in the nation.
"This is why I love what I do," says Shane of the massive project. "I like the routine of construction and this work; it's nice getting up in the morning and knowing I have a job I like and knowing I'll be busy and challenged from the time I get up until the time I get home."
Shane's degree is in safety & occupational health applied sciences (SOHAS). Keene State also offers a bachelor's degree program in construction safety sciences and an online master's degree in safety & occupational health applied sciences.
Keene State's safety program is respected nationally for graduating work-ready professionals like Shane, and its partnership with Clark has been mutually fruitful and purposeful.
This summer, Shane played host to his first intern; rising Keene State senior Jeremiah Barry '24. In all, five Owls — Hailey Haddock '24, Nick Pope '24, Colby Quiet '24, and Abby Carlson '24 being the others — gained field safety experience with Clark this summer.
"There's no other school like it," Shane says of Keene State. "It has a small, hometown feel, a bit of a city mixture, and students connect with professors in a different way. (Professors) care about you, they answer the phone any time of day, at least they did for me. I still talk with some of my teachers all the time, and probably will for the rest of my life."
Shane said the Keene State culture is unique and plays a role in how Clark executives view Keene State safety students as job prospects, as well as the quality of the College's safety program.
Safety professionals work with employees and employers to mitigate risks in the workplace, by effective assessment, prevention, and control of actual or anticipated hazards. These processes today are an integral part of all business operations. And at Clark, Shane says, it is a high-priority component of the company's operation.
Keene State's strong connection with Clark began when an alumnus made a career move to the DC area and joined the company, Brady Keene, a clinical assistant professor in Keene State's SOHAS program. Around the same time, he says, Clark Construction engaged with the college's popular Safety Career Fair. "It's a tradition that has endured with the company's participation year after year."
That commitment, Keene adds, has resulted in the company recruiting five or more interns annually and hiring no fewer than three new employees each year, "making them a prominent presence for our students."
Adds Keene: "Their involvement goes beyond recruitment. Clark actively contributes to our AGC (Associated General Contractors of America) Construction Partners group, offering invaluable expertise and insights. Moreover, their financial support plays a significant role in enhancing our program's offerings, benefiting both student development and curriculum enrichment."
Shane interned as a junior at Sikorsky Aircraft in his home state of Connecticut, and while he had a positive experience, he decided general industry was not where his true interests lie. Before that, he studied one year at Towson State and then transferred to Keene State, where his older brother, Charlie, class of '19, was studying safety. Shane declared as a criminal justice major and learned quickly that he didn't want a career in law enforcement as he first imagined, and eventually followed his brother's path.
"The industry is pivoting," Shane says of workplace safety. "It's a lot more technological and computer-based, and the safety guys coming in are younger and bringing a fresher look at an industry that has been around for a long time. It makes it interesting. Showing my KSC intern Jeremiah an average day in the life of a safety professional, and what I do, was fun."
Shane, who was a lacrosse standout at Keene State and who remains an avid recreational snowboarder, is moving from the northwest section of DC to Ballston, Virginia, later this month.
"I'm in the field seven, eight hours of my day, where I want to be, doing what I was trained and educated to do."
"Our Safety and Construction Safety Sciences programs consistently produce highly successful graduates who are exceptionally well-prepared for their careers," Keene says. "Those graduates stand out as confident, competent professionals who make immediate and meaningful contributions to the safety and efficiency of construction projects and workplaces."
---
Learn about the 2023 Safety & Construction Career and Internship Fair.
Related Stories