Summer Fun: Work-Based Learning Takes KSC Students From The Classroom To The Job Front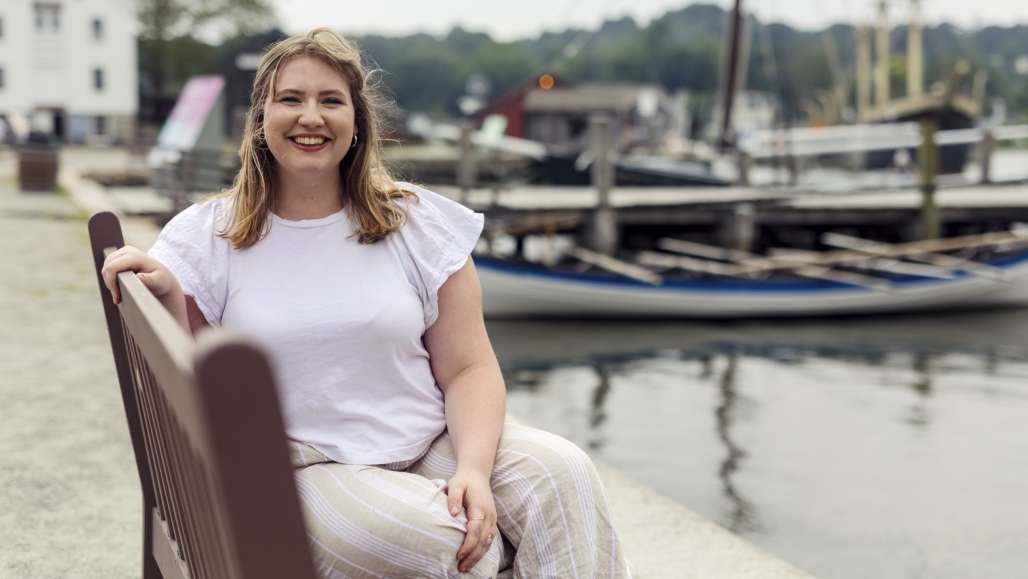 Neuroscience research, film production, marketing, national
politics, construction safety just a few of the internship themes
Real-world learning opportunities help to define a Keene State College education and make our graduates highly employable.
This summer, Keene State students were out and about. Near to home, across the country, and even abroad – they discovered real possibilities and challenges, and gained practical, on-the-job exposure in their fields of study.
Internships are the first and most important step toward helping students get a foot in the door as early as possible, says Kristin Brooks, Assistant Director of Career Services.
"Classroom theory, coupled with internships, strengthen the level of preparation we want for our students," Brooks says. "Having both learning experiences goes a long way toward helping our students do meaningful work, during and after their education."
Chronicled here are snippets of some of these experiences as students got a first-hand look at what their professional careers might hold:
Ethan Davis '25
A film major, Ethan, of Bow, N.H., interned at Events United, a production company in Derry, N.H., and worked with Events United's sister company, Studio Lab.
Ethan wants to go into film production.
Exposure to the array of equipment used in the film industry, going out on gigs, helping to set up LED walls and broadcasting cameras, and all things lights and audio made for a full immersion experience, he says.
Ethan worked with a different production company last summer.
"This summer," he says, "I am only broadening my web of connections. Each relationship I build within the real-world industry of my career path, is another bridge or open doorway that has the potential to help me grow in the future."
Added Ethan: "I'm already forever grateful for the friendships and connections I have made during my time in college. I really pushed myself to get involved and it has made my experience so much better. Social skills and strengths will guide me well in my future, wherever it may be."
Jacob Favolise '25
Jacob, of Dover, N.H., is a political science major, so what better place for him to have been than in the heart of Washington D.C., with the National Republican Committee.
"As a politics major, I am always looking for hands-on involvement opportunities and I'm happy to have found this one," he says. "In my second week of work, I was invited to a New Hampshire GOP fundraiser where I met three U.S. Senators and a U.S. Representative and saw some familiar faces from home."
Jacob sits on the executive committee of the Keene State Senate, which is the policy-making and legislative body for the College with regard to all matters that impact the quality of academic life.
His career path in politics could involve work in the legal field or in communications, he says.
"Employers are always looking for candidates that set themselves apart, and having an internship on my resume will be a great way for me to do that. Perhaps just as important are the connections I'll make. It never hurts to know folks in this city."
Juliona Martens '25
A journalism and public relations major from North Stonington, C.T., Juliona was a marketing intern at the Mystic Seaport Museum in Mystic, C.T.
The internship, she says, allowed her not only to familiarize herself with public relations and marketing strategies, but to dabble in social media and PR.
During her internship, she was a member of a strong, all-female marketing team and had hands-on experiences learning all about social media best practices and content creation. In fact, if you check out the museum's social pages, Juliona was a collaborator on many of their recent posts and she's even working on an article for a future issue of Mystic Seaport Museum Magazine.
"One of my favorite experiences was getting to attend video shoots where we get to go behind the scenes to places such as the museum's collections vault to see and capture objects not on display. These shoots have allowed me to see how ideas come to life." Her professional goal is a career in social media marketing and management.
Charlotte Lahey '24
Charlotte spent part of her summer in an immersive internship at MIT's Department of Brain & Cognitive Sciences, one of the world's largest neuroscience research centers. A double major studying biology and neuroscience at Keene State, she plans to study marine science in graduate school.
In her internship, Charlotte worked alongside leading researchers on a project relating to human vision, identity, and object recognition with respect to understanding how the brain recognizes faces, bodies, and objects, and developing computational models to enable higher recognition capabilities.
"This experience will enhance my academics by fostering critical thinking skills that will undoubtedly be instrumental in paving the way for future contributions in the field of marine biology." Her master's will be in marine science, with an interest in continuing to better understand the neurobiology and adaptive behavior patterns of marine mammals.
Abby Carlson '24 and Jerry Barry '24
Construction management majors, Abby and Jerry interned with Clark Construction as the company oversaw the creation of a mixed-use building just outside Washington, D.C.
The students took a deeper dive into all that goes into constructing a building, including participating in risk assessments and learning from skilled workers on different teams. They worked on-site and they watched the building go from 19 stories to 30—showing just how many moving parts needed to come together to complete a job like this.
About this internship, Jerry said: "Collaborating with experienced safety professionals and contributing to the practical implementation of safety policies has been a highlight. Moreover, interacting with various trades workers provided valuable insights into their work processes, enabling me to apply my knowledge to enhance safety measures for their tasks."
Abby, of Shelton, C.T., aspires to be a site superintendent after college. She said her internship has her "excited" for her senior year and confirmed her belief that construction management is the career track for her.
She is also majoring in architecture and worked collaboratively on a research paper this summer that was accepted for presentation at a conference in October in Lisbon, Portugal.
Jerry called the "practical applications" and "interactions with trade workers" invaluable. The Concord, N.H., native said he is considering Keene State's online master's degree program in safety & occupational health applied sciences after completing his undergraduate work.
Katherine Rosen '25
Katherine spent part of her summer close to home as an intern at Blount Fine Foods in Fall River, M.A. Katherine is from North Dartmouth, M.A.
As a business management major with a specialization in human resources, Katherine was a human resources intern in Blount's Training and Development branch. Along with meeting people in each department to learn more about the business' operations, she was also able to tour Blount's factory floor to learn how large-scale production works.
"My goal is to work in business as an educator, and this internship has shown me how that can be possible. This experience is preparing me for the big world of business and helping me become a marketable applicant for careers post-graduation."
Katherine is a Special Olympics volunteer, and along with a few others, she helped to rebuild and rebrand the Keene State Outing Club, something for which she feels especially proud.
Emma Cahoon '24 and Dillon Forte '25
Emma and Dillon were part of the operations and support team behind the popular Keene SwampBats, a top collegiate summer baseball team in the New England Collegiate Baseball League, which features 13 teams in six New England states and boasts some 150 Major League players among its alumni.
Both are sports recreation and marketing majors who aspire to someday oversee gameday operations or marketing for a professional sports organization or in college athletics. Emma says being a college athletic director is another ambition within the context of her degree.
Dillon is from Coventry, C.T., and is earning a minor in data analytics to broaden his marketability as a job candidate. He has a new appreciation for the power of networking and that, he says, has allowed him to step out of his comfort zone. His work with the Bats, he says, is a great example, as it put him in a position to work closely with other staff, sponsors, and fans in a difference-making way.
"The experience I gained this summer you can't get in a classroom." It was on-the-fly work, he adds, and he discovered that he was able to find temporary, sometimes permanent, solutions to real-time challenges.
The positive experience can only help, he says. "The SwampBats are a very professional organization; they hold themselves and their interns to a high level; they operate just like a minor league baseball team."
Emma is from Keene and is a member of the College's field hockey team. She says she enjoyed every facet of her summer internship. "I was always a very shy person, but the environment at Keene State has helped me grow and to be more confident thanks to my professors, coaches, teammates, and friends."
It also helped her make the most of her eye-opening experience, she says.
"I went in hoping to learn about how an organization like the SwampBats is run and I learned exactly that. We oversaw talking to sponsors and customers and making sure things ran smoothly. I learned what goes on behind the scenes, what goes into seeing that the fans have a great time at every game."
Emma Conkey '26
A Grafton, M.A., native, Emma stayed in her home state to intern with Waltham-based TG Gallagher, a mechanical contractor. It was, she says, a perfect match with her studies as a safety & occupational health applied sciences major.
As a safety intern, she assisted with weekly site inspections, crane picks, and overseeing general site safety for different crews.
"The highlight of my experience so far has been engaging with our local unions and getting exposure to various construction sites in the Boston area. This internship has allowed me to get an early start on my career in the construction safety field as well as become familiar with the industry itself."
Her work also allowed her to learn more about how unions operate. Overall, she adds, she felt the in-the-field experience gave her an early start on her career. She also plans to graduate with a minor in construction safety.
Jason Mowbray '25
Jason is on a fast track. From Hudson Valley, N.Y., he has designs on graduating a year early. Jason is a safety & occupational health applied sciences major and is pursuing a minor in construction management.
His field operations internship with Consigli Construction, which he earned while he was a first-year student, was part of a new program for the company in that the unique role enabled Jason to visit 14 job sites during his summer stint.
Walking those sites with foreman and superintendents, collaborating with project managers and other student interns, and identifying hazards and mitigating active risks and future risks were part of his ranging work.
Also, he was involved in monthly management audits, quarterly safety meetings, and pre-construction meetings. Audits are used to make sure that there is proper safety paperwork on file for each worker and subcontractor, from emergency contacts to Crane inspections, while quarterly meetings are mandatory for all field staff, including interns.
He said his classroom work translated well to the field, and he called the experience he gained confidence-building, personally and professionally. "The skills, they will be fundamentals in my day-to-day life. … I have not only advanced my education, but I have advanced my personal self to a better more professional-ready version."
Related Stories