Projects, Showcases, Presentations Abound; Students Shine Sharing Their Academic Work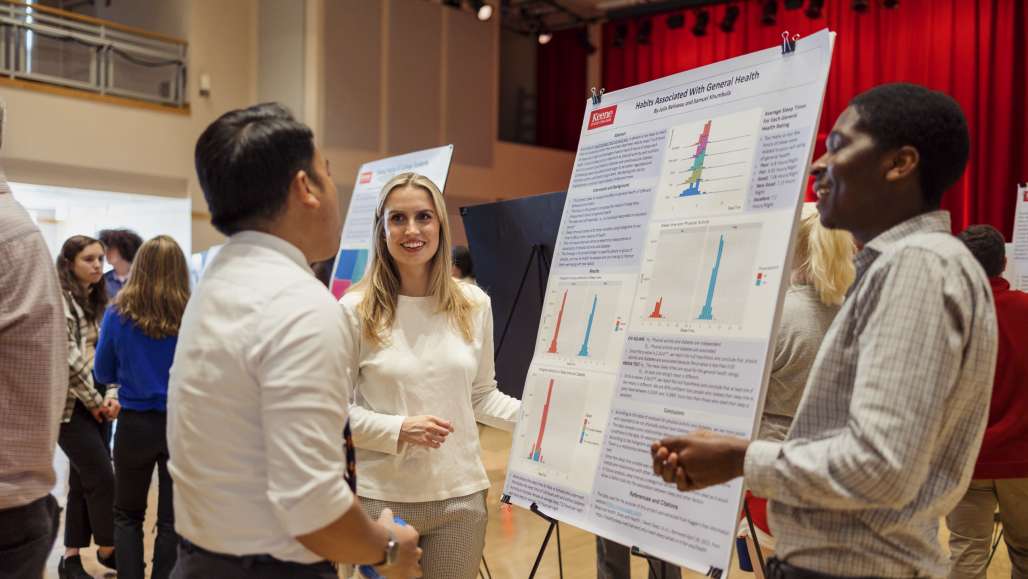 Being an Owl means being a creative thinker and embracing challenge, something our students remind us of often, but especially this time of year.
You don't have to look far to find standout academic work of our students on display: project and class capstones, showcases, conferences, readings, presentations and so much more.
The biannual Student Showcase is one example. More than 100 students from nearly a dozen academic programs — business management, architecture, biology/chemistry, nursing, safety, and mathematics being a few — presented research projects from a range of topics and interests.
We spoke with four presenting students — two business management majors, a public health-nutrition major, and a sustainable product design & innovation (SPDI) major — about their semester-long projects.
Alexandre Quinn
A rising junior, Alexandre is a double major, in business and economics, and believes that statistics, as a mathematical abstraction, is fundamental to both pursuits.
"Having the knowledge to properly read and understand statistics and data points will be crucial to whatever I end up doing, and to just understanding better the world we live in."
She set out to try to determine what drives job satisfaction. The presentation poster was titled "Job Meaning Has a Bigger Impact on Job Satisfaction Than Salary."
"I'm curious about the difference and correlation in job meaningfulness, salary, and satisfaction. I had honestly expected salary to have more of an impact on satisfaction than the findings showed."
Her chief obstacles, she says, were the complexity of measuring job satisfaction and the subjective nature of the topic. In the end, job meaningfulness trumped salary as a higher indicator of job satisfaction, the opposite of her assumption.
Julia Beliveau
A rising senior, Julia is a public health-nutrition major. She presented on two topics, including "The Eating Habits of Students During and After College." Julia has designs on a career as a registered dietitian and is passionate about promoting healthy eating and food-preparation options.
Primary among her several findings is that students indicate that they are aware of the value of healthy eating habits, but often don't implement their own. Cost, transportation, and emotional well-being are among the reasons why she discovered in her project.
"The dataset I used was rich and included socioeconomic factors about the students, so I would look deeper into those findings if I were to further this analysis."
"I thought that the findings would show a major decline in healthful habits," she adds. "Instead, I learned that a good percentage of the students maintain a diet that they would define as healthy."
To further her engagement with her field of study, Julia is a wellness ambassador coordinator for the Keene State Wellness Center.
For many students, college is the first time that young adults must design their own meal plan, she says. "Each of us decide when you eat, what you eat, and how much of it. I'm fascinated about, and want to extend, my understanding of eating habits."
She is already looking forward to her senior capstone course. She plans to mine more data and delve further into the area of socioeconomic factors that affect diet and food insecurities.
Scott Clark
A rising junior, Scott is a SPDI major. His data-driven project, "Shark Attacks: The True Danger," is part of class work for Professor Dave Beaudry's Applied Data Analysis & Visualization class. Students apply mathematics and data extraction and analysis to their topic of inquiry and then present their findings with visualized data.
Big-picture, Scott says, data analysis in the field he is studying might pertain to choosing a material for a design depending on the forces it is subjected to. Or, to know if a machine is making parts as designed. "The ability to take, organize and apply data is invaluable," he says.
Scott works on campus doing research for SPDI professor Dr. Ahasan Habib. In that role, he said, "I often will run tests on a part that I have made and then organize the data into a graph and table.
"I am a big animal person; I have always loved learning about animals of every kind ever since I was a child." Sharks, he argues, get a bad rap and he had a semester-long project to look into that assumption.
"I wanted to show that sharks aren't monsters. Not that I planned on becoming an activist, but often times humanity's negative perception of an animal is often used against them, like pit bulls, so if I could change a few people's minds about sharks during the showcase, then I would be happy."
The data spread on the topic was large, he says. But, as his presentation suggested, sharks are not "mindless killers in the way they are portrayed" in film and by the media.
For example, he points out, hippos are actually highly aggressive, territorial, and kill far more people a year than sharks. Sticking to the ocean, data shows dolphins are a greater threat to people and to other animals in their shared ecosystem than sharks.
Scott says he was shocked to find how low shark-attack numbers are compared to perception and lore.
Abby Corneau
A rising senior, Abby is a business management major. She imagines a career in finance and accounting, or product development.
She presented findings on a project she titles "How COVID-19 Affected Travel." The topic was a pivot from her initial idea, which was to explore the best time of year to travel.
"I had data for pre-, peak-, and post-COVID, so I decided to switch my focus and look at the data in a different way. My findings confirmed my assumption that aviation travel has changed due to the pandemic. However, the numbers weren't as drastically different as I expected."
"What I found most challenging," she adds, "was choosing the best type of graphics to communicate my data findings. I wanted the visuals to make sense while also not being too overwhelming for the audience."
She appreciates the power of data science, and how it is a growing area of study in varied and interesting professional disciplines, adding that it's a big part of why she chose the career path she did.
"Business management has given me so many opportunities to learn and grow as a student," Abby says.
Related Stories