Our Legacy Families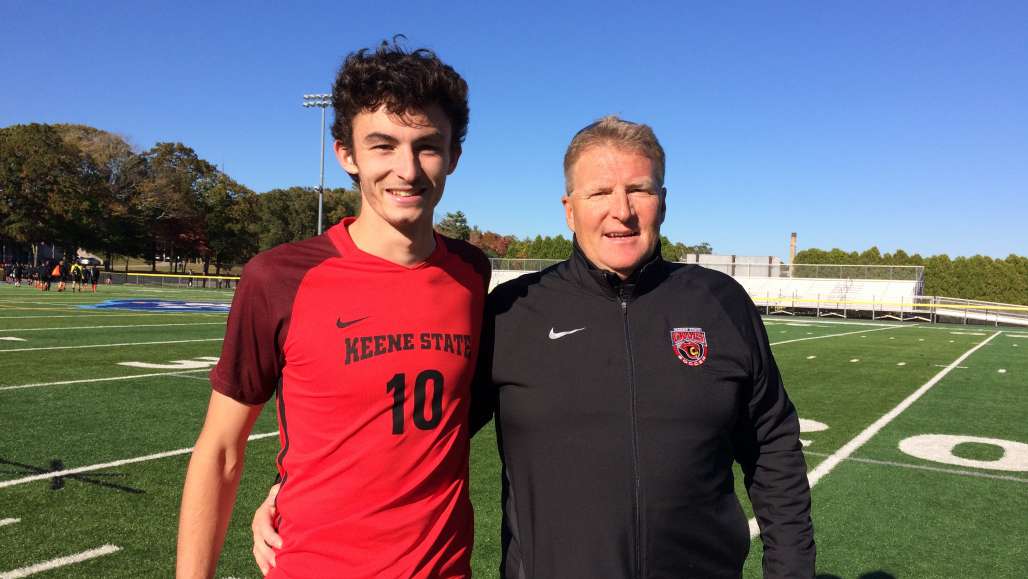 Barry Family
Alumni:
Fred Barry '36 
John '71 and Jane Barry '71
Jim Barry '77
All in the family. Four members, four graduations. Fred Barry, 1936; John and Jane Barry, 1971; Jim Barry, 1977. Here we are at a reunion in the 1980s. Fred worked at KSC in various capacities for nearly three decades, finishing his career by expanding and refining outreach to graduates as alumni director. Jane got her Masters in 1971, the same year John earned a B.A. Six years later, Jim rounded out this family affair. We were all enriched by our experiences at the college.
---
LeVine Mellion Family
Alumni:
Bruce LeVine Mellion '69 
Paul LeVine Mellion '72 
Joan LeVine Mellion '74
Dr. Gilbert LeVine Mellion and Ruth Berman Mellion were the first recipients in 1983 of the LeVine Mellion Parent Award at Keene State College, established by an endowment from four of their children, three of whom graduated from the College. The award continues to be presented annually to parents nominated by students for their support, enthusiasm, and love toward their child's education. Ruth passed away in November 2021 at the age of 102. A creative and devoted 3rd grade teacher for 28 years in Newington, CT, her legacy, and that of Gilbert, is being carried forward by their children through the Parent Award.
Dr. Gilbert LeVine Mellion was the first full-time dentist in Rocky Hill, CT, maintaining an office there for 40 years.
---
McCully Family
Alumni:
John McCully '85, Physical Education major
James McCully '23, Physical Education major
The McCully name is synonymous with soccer. John McCully is a Keene State soccer 3 time all-American while his son James was a high school phenom earning all-American honors. The Keene State soccer fields have been home to both father and son for years. John, also a longtime Nauset Regional High School soccer coach, would take his team to the Owls soccer camp year after year with his son James in tow. From middle school on, James would attend the camp. Keene State College passion and school spirit run deep with this father and son combo. Heading into his final year at Keene and due to an ACL knee injury, James will be an assistant coach this fall. A physical education major, James looks forward to everything that Keene, NH and the Monadnock region have to offer. Former coaches, Ron Butcher and Rick Scott, have been instrumental in the McCully soccer legacy.
---
Acerno Family
Alumni:
Eileen Acerno Lary '80
Ann Marie Acerno DiSilva '86
Elizabeth Acerno Cahoon '90
Jake Cahoon '90
Gina Acerno Gitchell '94
Graham Gitchell '97
Peg Richmond M'94
Rebecca Richmond Copeland M'13
Meaghan Bostwick Fowler '02 M'08
Zach Fowler '08
Monica DeMilta '18
Danielle Acerno '21
Maggie Cahoon '22
Emma Cahoon '24
Our parents, Michael and Theresa Acerno, were great supporters of public education. Two generations of Acernos have attended Keene State College and created a tradition that has extended beyond that legacy. We continue to support those values as teachers, administrators, and public servants.
---
McGettigan Family
Alumni:
Mary McGettigan '22
Edna Sheldon '33
Dorothy Callaghan '61
Helen Koehler '63
George Koehler '63
Margaret McAuliffe '64
Robert McGettigan '64
Gregg Taylor '69
Eleanor McGettigan '71
Niki McGettigan '75
Steven McGettigan '75
Sheila Colson '90
John McAuliffe '95
Molly Callaghan '24
Frances Callaghan '25
Senja Rae Sours '26
The extended McGettigan family includes 13 graduates of Keene Teachers College and Keene State College, 2 current students at KSC, and one incoming freshman. Most of the family were educators and collectively they have taught for more than 650 years! A 1960 article from the Keene Teachers College newspaper stated, "All four (before Eleanor made five) of the McGettigans add to the school. Whenever someone is needed to work in the Campus Club, help out some club or do other miscellaneous job, one or more of the McGettigans is always ready and willing. If you ever pass Fiske or Huntress and hear an uncanny laugh enveloping the whole campus – ten to one, it's a McGettigan. For one trait a McGettigan has is the ability to laugh and enjoy themselves, and they seem to pass this feeling on to everyone around them."
---