Kaitlyn Wilson '22: Senior Class President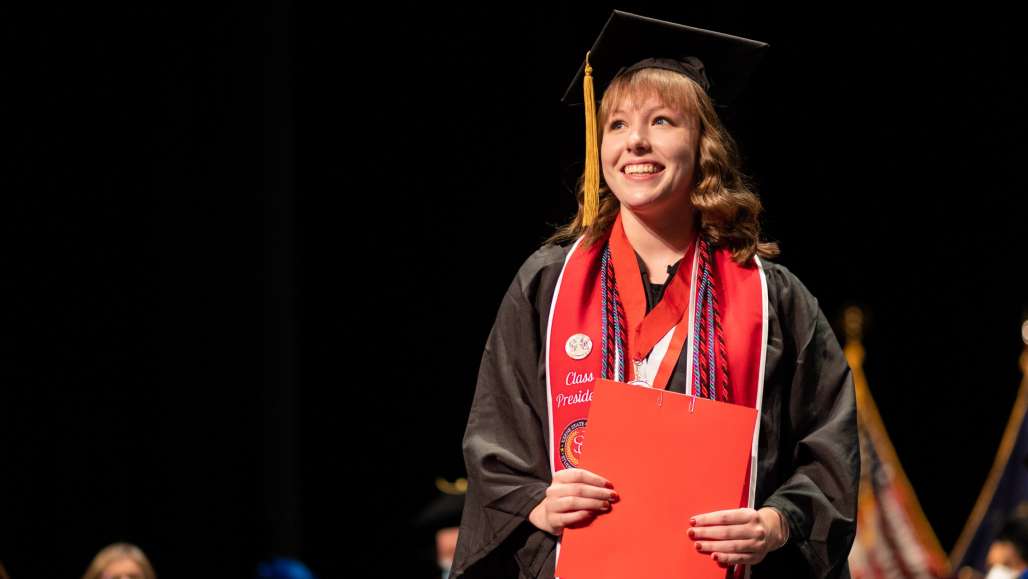 Four years ago, we marched ourselves down Appian Way and toward what felt like an endless amount of adventure and opportunity. I remember nervously asking for directions in the Redfern, standing in line to order my first Sizzler, winning my first Bingo at the Night Owl Café, running around campus to get points on Hootie's Rewards, and questioning why Walmart shopping carts wound up in the Ashuelot River.
Keene State has supplied each of us with more than just memories and a formal education: this school has allowed us to grow beyond student status and into individuals who are ready to use our knowledge to enact change in the world around them.
Though, our learning has not just been limited to the classroom. Our class has had to learn how to adapt to change, operate on Zoom, and know the meanings of words like "unprecedented", "social distancing", and "insurrection". We have learned there really is no such thing as an extended two-week spring break, but we have also learned that we are a community that can still come together, though physically apart.
Each one of you sitting here with this silly hat on your head has overcome something many have deemed insurmountable. You have defeated the odds and persevered in a time when nothing has come easy. Our class not only had to fight for our education through the pandemic, but has had to lead the fight to help our campus and our world turn the corner and define what comes next. We have done so in the face of loss: Many of us have lost loved ones, yielded days to isolation, grieved a canceled job or travel opportunity, and given heartfelt goodbyes to our beloved Cobblestone, Dominos, and the Dining Commons omelet bar. Yet, these losses, changes, and obstacles have not defeated us, but instead have made us stronger.
Even amid these losses, we have gained much from our time as Owls. The Class of 2022 is a group that has gained a fervent purpose, a profound sense of empathy, and a renewed sense of gratitude, for moments big and small, because we recognize that even this gathering today should not be taken for granted. I know that we will continue to grow, gain skills, and develop new memories because the Class of 2022 is just that: resilient.
But, one question remains: Where do we go from here? Think of this next phase of life like a book. Staring at that first, blank page is daunting: What to write? Where to begin? Are we ready to begin writing?
Take a moment.
Take a breath.
Your story is writing itself: it is beginning here, it is beginning now.
Compose these next chapters with the same passion, fervor, and motivation that you have displayed in these past four years. Tell the world of your journeys, your triumphs, and of the memories and moments we have shared together as Owls. Keep your focus firmly on the road ahead; I promise you will be unstoppable.