Launch of the Innovation Advisory Council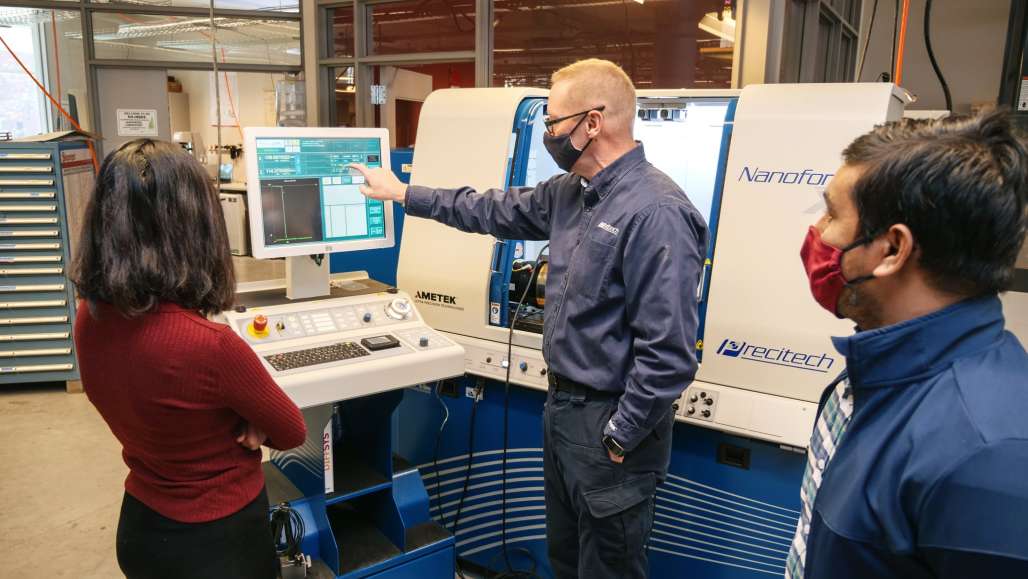 Niche academic programming, expanded immersive learning experiences, and preparing a career-ready workforce are at the heart of a charge that will drive the work of a new advisory council group at Keene State College.
The Innovation Advisory Council is a long-term strategic council aligned to offer guidance and partnership to President Melinda Treadwell and her Cabinet. The advisory council has a finger on the pulse of what the region and world need from Keene State – its academic programs and its students, Treadwell said.
Made up of Treadwell, a 1990 Keene State graduate; Veronica Rosa, Vice President of Advancement; industry experts that include a minimum of two Keene State alumni, and faculty members, the nine-person advisory council, as presently constructed, met for the first time in March and will meet quarterly going forward.
The important counsel of this distinguished advisory group, Beeby noted, "will continue to position Keene State to meet the challenges and opportunities of the 21st Century economy and serve our public mission."
"These times call for innovation and the ability to adapt smartly," Treadwell said. "In a nutshell, we have assembled this diverse and talented group to identify the workforce of tomorrow and to position Keene State's unique liberal arts experience to align with that workforce as much as possible. This is a strategic imperative."
The advisory council is a guiding body, Treadwell said. Ideally, she added, it will work with the broader college community to shape a future academic vision. Aligning our curriculum to help close the skills-gap and meet the needs of the region and state is critical, according to Dr. James Beeby, Keene State provost.
"Exploring new majors, fields of studies, including micro-credentials and pathways for skill development, and building more intentional and deeper partnerships as part of the Liberal Arts experience, is vital to the needs of the state and region," he said. "This work will go a long way toward supporting businesses in the region, and attracting new businesses, as well as attracting college-educated workers and leaders to stay and be productive members of society and meet the workforce needs of the Monadnock Region."
This region is not immune to the workforce development challenges that are profound and well documented, Treadwell said. "In a perfect world, the public liberal arts college of the state will be the preferred employment partner with the business sector. Our programs match the needs of the region, and our students will exceed employers' expectations with their ability to contribute immediately and effectively."
Yvonne Goldsberry, president of the NH Endowment for Health and a member of the Council, said "It is important that we naturally step to what is new. With everything we have been through, it is impossible really to revert; we cannot go backward in time. And there is so much exciting going on and technology and ability to communicate. We are not just locked into our neighborhoods anymore, even though in New Hampshire we have a strong, community-minded way of operating. What is exciting about this Council, and its work, is looking for ways to transform a classroom experience so students of tomorrow are ready to contribute in ways that meet identified (workforce) needs."
The college, today more than ever, must create strategic pathways whereby its capacity meets industry needs, Treadwell said. "If we can help local industry find the talent it needs, and that businesses and students need to grow and to stay here, that's a win-win."
Erin Black '98
Represents: Sustainability, Global Industry
Organization: Coca-Cola Beverages
Position: VP Sustainability and Risk Management
Mark Boomgarten
Represents: Precision Technology, Local and Global Industry Organization: Moore Nanotechnology Systems and Moore Tool (The PMT Group)
Position: President & CEO; Director, Board President
David Bonnette '92
Represents: High Tech, Global Industry and Partnerships
Organization: Vista Equity Partners
Position: Managing Director
Jamie Burnett
Represents: Government Relations, USNH System
Organization: Sight Line
Position: President
Jessica Fuller
Represents: Finance, Entrepreneur, Culture and Compliance
Organization: Edward Jones Position: Financial Advisor
Dr. Yvonne Goldsberry
Represents: Community Health, NH Industry Partnerships
Organization: Endowment for Health
Position: President
Keefe Harrison
Represents: Sustainability, Global Industry
Organization: The Recycling Partnership
Position: Founder & CEO
Beth Marshdoyle
Represents: Leading-Edge Technology, Global Industry
Organization: Apple
Position: Account Executive for Apple Inc. in Higher Education and Healthcare
Tammy Warner Represents: Higher Education, Strategic Planning, Business Development
Organization: Keene State College
Position: Assistant Professor at Keene State College, Founder at Hopmeadow Farm Market Garden, Trustee of Keene Endowment Association