Four 'Visionary Women' Honored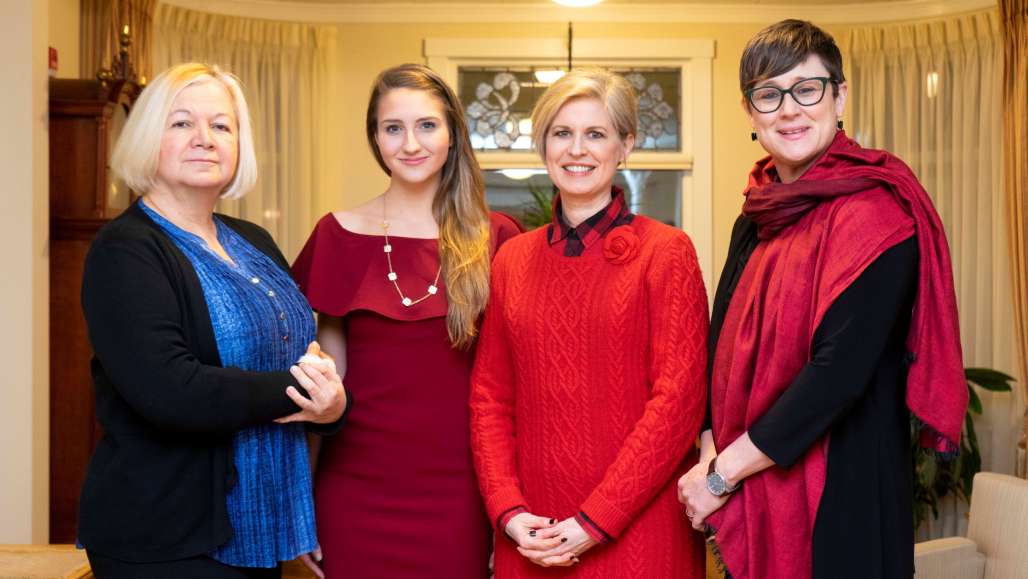 An advocate for immigrant rights across the state. A writer who tackles social justice issue and works with the Keene Immigrant and Refugee Partnership. A professor who has coordinated partnerships to provide healthcare to marginalized people in Rwanda. A student who works to empower women facing domestic abuse.
The four women honored at Monday night's 29th annual Keene State College President's Outstanding Women of New Hampshire Awards Ceremony all clearly embody this year's theme: Visionary Women: Champions of Peace & Nonviolence.
Given every March in recognition of Women's History Month, the award is bestowed each year on an outstanding Keene State student, an outstanding faculty or staff member, a woman who is outstanding in the Monadnock region, and a woman who is outstanding in the state of New Hampshire.
The honorees for 2019:
Keene State Student: Briae Robillard. A senior at the college and president of the class of 2019, Briae Robillard turned her own experiences of domestic abuse into a project called InspiHer. The project educates young women and girls on how to advocate for themselves in situations where they face abuse and encourages them to be financially independent through online business ventures. She also hosts a podcast, Slay in Your Lane, and works with public schools to establish mentoring programs for girls to help them break free from difficult domestic situations and toxic relationships.
Keene State Faculty: Therese Seibert. Professor Therese Seibert teaches sociology and Holocaust & Genocide studies classes. A grant-funded research trip to Rwanda in 2007 initiated her research on the victims of the Rwandan genocide. She co-founded the Health Development Initiative to assess the country's healthcare needs and provide vulnerable people there with better access to care; the organization, which has partnered with Keene State faculty and students, plans to break ground soon on a healthcare center in Rwanda.
Monadnock Region: Sandra Wallace. A founding-year member of the Keene Immigrant and Refugee Partnership, Sandra Wallace of Keene is actively involved in helping immigrants and refugees become full members of their new communities. She has worked to provide resources for the local immigrant community and coordinates transportation for them to English classes. In addition, she writes books that highlight themes of justice and barrier breaking, including the recent First Generation: 36 Trailblazing Immigrants and Refugees Who Make America Great.
New Hampshire: Eva Castillo. The director of the New Hampshire Alliance for Immigrants and Refugees, Eva Castillo has worked with the Latino community since moving to the United States from Venezuela in 1976. She has lived since 1984 in New Hampshire, where she is a regular presence at the State House, providing testimony on bills that affect immigrants and refugees. She has also served as a Manchester police commissioner, and chairs the Manchester Police Department's Community Advisory Board and coordinates its Youth Leadership Academy. She leads the Manchester Disproportionate Minority Contact Committee and sits on the state-level Racial and Ethnic Disparities Subcommittee of the State Advisory Group on Juvenile Justice.
Related Stories