Keene State College Welcomes New Provost Dr. James Beeby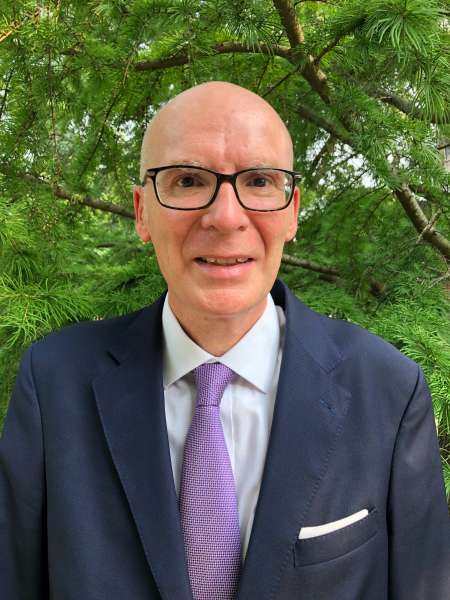 Keene State College announces that Dr. James M. Beeby is joining Keene State College as provost and vice president for academic affairs. Dr. Beeby is a first-generation college student and he graduated from a public university in his native United Kingdom. He speaks movingly about the transformative power of education in his own life, and how it has fueled his professional career.
"I am truly excited about my work at Keene State College. I look forward to collaborating with faculty and staff across the college to advance the mission of this fine institution, grounded in the Liberal Arts, and to serve all our students and the needs of the state," said Dr. Beeby. "Public higher education is more vital than ever, and the work we do is more critical than ever. Keene State transforms lives. I am deeply honored to have this opportunity to serve and work with President Treadwell and the entire team at Keene State College."
In this role at Keene State, Dr. Beeby will be a key member of Cabinet and the chief academic officer of the college, leading the academic enterprise, working closely with deans, faculty, academic staff, and athletics leaders. He also liaises with the vice president for enrollment and student engagement to share leadership of Student Academic Support Services and the Registrar.
Dr. Beeby comes to Keene State College after five years as dean of the College of Liberal Arts at University of Southern Indiana, where he was also professor of history. While at USI, Dr. Beeby served as chief academic officer for more than 250 full-time and adjunct faculty across 13 departments, serving 2,000 undergraduate and 200 graduate students. There, he focused on student success and retention, leading strategic planning efforts, hiring and mentoring new faculty and staff, developing new academic programs, doubling research funds for college faculty, and raising the academic and public profile of the Liberal Arts. He is committed to college accessibility for all students.
Before USI, Dr. Beeby served as chair of and professor in the History Department, with a nationally-ranked Ph.D. program in public history, at Middle Tennessee State University. Previous administrative and faculty roles include coordinator of the History Program at Indiana University Southeast, and director of the Honors Program at West Virginia Wesleyan College. At all his former institutions, he taught courses as varied as "Gender, Race, Violence and Politics in the American South, 1877-1917" and "American Culture and Society of the 1920s."
Over the past 20 years, he has published extensively, authoring books, book chapters, book reviews, and peer-reviewed journal articles. Other career highlights include five years as an editorial board member of the North Carolina Historical Review; serving as a Fellow of the Royal Historical Society; and receiving the Distinguished Research and Creativity Award for Junior Faculty, and Metroversity Award for Teaching Excellence, as well as several fellowships and awards. He remains active in his field of research.
Dr. Beeby earned his Ph.D. in History and American Culture Studies from Bowling Green State University, as well as his Master of Arts in American Culture Studies; and a Bachelor of Arts, with honors, in History from the University of Wales, Lampeter. He began his work at Keene State at the end of July 2021.
Related Stories