Lasting Impressions: David Staples - An Owl Forever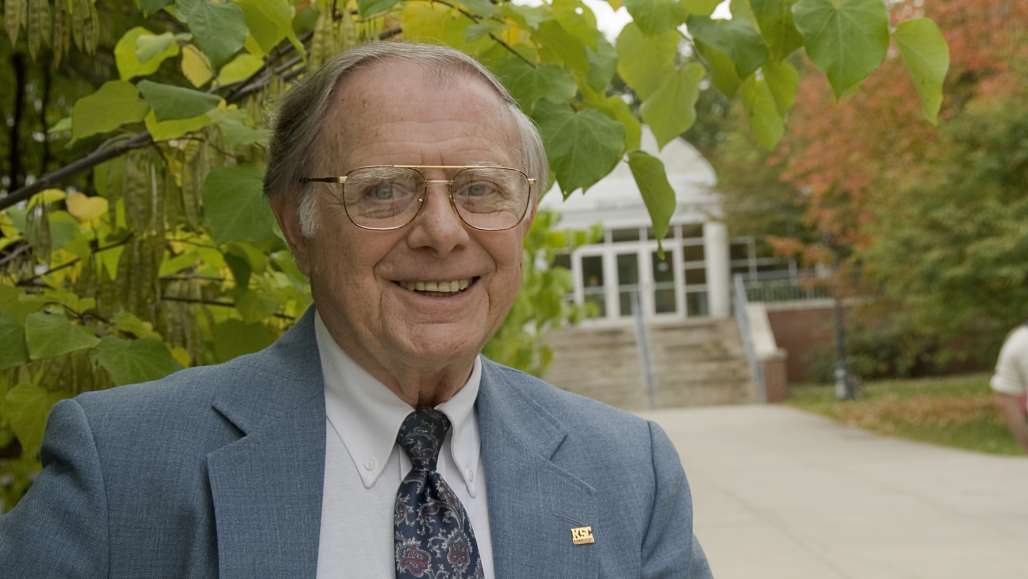 The alumnus behind a $1 million-plus bequest had a lifetime connection with Keene State
"What would I have done had Keene State College not been there?" David Boynton Staples asked in a profile in the Winter 2010 issue of Keene State Today. "It gave me the education that opened so many doors for me."
Staples, a 1955 graduate of Keene Teachers College, died in September at 90, but through his generosity – annuities and a bequest totaling over a million dollars – he'll be opening doors for Keene State students far into the future.
Born in Massachusetts to Mabel and Amadeo Sabatini, Staples landed in Keene as a teenager after his mother died. He stayed first with the family of his chiropractor uncle, sleeping in the only available spot: the chiropractic table. He moved in with family friends the Stapleses, who offered him their spare bedroom. He was so grateful he took their surname.
He graduated from Keene High School in 1948 and enrolled at Keene Teachers College, where a fellow student, Betsy Walker, caught his eye. Staples took a leave from the College in 1950 to earn money so he could finish his education. When the Korean Conflict broke out, he enlisted in the Army, serving on the front lines as a chaplain's assistant. (He talks about the experience in Enter to Learn, Go Forth to Serve, the 2010 documentary film about the College's history.)
His tour of duty over, Staples returned to Keene Teachers College in 1953, where he resumed his studies and married Betsy, who had graduated with the Class of '51. David picked up his bachelor's degree in '55, and earned an M.Ed in elementary administration in 1960. Later, he earned another master's, this one from UNH in guidance counseling.
The two Stapleses had long careers as educators, with Betsy teaching at the elementary level and David serving as a teacher, principal, and, for the last 20 years of his career, a guidance counselor in the Concord, New Hampshire, schools. After retirement, they spent part of the year in Florida, where Staples volunteered with the Ted Williams Museum – baseball was another passion of his – and as a citizen's patrol officer.
Throughout, Staples was active with Keene State, serving on the board of the Keene Endowment Association, which oversees a portfolio of the College's endowment funds, as a trustee of the University of New Hampshire System, and a member (and officer) on the Alumni Association board.
He established three endowed scholarships at his alma mater, two of which honor his son, David C. Staples, who died in 1983 at 24. One supports elementary ed students, and the other supports nursing students, as the younger David was studying to be a nurse at the time of his death. The third, named for Betsy, provides support for students so they may experience "a world of opportunity." His bequest will fund those scholarships years into the future.
"It's a big deal," says Ken Goebel, a now-retired director of development at Keene State who worked with Staples, "and from an alumnus who was engaged with the College his whole life."
Scott McPherson '92, who served with Staples on the Keene Endowment Association, remembers Staples inviting him out to lunch in Concord, where they both lived at the time.
"I had the opportunity to sit and talk with Dave and get to know him, and hear about his life and his relationship with Keene State," he says. "It was just a remarkable story, from meeting his wife at Keene, and then going on to service in the military, and then working as an educator in the Concord schools. He was such a gentleman. A gentleman and a gentle man. He struck me as such a kind person. And he was deeply appreciative of what Keene State had provided for him. I remember that lunch really fondly."
Mike Maher, a longtime alumni director at Keene State who is now retired, used the same words as McPherson to describe Staples: "a gentleman and a gentle man." He notes that Staples insisted the scholarships he endowed be managed by the Keene Endowment Association. "There were Keene people and Keene faculty and Keene alumni sitting on the board, and it gave him great comfort that there were people who truly cared about the College and its alumni and students as opposed to someone remotely managing the funds."
Staples held Keene State in high regard, McPherson says, something evidenced by the time and financial contributions he gave to the College. "I think he wanted students today to have the same opportunities that he did. For him, Keene really set him on the course of a good life."
Staples said it himself in the documentary Enter to Learn, Go Forth to Serve: "Without Keene, I probably would have been nothing. I never would have achieved the things I've achieved."