A Taste of the Islands: Meet Chef Troy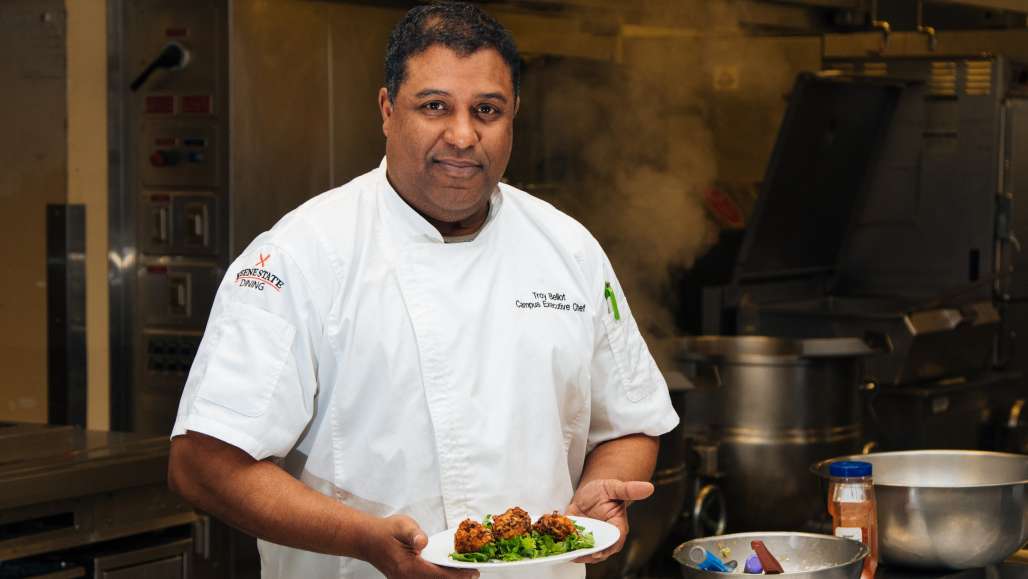 Zorn Dining Commons has a new chef with an interesting background. We asked him to write a bit about it and share a recipe from his childhood.
By Troy Bellot, Campus Executive Chef
Here's a great appetizer with a taste of the islands. For me, these shrimp fritters evoke visceral memories of growing up in the Caribbean—my nomadic family lived on a half dozen islands in addition to several cities in the United States.
I remember frying these up on Sundays with my grandmother in Dominica, a tiny island in the Lesser Antilles. We'd serve them to the family when they returned from church. Dominica is a French island where the cuisine has a creole influence. In contrast, Jamaica, another of my childhood homes, has English influences. One of the great things about growing up in multicultural environments is having a fusion of flavors and ingredients.
I've enjoyed cooking all my life, though it wasn't always a career goal. I graduated from Ohio State University, where I studied international studies and Middle East policy. That led to jobs with the Department of Justice and the FBI. I really disliked that work, so I returned to Ohio, got a job as a sous chef, and the rest is history.
I joined the Chartwell's team at Keene State College last summer, having owned gastro pubs and working as a corporate chef. Keene State has been a great fit for me. One thing we're really proud of here is our emphasis on using ingredients from local farms.
If you're local and you're interested in checking out the campus cuisine, please stop by for a meal! The public is welcome to eat at the Zorn Dining Commons, or the DC, as students call it. The cost of a meal purchases access to all-you-can eat buffets at several stations, with options that include a salad bar, a pizza bar, a vegan station, and gluten-free foods.
And in the meantime, enjoy the fritters!
Caribbean-Style Shrimp Fritters
1 pound shrimp, roughly chopped
1/2 cup red pepper, diced
2 cups Green pepper, diced
Half of 1 habanero pepper, diced
1 tablespoon garlic
3/4 cup all-purpose flour
1 egg, beaten
1½ teaspoons each salt and pepper *Vegetable oil for deep frying
Heat vegetable oil to 350 for deep frying fritters (about 3 inches of oil)
Combine all ingredients except four and egg
Add egg and mix
Add flour and mix
Scoop into balls, packing firmly, and gently place in oil
Fry 3-4 minutes, turning as needed, until an internal temp of 165 is reached