Certificate Programs
The Office of Continuing Education offers several credit and non-credit Certificates of Study for personal and professional advancement. The courses are led by college faculty and experienced leaders in the business, industrial, and professional communities.
Requirements are practical and relevant to each profession and are designed to be completed on a part-time basis. For information on registration and requirements, contact the Continuing Education office at 603-358-2290 or request more information.
Geographic Information Systems
Geographic Information Systems (GIS) technology is used in an enormous range of applications where there is geographic data to be stored, queried, analyzed, and displayed. With GIS, people can create maps quickly and inexpensively, link statistical analyses with mapping, and experiment with graphic representations of data. GIS is a powerful tool in the decision-making process, because it links data such as addresses, zip codes, and watersheds.
The GIS certificate program, designed to be completed in one year, is ideal for students who wish to focus their skills and professionals in environmental resource management, urban and regional planning, local government, facilities management, and other areas. The certificate indicates that you have an understanding of general GIS theory; knowledge and practical exposure to the hardware and software used in GIS; and the ability to plan and construct spatial databases, perform GIS analyses, and represent data in maps and tables.
For more information, please contact Chris Cusack, Coordinator of the program. You can reach him by phone at 603-358-2513 or by email.
Microsoft Office
This six-course, non-credit, certificate program is designed to provide participants with the skills to begin maximizing the powerful integrated business applications of Microsoft Office. Some classes may be taken either online or in-person, allowing students maximum scheduling flexibility.
In order to become proficient at using the integrated power of Microsoft Office, participants must complete one course from each of the three primary programs: Microsoft Word for word processing, Microsoft Excel for spreadsheet applications, and Microsoft Access for database. Several courses are offered for each program, and participants have the flexibility to begin at the level appropriate to them and advance to the level that best meets their needs. You may also choose from courses in Microsoft PowerPoint and Microsoft Office Networking Solutions. In order to complete the six-course certificate program. View the complete list of courses.
Multimedia Journalism
This program has been specifically designed to provide students majoring in fields other than journalism with production skills in print, broadcast, photography, and web platforms. Students seeking admission to this program should first complete JRN-130, Writing for the Media (this requirement can be waived by permission of the program advisor).The certificate requires that students complete four of the following five courses: Print Journalism; Broadcast Journalism; Digital Journalism; Multimedia Journalism; and Photojournalism. For more information, contact Julio Del Sesto at 603-358-2925 or jdelsesto@keene.edu. View the complete packet.
Paralegal Studies
Legal paraprofessionals fill a vital role as members of a legal team. Career opportunities for legal paraprofessionals are on the rise. Aside from placement in law firms opportunities also exist in the legal departments of major companies, banks, real estate offices, insurance firms, and government agencies.
This online non-credit program is designed for adults of all types of backgrounds who are interested in pursuing a career in the legal field. The class allows you to study at your own pace through Gatlin Education. For more information, contact the Continuing Education Office at 603-358-2290.
Public Relations Certificate Program
This program has been specifically designed to provide students and community members majoring in fields other than journalism, multimedia, and public relations the opportunity to develop skills and knowledge regarding the role and practice of Public Relations in a diverse global marketplace through learning PR applications in varied venues like corporations, non-profits, PR agencies, campaigns and issue-based groups. For more information, contact Dr. Salcetti at 603-358-2724 or msalcetti@keene.edu.
Web Site Design
This non-credit certificate program is intended to provide you with the fundamentals needed to design, develop, and maintain a Web site. Common Web development tools including HTML graphics and multimedia are introduced as well as Web page design fundamentals, common software tools, models of information architecture, and JAVA programming.
The program consists of a required core of three courses and three electives. The core courses bring students up to speed quickly in HTML and Web graphics and provide them with the practical information and tools they need to move forward on their own. Elective options provide students with the flexibility to customize their Certificate training in whatever areas best suit their own personal interests and goals. While it is possible to complete the entire Certificate program through online study, the core courses in writing and graphics are also offered in-person on the Keene State campus to accommodate different learning styles and permit maximum scheduling flexibility View a complete list of courses offered. For more information, contact the Office of Continuing Education at 603-358-2290.
---
Contact Continuing Education
Your degree is closer
than you think.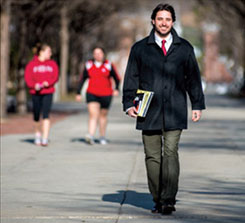 Think Keene State.
Office of Continuing Education and Extended Studies
continuing-ed@keene.edu
(603) 358-2290
Monday - Thursday, 8:00 AM - 6:00 PM
Friday, 8:00 AM - 5:00 PM
Elliot Hall, First Floor, Suite 144
Keene State College
229 Main Street
Keene, NH 03435-2605