Summer can take you farther than you think.
Summer registration is now open! KSC students, register through MyKSC. All other non-KSC and Continuing Education students, register here!. Are you a Keene State student interested in the Construction Safety Boot Camp offered in collaboration with our OSHA Education Center? Read more!
Now's the time to talk to your advisor and the Financial Aid Office about the courses you need this summer. Summer 2019 classes are offered in person, online, or in a blended format. Some classes and internships through the Global Education Office even give you credit to travel. New courses are being added daily, so check back often.
Save Time! Graduate on time, even early. With more than 30 majors offering courses, you can design a full course load.
Save Money! Summer tuition can save you thousands of dollars while you earn a full semester's worth of credits.
Where can Summer Session take you?
More than half of Summer Session courses are online, or in a blended format, so you can take them from virtually anywhere.
Online Summer Session courses enabled Sarah to complete a degree in Women's and Gender Studies in three years. When she graduated, Sarah added a BA in Sociology and another in Social Science.
Summer Session is a wonderful opportunity to take courses that you may otherwise not have the opportunity to take!
–
Sarah Croitoru
2015,
Women's and Gender Studies
---
---
Summer Program Tuition
| 2019 Credit | In-state | Out-of-state | Mandatory Fees |
| --- | --- | --- | --- |
| Undergraduate, Credit | $478 | $526 | $38 |
| Graduate, Credit | $530 | $580 | $38 |
Tuition and Fee rates are approved by the University System of New Hampshire Board of Trustees and are subject to change at any time.
The college accepts MasterCard, Visa, and Discover. A payment plan is available.
Fees are nonrefundable, but tuition may be refunded. A student who withdraws from a credit course is eligible for a tuition refund based on the following guidelines. Refund policy is subject to revision.
Summer
100% Before first class
75% Within days 1-3
50% Within days 4-14
No refund after day 14
For weekend or short courses, the refund policy will be 100% before the first class meeting, and 0% after the first meeting.
A copy of this policy will be provided with your registration receipts.
---
Summer Program Housing
Take advantage of living and dining on campus while engaged in your summer program.
Summer housing will be available for ten weeks. Already enrolled students may enroll for housing and dining on campus for the weeks before, between, during, or after their course(s).
If you already are a KSC student, Residential Life will contact you about signing up for housing and dining after you register for summer classes.
---
---
Contact Continuing Education
Your degree is closer
than you think.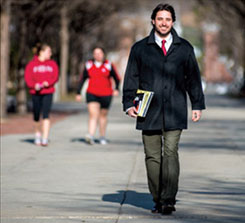 Think Keene State.
Office of Continuing Education and Extended Studies
continuing-ed@keene.edu
(603) 358-2290
Monday - Thursday, 8:00 AM - 6:00 PM
Friday, 8:00 AM - 5:00 PM
Elliot Hall, First Floor, Suite 144
Keene State College
229 Main Street
Keene, NH 03435-2605