From Pennsylvania to Keene: How a Typo Led Lilah Demmy To Keene State to 'Start a Dream'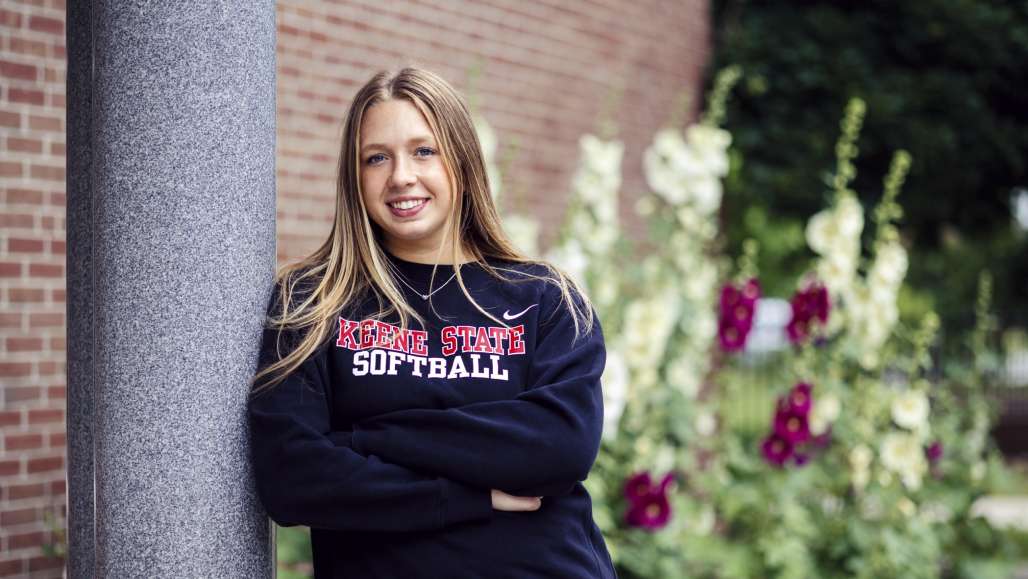 It began as "a happy accident" and now, two years into her Keene State journey, Lilah Demmy '25 continues to love every facet of being an Owl.
"Keene State feels like a community where everyone can be themselves and belong," says Lilah, a softball standout and popular student Orientation Leader who found her way to Keene, New Hampshire, by way of Wayne, Pennsylvania, thanks in part to the slip of a finger on the keyboard.
"Thinking that I was emailing the softball coach at Kean University in New Jersey I actually emailed the coach at Keene State," Lilah recalls.
That Keene State coach, Carrah Fisk-Hennessey, remembers well.
"How lucky we were to receive that email," Fisk-Hennessey says today. "Lilah is everything one could ask for in a student-athlete and representative of the college: Passionate, versatile, with an innate drive to be better, as a person and an athlete."
"On our team and in front of prospective softball players," Fisk-Hennessey adds, "we call Lilah 'Ms. Keene State!' "
---
Coaching is something that I saw in my future, but coming to Keene State and getting the chance to get involved in the community that way and start a dream of mine has been special." – Lilah Demmy
---
Lilah is a sport and recreation management major and is minoring in journalism. She has designs on a career working for a professional sports organization, and that includes coaching. On the softball team, this past season was marked by a no-hitter she threw during the team's Spring trip to Myrtle Beach. In 14 pitching starts she had 11 complete games and fanned 66 batters in 92 innings pitched. She also batted .238 and sported a .885 fielding percentage.
As a first-year she appeared in 23 games as a hitter and 20 as a pitcher, collecting seven wins in the circle and throwing nine complete games. She fanned 60 batters over 95 innings.
Painting, working out, and spending time with friends are things Lilah enjoys most, and from the what-you-might-not-know file, she is a classically trained ballerina.
Lilah was recruited during the pandemic, which made that process challenging, for the college and the student, Fisk-Hennessey says, noting that she was left to watch Lilah play games virtually. But Lilah managed a visit to campus during a travel-team tournament in the region one fall day.
"Once we host recruits and families on campus, Keene State sells itself," Fisk-Hennessey says. "People instantly feel welcomed and at home."
That was Lilah and her family's experience, too.
"My favorite part of campus is Appian Way," Lilah says. "The campus and school size turned out to be perfect for me. And being a part of a team has given me a family. I love that all Keene State teams give back to the community and volunteer at events."
Fisk-Hennessey says she remembers Lilah being "so positive and so knowledgeable as a freshman, even just a month into her own career," that she nominated Lilah to become a member of the college's Orientation Team that welcomes admitted students to campus with their families in the runup to their college experience.
"I fell in love with Keene because of the campus, the friends I have made, and the amazing staff and faculty. As an Orientation Leader I wanted to help welcome first-year students into a place I call home. This past summer as an assistant I worked in the community living office and learned so much."
Lilah was able to help coach a community 16U Junior Swamp Bats softball team, too.
"Coaching is something that I saw in my future, but coming to Keene State and getting the chance to get involved in the community that way and start a dream of mine has been special."
Her parents, Jill and John Demmy, are her biggest fans. John secured an Airbnb in Keene, not far from campus, for the entire month of April to watch Lilah's games, and Jill, Fisk-Hennessey says, makes the team's players personalized Owl sugar cookies at least twice a season. She's also all in on the team's social media channels, the coach says.
Lilah says she is thankful that she found Keene State, even if by mistake, because the connections she's made and the relationships she's developed make college better and will serve her well for the rest of her life.
She encourages students thinking about or already planning to go to college to "get involved, meet new people, and try new things" even if it sounds and feels a little scary. "At Keene State, there is something for everyone to enjoy and to get involved in."
Related Stories