A Dance Installation That Explores Notions Of Home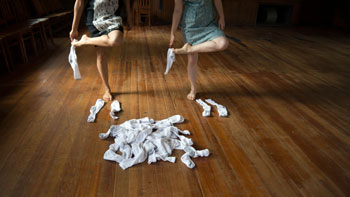 Redfern Arts Center Presents A Dance Installation That Explores Notions Of Home At The Thorne-Sagendorph Art Gallery
The Redfern Arts Center presents 2125 Stanley Street, a performance installation exploring notions of home on Thursday and Friday, February 9 and 10 at 7 p.m. and Saturday, February 11 at 2 p.m. at the Thorne-Sagendorph Art Gallery at Keene State College. Tickets are $10 for general admission, $8 for senior citizens and youths, and $5 for KSC students. Seating is limited, so buy your tickets early to this modern dance performance about how home informs who we are. For tickets, call the Redfern Box Office at 603-358-2168 or order online at keene.edu/arts/redfern.
2125 Stanley Street invites audiences into a home that unfolds though movement and sound that exists in the present moment through intimate exchange, a home that is both familiar and yet cannot exactly be located. A collaboration between dancers/co-creators Dahlia Nayar, Margaret Sunghe Paek and cellist/composer Loren Kiyoshi Dempster, the performance explores growing up in multi-lingual/multi-cultural households and investigates questions of belonging, the challenge of creating habitat in a foreign place, and the personal embodiment of culture and cultural memory as it stems from the home. 2125 Stanley Street examines home as an archaeological site where minimal artifacts offer points of departure for the re-imagination and reconstruction of a domestic space. The installation excavates the everyday and the mundane in search of a poetic consciousness. Household objects transform into potential sources of revelation and reflection. Basic tasks are infused with virtuosity and nostalgia. Fragmented lullabies and nursery rhymes create an evocative soundscape.
This special collaboration between the Redfern Arts Center and the Thorne-Sagendorph Art Gallery includes two exhibitions that deal with the subject of home:
Traces , a multi-media exhibit to be installed by Dahlia Nayar during her 10-day residency at Keene State, explores issues and images of cultural hybridity across generations of immigrant families. Traces is open February 14 to March 26.
At Home: A Teaching and Learning Installation, to run February 9 through March 26, is an interactive education installation developed in collaboration with the Horatio Colony Museum and Nature Preserve in Keene.
The Thorne presents an unrelated exhibit Sympathetic Vibration: Selected Works by Rachelle Beaudoin of Peterborough, Janet Hulings Bleicken of Hancock, Sally Bomer of Peterborough, Brian D. Cohen of Westmoreland, Glen Scheffer of Nashua, and Craig Stockwell of Keene. This exhibit, open from February 9 to March 26, shows new and recent work by these New Hampshire artists who, in various ways, address local and global issues and images.
The public reception for all three exhibits is Friday, February 17, from 5:30 to 7:30 p.m. at the Thorne Gallery. All exhibits are free and open to the public. For exhibit information, call 603-358-2720 or visit keene.edu/arts/tsag.
Dahlia Nayar and her company will be in residence at Keene State College from February 2 to 12 and will be involved in numerous other free events presented by the Redfern Arts Center as part of its Creative Connections outreach program. All events, listed below, are free and open to the public. For further information, contact Sharon Fantl at 603-358-2167.
Dahlia Nayar and co-creators speak with students in the Studio Exhibit Practice Seminar on Friday, February 3 at 10 a.m. at the Thorne-Sagendorph Art Gallery.
Choreographers Dahlia Nayar and Margaret Sunghe Paek lead a Dance Masterclass with Theatre and Dance students on Tuesday, February 7 at 10 a.m. in the Mabel Brown Room of the Young Student Center.
Pop-up rehearsals will take place throughout the week (times and locations to be determined) and the artists will visit with Intercultural Communications students on Tuesday, February 7 at 2 p.m. at the Thorne-Sagendorph Art Gallery.
Cellist/composer Loren Kiyoshi Dempster presents a Music Workshop on Wednesday, February 8 at 2 p.m. at the Thorne-Sagendorph Art Gallery.

A post-show reception and Q&A session with the artists follows the opening night performance of 2125 Stanley Street on Thursday, February 9, at the Thorne-Sagendorph Art Gallery.

The 2125 Stanley Street performance, sponsored by The Kingsbury Fund, is a collaboration with the Thorne-Sagendorph Art Gallery, and is made possible by the New England Foundation for the Arts' National Dance Project, with lead funding from the Doris Duke Charitable Foundation and The Andrew W. Mellon Foundation, with additional support from the National Endowment for the Arts. The Robert P. Hubbard Family Trust is the sponsor of the exhibitions at the Thorne-Sagendorph Art Gallery.
Related Stories