Mann is Music Department's 2021-22 Distinguished Alumni Award recipient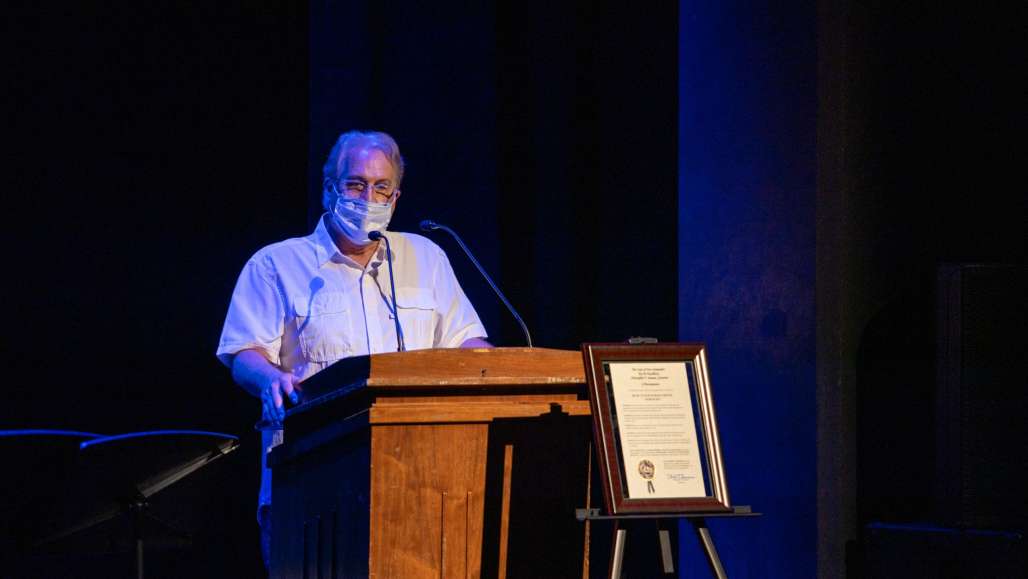 The Keene State College Music Department bestowed its Distinguished Alumni Award for 2021-22 to Ted Mann, a professor with a distinguished career in guitar performance, composition, music history and theory, and online education.
Mann, of Peterborough, was honored with the award at the PRISM: Music Alumni Showcase on March 25 at the Redfern Arts Center.
Mann is a Lecturer in Music at Keene State. He holds degrees in guitar performance from Keene State, music history and theory from UNH, and composition from Vermont College of Fine Arts. He studied privately with leading figures in guitar performance, including Ben Verdery at Yale, and has performed in masterclasses with Christopher Parkening, Sharon Isbin and Oscar Ghiglia.
Sandra Howard, chair of the college's Music Department, said Mann has been a consistent and valuable contributor for more than three decades.
"His positive spirit and expertise," she said, "has had a tremendous impact on thousands of students through music performance classes, ensembles, and in our Integrative Studies Program. We are so thrilled to honor Ted and to work alongside him as he continues to move the trajectory for musical excellence forward."
Mann's teaching career includes stints at Mount Wachusett Community College and Franklin Pierce University, among other institutions of higher learning.
At Keene State, Mann taught guitar studies, composition, theory and counterpoint, electronic music, and the history of rock music. He is a pioneer in online teaching at Keene State having taught some of the first courses in that format, nearly 15 years ago.
He continues to offer courses online, especially on rock music, thereby improving the access to high-quality instruction at Keene State, according to a release from the college's music department in announcing the honor.
As a student at Keene State, Mann worked with others in the department to create a professional degree program in music performance, despite institutional skepticism of the degree at a liberal arts college, the release noted. Since then, hundreds of students have completed the Bachelor of Music in Music Performance. Mann was the first guitarist at Keene State to graduate with a Performance degree.
Mann is an award-winning and wide-ranging composer. His music, performed regionally and throughout the U.S., crosses styles and genres; he is specialist in chamber music, works for guitar, and acoustic-electronic music. His "Fantasy for Flute, viola, and bass," received the top award in the international Composer's Voice Concerts series and was performed by the Bateira Trio at Carnegie Hall in N.Y. City.
As a guitarist, Mann has appeared on concerts and recitals countless times, performing original compositions and works by other composers. He is also an expert performer on other plucked stringed instruments, most especially the lute and vihuela.
He is the founder and artistic director of music festivals in New Hampshire and New York; an accomplished recording artist performing original compositions and arrangements; and a strong presence on the live-music scene in the region.
As a longtime member of the NH All State guitar committee, he has led workshops for teachers and in secondary schools. Additionally, he directed the N.H. Music Educators Association All-State Guitar Ensemble for its first formal performance, in Concord in 2019.
Mann is the 13th recipient of the award. The previous five honorees are Eric Weigler, Derek Shapiro, JoAnne Mead, Joseph Hartnett and Glen D'Eon.
For more information regarding the Distinguished Alumni Award or Professor Mann's accomplishments and contributions to the Keene State College, please contact the Music Department at 603.358.2177.
Related Stories