KSC Grad's Career Moves from Keene to Cambridge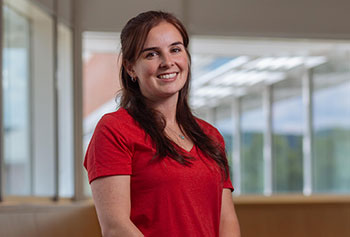 When recent KSC alumna Emily Neverett left behind her summer research job at Keene State to take a position as a lab tech in the Department of Organismic and Evolutionary Biology at Harvard University, she was leaving behind a support system that had shaped her vision for the future. But, she says, she's ready.
After working for Dr. Jason Pellettieri on his research with planarian worms for three years and graduating in May, Neverett will be leaving Keene for Cambridge, MA, as one of the lab technicians working with Harvard professor Dr. Mansi Srivastava to set up and operate a laboratory studying the three-banded panther worm and its regenerative properties.
"Dr. Srivastava is very interested in regeneration throughout generations of species. She wants to focus on the pathways that are involved in regeneration and what is different between all species. The three-banded panther worms that I'll be working with can regenerate any body part that they lose – if you cut them up into a hundred pieces, you'll get a hundred new worms. Humans can regenerate some cells, like stem cells that can proliferate, but we can't regrow limbs. So we want to know why this wasn't naturally selected for in the process of human evolution," said Neverett of the work she'll be doing in her new position.
Emily's connection to the Department of Organismic and Evolutionary Biology began before she was even aware, when she began working with Dr. Pellettieri as a lab tech in his lab, where they were studying the regenerative properties of the planarian worm.
"There's this whole planarian community. They do planarian conferences every two years, and they'll do national and international conferences. Dr. Pellettieri has relationships with several planarian scientists and one of them is Dr. Peter Reddien at the Whitehead Institute at MIT where Dr. Srivastava did her post-doc work," said Neverett.
Dr. Srivastava met another Keene State alumna, Amber Poirier, who was working at the Whitehead Institute. Srivastava contacted Dr. Pellettieri to see if there were any students who would be capable of working in her new lab, and for Neverett it seemed like a perfect fit. "He forwarded the email on to all of the graduating seniors. For me it just fit. I can relocate, I don't have any kids, so it was a really great opportunity for me to apply," she said.
Aside from being a great fit, Neverett also had the skills she'd learned in the classroom and Dr. Pellettieri's lab, which put her in an excellent position—in confidence, as well as ability.
"Without my research experience I've gotten the past three years, there's no way I would have ever gotten a job like this," said Neverett. "Dr. Pellettieri wants us to contribute and he expects us to be present at lab meetings and fully aware of what's going on. He peppers you with questions to make sure you know what's going on. He always says to us, 'You know I expect a lot of you guys as undergrads, but I know you're very capable of this type of work. And I push you because I know you're capable of it.' "
Emily said she sees this new opportunity as a step on her career path and a chance to really feel out what it is that she's most passionate about – as well as set a path for her to meet the people and have the experiences that will allow her to pursue the career she really desires. Leaving for her first job after undergraduate work isn't without its worries, however. Emily said she feel a little bit nervous working in Boston, when the largest city she's been in is Nashua, NH.
"I'm definitely a little nervous and excited at the same time. I'm nervous because these are some of the most ambitious people who end up at Harvard. They're there because they are top of the class, very intelligent, very organized," said Neverett.
Related Stories