Chance Discovery Lands Three Prestigious Science Grants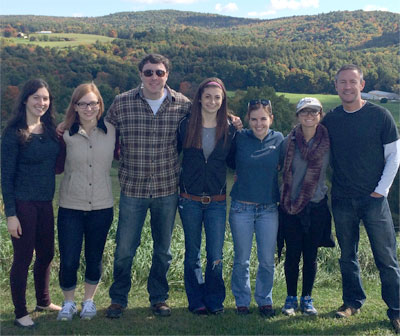 Who would ever expect an important scientific discovery to come out of a biology course for non-majors? Certainly not Assistant Professor of Biology Jason Pellettieri. So wasn't he surprised when a student team in his introductory class made a remarkable observation that has led him to three prestigious grants: a NH-INBRE grant, a National Institutes of Health R15 grant, and the National Science Foundation's EAGER (EArly-concept Grant for Exploratory Research) award, intended to promote and support potentially transformative research. 
It all started a couple of years ago in Dr. Pellettieri's ISP course, Stem Cells and Regeneration, which is geared towards non-science majors. His goal is to make science interesting and accessible and get his students engaged; so he has them conduct discovery-based research projects, where they can come up with questions and hypotheses and design a basic experiment. "It's not the kind of class where you think high-level science would originate," he said. "I certainly didn't expect that."
Because Dr. Pellettieri was studying tissue regeneration and working with planarians—aquatic flatworms with an amazing ability to regenerate lost body parts (in fact, if you cut a planarian into 100 pieces, in just over a week those pieces will have grown into 100 complete planarians)—he had his ISP students use them in their experiments. Most of those experiments involved simple tests of the effects of adding various substances to the water in which the animals are maintained (e.g., sugar, salt, acid, and even Red Bull!).
Begin pull-quote…

It's likely that an important paper will come from this research, providing excellent professional credentials for my students; this is high-level biomedical research.

…end pull-quote
However, one group decided to look at how light exposure affected flatworms, which prefer a dark, cool environment. The students exposed the animals to sunlight and after a week, the planarians had lost all their pigmentation. "It was an unexpected and very dramatic result," Dr. Pellettieri said. "Normally, they have this dark-brown pigmentation, but those exposed to light had lost all that. I realized that this was a significant finding, but my research was focused on regeneration, and I didn't want to change the focus of my lab, so I put this on the shelf."
Then a Continuing Ed student named Brad Stubenhaus showed up at Dr. Pellettieri's door. Stubenhaus had a BA in creative writing from Ithaca College, but thought he'd investigate career options in biology. He'd heard about Dr. Pellettieri's research, and asked if he could work with the professor on one of his projects. But Stubenhaus hadn't had any biology classes since high school.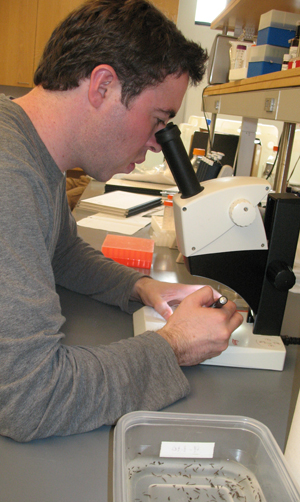 "He basically knew nothing about biology, so I thought, 'I can't really throw him into the kind of high-tech molecular biology project that I was working on with other bio majors,' so I decided to let him play with the way light depigmented the planarians and then transition him to a real project once he got his feet under him and got some experience," Dr. Pellettieri recalled. However, Stubenhaus isn't your typical neophyte. "Brad's a very motivated, hard-working, determined, smart guy who brings a lot to the table," Dr. Pelletieri soon learned. "He took this project and ran with it, and over time it's become the main focus for the lab. I've got 10 people working on this now, and only two working on regeneration." Stubenhaus graduated this year (2014) with a degree in biology and is now employed as a research associate, working on the planarian project.
Dr. Pelletieri realized that the information they were discovering in their experiments might lead to breakthroughs in our understanding of skin cancer. First, they had to be able to use visible light to produce fully depigmented animals under controlled conditions in the lab, so the results could be reliably reproduced. "That allowed us to look at the mechanisms of what's going on on the cellular level, and that's where we think the cancer connection comes in," Dr. Pellettieri explained. "We're pretty sure at this point that the visible light is causing the pigment cells to die. We think these cells are very similar to human melanocytes, which are the pigmented cells in our skin, and those are the cells that divide out of control when someone gets melanoma, the most deadly form of skin cancer. So we would love to know how this visible light is killing these melanocyte-like cells—what's making them so sensitive. Clearly, this doesn't happen to human melanocytes, which increase their pigmentation when exposed to sunlight. If we knew what made these cells so sensitive, it might be useful in developing treatments that would kill melanoma cells."
On the Verge of New Discoveries
Obviously, standing on the verge of new discoveries that could have relevance to deadly skin cancer is pretty exciting, but there's even more going on here. Dr. Pelletieri and his team are fairly certain that they've discovered some new and dramatic information on apototic cell clearance, the way an organism cleans up all those cells that are constantly dying and being replaced. Getting rid of these dead cells is critically important to the health of the organism, so the researchers are exploring two questions: "How does the visible light kill the cells?" and "How do those dead or dying cells get removed?"
Dr. Pellettieri isn't ready to talk about this new research into heretofore-undiscovered methods of cell clearance, so stay tuned for the rest of that story once he's got something definite to report. And regardless of the results, his students are getting a top-notch science education. "It's no exaggeration to say that they're working on the level of advanced grad students by the time they leave here," Dr. Pellettieri noted. "It's likely that an important paper will come from this research, providing excellent professional credentials for my students; this is high-level biomedical research."
It's also important that Keene State provides this kind of research experience. "You can't do this stuff online—it takes a residential, liberal-arts setting," Dr. Pellettieri observed.
And to think that it all came about due to a chance observation. "Most of the time, you set out in biomedical research following a hypothesis-driven path, but sometimes, the most interesting stuff happens like this," Dr. Pellettieri explained. "It's completely unexpected, so for a while you're not sure what's going on and you're fumbling around, but little by little you start figuring things out, and that leads to more questions, and it kind of snowballs."
Related Stories