Hersch Rothmel Receives President's Leadership Award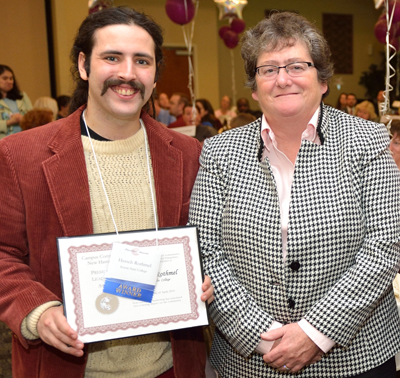 Honors student, junior, and American Studies and and Women and Gender Studies dual major Hersh Rothmel, who won the Fred Fosher Excellence in Writing Award and the Robin Dizard American Studies Award in March, has also been chosen for the President's Leadership Award, based on his extensive involvement with Mentors in Violence Prevention (MVP) and his work as student co-chair on the Campus Commission for Diversity, Equity, and Inclusiveness. The President's Leadership Award is part of the 2014 Campus Compact for New Hampshire's President's Awards, which celebrate and recognize community service on college campuses across the state.
These awards are well deserved, as Rothmel continues to put his skills and social consciousness to good use. This summer (2014) he has an internship with Michael Kimmel, a leading researcher and writer on men and masculinity. Kimmel won a grant that allowed him to open the Center for the Study of Men and Masculinities at Stony Brook Univ., and the Center is organizing an international conference for March 2015. Masculinity studies examines a given culture's socially constructed expectations of appropriate behaviors, beliefs, expressions, and styles of social interaction for men.
"I'll be serving on the funding committee for the conference and the abstract committee," Rothmel explained, "so we'll be reviewing and discussing the abstracts that are being submitted. And I'll be helping, in some fashion, with writing some grants—I'm really looking forward to developing those skills. I'll also be helping to create some videos and other stuff directly related to the Center."
And remember, Rothmel is a junior, so stay tuned to see what he accomplishes next year!
Related Stories