Bailey Saddlemire '22 Finds Her Calling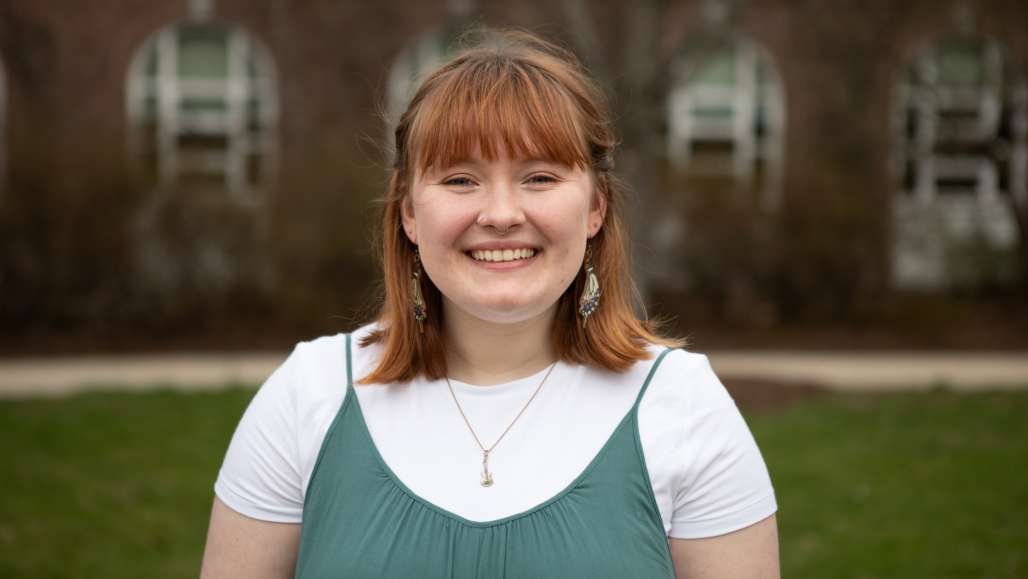 When Bailey Saddlemire left high school in Smithfield, RI, four years ago, she figured she was committed on her major, psychology, and would study to become a therapist.
"My family had a house in Brattleboro," she recalls, "and I wanted a small liberal arts college close by, so Keene State seemed an easy choice." A campus tour sealed the deal.
With the May 7th Commencement near, Bailey, an honors student, is set to graduate summa cum laude with a dual major: a BA in Psychology, with a minor in Women's and Gender Studies, and another BA in Criminal Justice, with a minor in Sociology. She plans to move to Los Angeles and apply for jobs in the field of restorative justice, where she hopes to work with incarcerated populations and advocate for a more rehabilitative and therapeutic approach to criminal justice.
"I now have a more complex understanding of what I want to do," she explains. "I never thought I'd move so far away from my family, but I'm going to LA with my partner and a friend, who both are in Film Studies and want to be in the film industry there."
"As a sophomore, I chose a criminal justice course on a whim," she said, and it took her study of human psychology in a new direction. "My adviser, Karen Jenning, invited me to join TREC (Truth, Reconciliation, and Equity Collaborative), a campus group of faculty, staff, administrators, and a few students, who were interested in restorative justice issues on campus."
Restorative justice is an approach that emphasizes redemption and community: rehabilitation over retribution, empathy over isolation. It works within the criminal justice system on behalf of both victims and perpetrators, and in daily life to repair common bonds.
In Bailey's junior year, Women's and Gender Studies Professor Patricia Pedroza Gonzaléz asked her to create a restorative justice handbook, a grant-funded project that allowed Bailey to focus on the campus issues she'd heard about through discussion circles and seminars. The handbook, published electronically, synthesizes theory and data to focus on student life and prompt a new way of thinking about the nature of social justice.
Bailey presented her handbook at the 2021 Academic Excellence Conference.
The courses that have meant the most to Bailey include Psychology of Belief, Abnormal Psychology, Women and Crime, and Queer Theory – "all taught by incredible women, and all of which opened up new ideas for me," Bailey says. Her final paper this semester is about the religious transmission of belief, for the Psychology of Belief course.
It is no surprise to anyone – except Bailey possibly – that Bailey will be recognized as a Student of the Year in Sociology, Anthropology, and Criminal Justice studies at Honors Convocation.
Bailey is leaving Keene State with fond memories – not just the insights gained in her academic work, but long walks with friends, Film Society screenings, learning to make vegetarian meals with her housemates, and the solid-gold relationships she has formed. All of which will stand her in good stead as she goes forth to serve.
For more on the restorative justice handbook project, click here:
Related Stories