Owl Club Membership
Alumni of Keene State College Men's Lacrosse created the Owl Giving Club to provide additional resources to the program to compete at the highest level of NCAA Division III while further enriching the student-athlete experience on and off the playing field.
By joining the Owl Club, you help to support the team's annual spring break trip, LEC Conference and NCAA Tournament appearances, and high-quality uniforms, equipment and coaching staff.
Gifts to the Owl Club support the Casey Barber '10 Men's Lacrosse Endowment Fund, a permanent fund that will generate annual income for the program, less the value of benefits received from membership.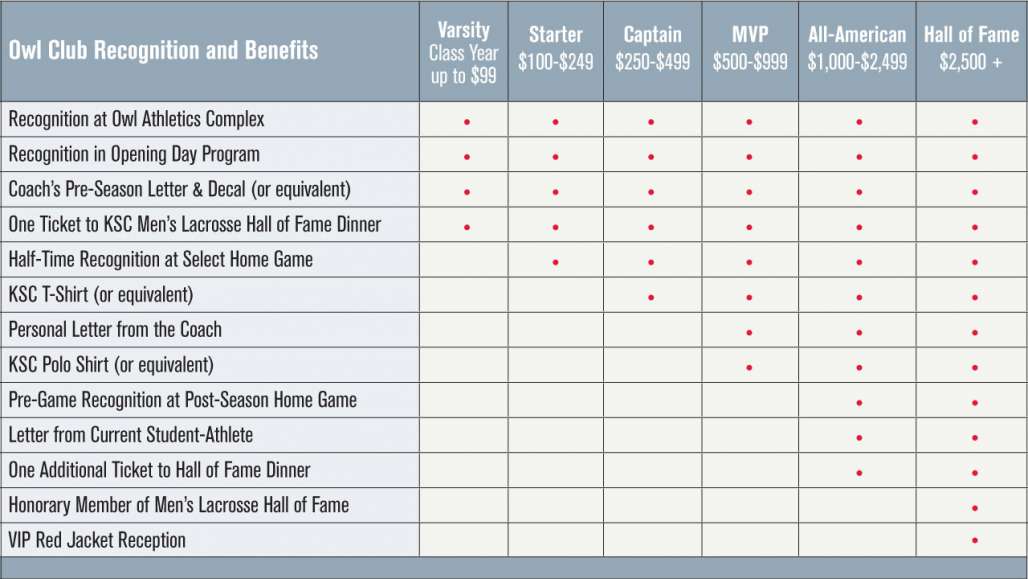 Join the Club
As an Owl Club member, you are a catalyst for the future growth and success of the men's lacrosse program at Keene State College.
Annual membership is determined by total cumulative giving to the Owl Club from July 1-June 30
Recent graduates are encouraged to join the Club as a Varsity member
Gifts to the team's annual fund, while not eligible for Owl Club membership, continue to be of great importance to the program and are greatly appreciated by our coaches and athletes!
Per NCAA regulations: Donating to Keene State College Athletics designates you as representative of the College's athletic interests. For more information, please contact Athletics at 603-358-2813 or visit NCAA.org.
Gifts made to the Men's Lacrosse Owl Club are considered gifts to Keene State College and are tax-deductible to the fullest extent of the federal and state law. While gifts are tax-deductible, the IRS requires that you reduce the tax deductibility of your gift by the fair market value of any benefits that you receive from your membership in the Owl Club. You may decline the benefits offered and maintain the full tax deduction of your gift.