Registration
Spring registration is still open for weekend classes. View a complete list of classes and register by calling our office at (603) 358-2290.
Need a printable registration form (for purchase orders, paying by check, etc)? Print one here!.
Office hours are Mondays - Thursdays, 8 a.m. to 6 p.m., and Friday 8:00 a.m. to 5 p.m.
These additional programs are currently accepting registrations. Please contact our office at 603.358.2290 for more information or to register.
For all other programs, please contact our office at 603.358.2290 to register.
---
Contact Continuing Education
Your degree is closer
than you think.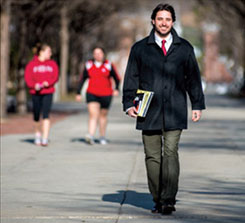 Think Keene State.
Office of Continuing Education and Extended Studies
continuing-ed@keene.edu
(603) 358-2290
Monday - Thursday, 8:00 AM - 6:00 PM
Friday, 8:00 AM - 5:00 PM
Elliot Hall, First Floor, Suite 144
Keene State College
229 Main Street
Keene, NH 03435-2605