Office of Sponsored Projects & Research

New Hampshire Network of Biomedical Research Excellence (NH-INBRE) at Keene State College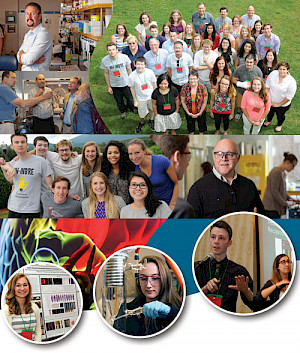 Experience the art of biomedical discovery.
Over the past eight years, the NH-INBRE network has supported biomedical science research at Keene State. It has provided support for research on cancer, cholera, hope in young people and communication in people with autism, among others.
NH-INBRE has directly engaged over 100 students through funding travel to conferences, research supplies and student employment at an average of over 500 hours per student.
---
The New Hampshire IDeA Network of Biological Research Excellence (NH-INBRE) is a state-wide initiative led by the Geisel School of Medicine at Dartmouth College and the University of New Hampshire designed to develop a coordinated network of biomedical research and training. Specifically, it aims to:
Nurture scientific, scholarly and administrative interactions
Develop biomedical research infrastructure
Create research opportunities for students and faculty
Stimulate science and research culture
Advance bioinformatics and genomics infrastructure, training and research activities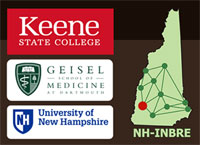 NH-INBRE is funded by NIH Grant Number P20GM103506 from the IDeA program of the National Institute of General Medical Sciences at the National Institutes of Health, and is a collaborative network of 2 year and 4 year colleges in the State of New Hampshire. The NH-INBRE network is comprised of two "lead" research-intensive institutions, the Geisel School of Medicine at Dartmouth and the University of New Hampshire, and the "Partner" primarily undergraduate institutions: Colby-Sawyer College, Community College System of New Hampshire (CCSNH), Franklin Pierce University, Keene State College, New England College, Plymouth State University, and Saint Anselm College.The IDeA program builds research capacities in states that historically have had low levels of NIH funding by supporting basic, clinical and translational research; faculty development; and infrastructure improvements. For more information about the INBRE activities around the state, visit nhinbre.org.
Here at Keene State College, NH-INBRE is supporting advances in scientific discovery and training the next generation of researchers in a number of ways:
• Research projects. In addition to addressing important scientific questions, these projects directly engage our undergraduates in the process of discovery, giving them valuable hands-on experience.
• Research training activities. This includes money for faculty members engaged in biomedical research to hire student research assistants both during the academic year and the summer, funds for research travel, and supplies. In many cases, students can spend a summer working on a research project alongside a faculty mentor, rather than seek other summer employment.
• Access to research resources. Additionally, through the NH-INBRE network, our faculty and students have access to colleagues, training, research instrumentation, and other research-related resources and experiences around the state.
---
NH-INBRE news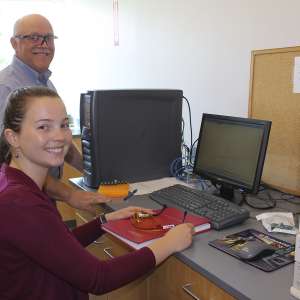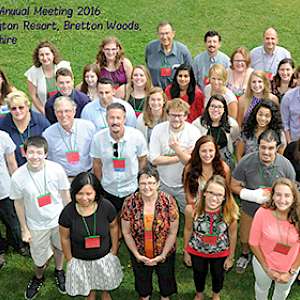 ---
NH-INBRE funded Research Projects at KSC
Advancement of a Novel Fatty Acid Synthase Inhibitor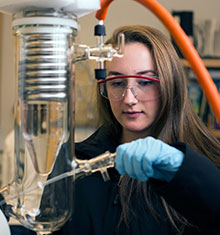 Project Leader: Paul Baures, Department of Chemistry, Keene State College
Collaborator/Mentor: William B. Kinlaw, Geisel School of Medicine, Dartmouth College
Cancer cells have a significantly different metabolism than healthy cells, and researchers have been looking for the key that explains why currently available fatty acid synthase (FASN) inhibitors have caused undesired weight loss in target cancer patients. This research project advances a novel compound tagged as the most potent inhibitor known of the thioesterase domain of fatty acid.
Dr. Baures' project aims to develop a high-value tool compound for investigating the inhibition of the multi-domain enzyme fatty acid synthase in cancer outcomes and a host of other metabolic disorders in animal models. This project hopes to feed into his further research to develop the lead compound into a novel and effective clinical therapeutic for use in the treatment of cancer.
---
An Efficacy and Feasibility Study of a Hope-Centered Intervention for Adolescents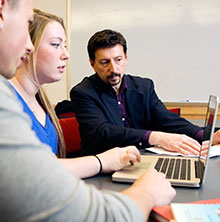 Project Leader: Anthony Scioli, Professor, Department of Psychology, Keene State College
Collaborator/Mentor: Anna Adachi-Mejia, Geisel School of Medicine, Dartmouth College
The adolescent years are an important time for building self-confidence, fine-tuning relationship skills, expanding coping strategies, and developing a sense of purpose in life. However, it is also a time when personal, social, and existential challenges may result in the first signs of mental illness.
Dr. Scioli's INBRE project evaluates his integrative intervention to instill fundamental (trait) hope in adolescents with symptoms of mild depression. This intervention will be developed and evaluated in the context of a training and research program designed to cultivate hope-oriented undergraduate scientist-practitioners. The pilot data gathered from this research will be the first step towards developing formal, larger scale, clinical trials. By reducing hopelessness, the project expects to reduce the burden of mental illness and unhealthy lifestyles in the critical adolescent years.
---
Behavioral and Cortical Effects of Computerized Language Training for Autism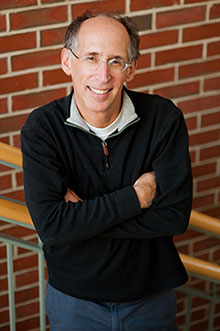 Project Leader: Lawrence Welkowitz, Professor, Department of Psychology
Collaborator/Mentor: Laura Flashman, Advanced Brain Imaging Lab, Geisel School of Medicine, Dartmouth College
Communication deficits in Autism have been emphasized in the most recent diagnostic manual (DSM-5). This study focuses on prosody and pragmatic language deficits in Autism. Other studies have examined social communication impairments from a variety of perspectives and utilized a variety of tools. However, the use of computer-based language training programs to improve social skills in individuals with Autism Spectrums Disorders (ASD) has been largely unexplored. While other research has examined non-verbal aspects of social communication such as eye gaze or facial expressions in ASD, the present study focuses on the emotional, non-content aspects of communication expressed by voice. This research uses an iPad-assisted language feedback program ("Speechmatch") designed to improve emotional expression or prosody in conversation. In addition, the neural basis of emotional prosody dysfunction in ASD will be explored through social comprehension and social attention subtests of a neuropsychological test.
Currently, Dr. Welkowitz is leading continued fMRI studies of individuals with Autism undergoing language training tasks. He is also revising an R15 NIH grant proposal for re-submission that includes funding for fMRI.
---
Previously funded NH-INBRE Research Projects at KSC
The Effects of PAH Exposure on Early Development
Project Leader: Dr. Susan Whittemore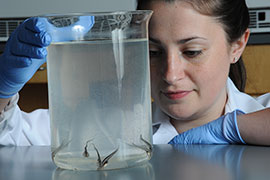 Phenanthrene, pyrene, fluoranthene, and benzo(a)- pyrene were common contaminants, known as polycyclic aromatic hydrocarbons or PAHs, deposited into soil, water, and air as a result of the incomplete combustion of carbon-containing compounds.
Research students in the Whittemore lab were using the model organism the African clawed frog (Xenopus laevis) to assess the impact of developmental PAH exposure on normal heart function. They used a variety of techniques to assess for cardiac effects, including video recordings of beating hearts and quantitative gene expression analysis.
---
Light-Induced Pigment Cell Apoptosis
Project Leader: Dr. Jason Pellettieri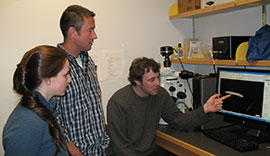 Associate Professor of Biology Dr. Jason Pellettieri is leading a study of the effects of intense visible light on pigment cells in planarians (Schmidtea mediterranea), aquatic flatworms with an amazing ability to regrow severed body parts. Preliminary data suggest that planarian pigment cells die when exposed to bright visible light for extended periods of time. Further research may have implications for human health and understanding disease mechanisms. For human health, a normal number of pigment cells are critical. Skin melanocytes, for example, normally provide protection from the damaging effects of ultraviolet (UV) radiation, but stimulate the growth of too many melanocytes, and you're a candidate for melanoma.
Following his NH-INBRE supported project, Dr. Pellettieri was awarded an EAGER grant from the National Science Foundation (IOS-1445541) and an Academic Research Enhancement Award (AREA/R15) from the National Institutes of Health (R15GM107826). The EAGER program supports "potentially transformative research ideas or approaches," and the R15 program supports meritorious health-related studies that engage undergraduates in top-quality research. Dr. Pellettieri and his research students will be investigating a possible novel mechanism for clearing dead or damaged cells from animal tissues, using the planarian as a model organism.
The mentor for Dr. Pellettieri's NH-INBRE project was David Mullins, Assistant Professor of Microbiology and Immunology, Geisel School of Medicine at Dartmouth College.
---
A Molecular Characterization of the Structure and Function of Petroleum Hydrocarbon Degrading Microbes Present in the Tidal Wetlands of the Great Bay Estuary.
Project Leader: Dr. Loren Launen, Keene State College

Project Collaborator: Dr. Sinéad Ní Chadhain (visiting scholar)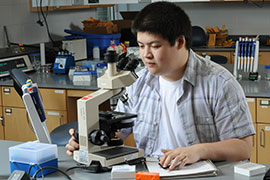 Associate Professor of Biology Dr. Loren Launen led a study of petroleum hydrocarbon degradation in Great Bay Estuary salt marshes.
Petroleum hydrocarbons are a group of highly toxic pollutants produced whenever fossil fuels are burned. They are released into the atmosphere, soils, and surfaces and, due to their chemical stability, the levels of petroleum hydrocarbons in soils and sediments are increasing globally. The major means of petroleum hydrocarbons removal from salt marshes is through microbial degradation by indigenous microbial communities. However, our understanding of the structure and function of these microbial communities is limited. Drawing on a combination of Dr. Launen's experience characterizing petroleum hydrocarbons degradation by salt marsh microbes, and collaborator Dr. Ní Chadhain's expertise in molecular microbiology, the results of this project will be useful in understanding what factors limit or enhance bioremediation of petroleum hydrocarbons-contaminated salt marshes.
The mentor for Dr. Launen's pilot project was Dr. Stephen Jones, Research Associate Professor, University of New Hampshire Marine Program.
---
For more information or questions about the NH-INBRE program in Keene State College,
contact Lynn Arnold larnold@keene.edu, Program Manager
---
Contact the Office of Sponsored Projects and Research
Please visit our staff page for a directory of contacts for various sponsored projects and research functions.