Office of Sponsored Projects & Research

COBRE at Keene State
Biodiesel and Petroleum Diesel: Exposure Profiles and Public Health Consequences
Dr. Nora Traviss, Associate Professor, Environmental Studies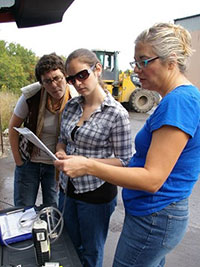 This project was funded by an Institutional Development Award (IDeA) Center of Biomedical Research Excellence from the National Institute of General Medical Sciences of the National Institutes of Health (grant number P20GM1245) to Dartmouth College's Center for Lung Biology Research. The IDeA Program builds research capacities in states that historically have had low levels of NIH funding by supporting basic, clinical and translational research; faculty development; and infrastructure improvements.
Here at Keene State College, Dr. Traviss and her research team contributed to the overall goals of the Center for Lung Biology Research by advancing our understanding of biodiesel and petroleum diesel exposure. There is growing interest in the use of biodiesel to replace petroleum diesel fuel because biodiesel has been suggested to pose less risk to human health and the environment. While there is a considerable body of evidence on the negative health effects of petroleum diesel exhaust exposures, there has been little research examining the effects switching to biodiesel may have on worker health and the local environment. Dr. Traviss and her team are addressing that gap. For more information about their activities visit sites.keene.edu/biodiesel
Building upon the success of her COBRE funding, Dr. Traviss was recently awarded a grant from the National Institutes of Health (1R15ES022431-01) to continue this important line of research.
Publications
Traviss, N., Thelen, B.A., Ingalls, J. and Treadwell, M. 2010. Biodiesel vs. Diesel: A pilot study examining exhaust exposures for employees at a rural municipal facility. Journal of Air and Waste Management 60: 1026-1033.
Traviss, N., Thelen, B.A., Ingalls, J, Treadwell, M. 2011. Evaluation of the impact of biodiesel on occupational and environmental exposure profiles. Journal of Air Quality and Atmospheric Health. Available via: Online first DOI: 10.1007/s11869-011-0141-8.
---
Contact the Office of Sponsored Projects and Research
Please visit our staff page for a directory of contacts for various sponsored projects and research functions.