Keene State College is Transforming for a Green Energy Future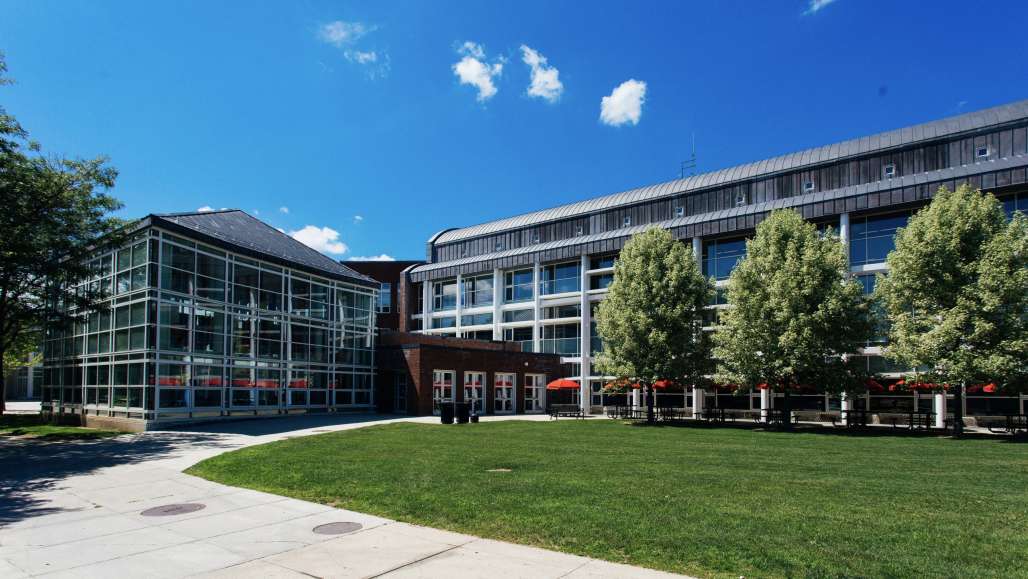 Keene State is committed to the value of sustainability, in the classroom and outside of the classroom. The college has committed to 100 percent of the campus being powered by renewables by 2030, having a heat plant that is 100 percent powered by renewables in 2020 (which was met before goal), and being carbon neutral by 2050. These are three of the ambitious sustainability and energy goals announced by President Melinda Treadwell in this 2018 message to our community.
Developed with input from the community, including students, and outside stakeholders, these commitments deliver on Keene State's goal of becoming a premier undergraduate institution for leading, teaching, and demonstrating visionary sustainability.
Three primary ways to achieve the goals were developed:
Reduce energy use on campus.
Replace current fuels with clean, low/no carbon, renewable sources.
Generate as much clean, renewable energy on campus as possible, and procure low-impact green energy from local and regional sources to meet the remaining energy demand.
Cary Gaunt, director of campus sustainability, and Diana Duffy, coordinator of energy and utility services, lead these efforts, and work closely with President Treadwell and her Cabinet leadership as well as the President's Council for a Sustainable Future, a stakeholder advisory group of faculty, staff, and students, and colleagues around the college.
The college received nation-wide recognition with its switch from polluting #6 fuel oil to a clean, renewable, refined used vegetable oil fuel (LR-100) in 2016. This helped Keene State meet its renewable heat plant goal before schedule.
Now Keene State is starting a building-by-building energy transformation under a Guaranteed Energy Savings Contract. The college carefully vetted proposals from qualified Energy Services Companies for energy conservation and savings measures, renewable energy, and other innovative energy solutions. The proposal needed to guarantee energy savings. This means that the selected company is obligated to deliver the savings it says it can achieve, or face a financial penalty.
In its search, the college emphasized the need for a partner in both sustainability and student involvement. "This was critical," Gaunt said, "to underscore Keene State's commitment to the student experience and teaching about sustainability and climate change leadership." The search called for funded student internships, workforce development, and support for sustainability initiatives beyond energy.
The winning proposal came from Siemens Industry Inc., a global sustainable energy services corporation and recognized sustainability business leader. They included commitments for educational support, outreach and communications, creating learning labs, and providing a part-time sustainability coordinator to liaise with the Keene State Office of Sustainability.
The first step was to conduct a comprehensive building-by-building audit, called the Investment Grade Audit (IGA). Completed in August 2020, the IGA identified potential energy savings and facility improvement measures, from lighting retrofits and building envelop improvements, to kitchen and other ventilation optimization. If fully implemented, these projects could save Keene State close to $700,000 in energy costs each year, while also receiving a one-time utility incentive for energy improvements of almost $750,000. This sums up Keene State's approach to sustainability: balancing environmental sustainability and human well-being with financial sustainability.
The Keene State Office of Sustainability, Physical Plant and Student Services staff are working with college leadership to determine which of the energy savings and improvement measures will be done. The intention is to present to the University System of New Hampshire Board of Trustees in January 2021.
In the meantime, two projects are underway:
The first project is transforming Lloyd P. Young Student Center. Signage will explain energy saving and facility improvement measures, and the Student Center will serve as a learning lab for students to participate in the transformation. Students considering Keene State, and the public, can observe the innovations. The Student Center projects will show what's possible for the whole campus. By upgrading lighting, tightening the building envelope and adding insulation, improving exhaust systems in the kitchen, and upgrades for heating/cooling systems, the college will see annual energy savings of close to $45,000. It will also receive a $100,000 incentive payment from local energy company Eversource.
The second project is focused on expanding solar power for the campus and an innovative way to finance the project to make it affordable. Keene State's goal is to produce solar power in a visible way so that students can learn from it and the community can see Keene State's commitment to sustainability and climate responsibility.
Related Stories