KSC is First College in the U.S. to Heat with Purified Waste Vegetable Oil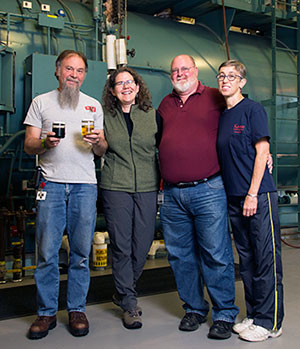 Keene State College announces that it is the first, and currently only, college or university in the United States to heat a college campus with 100 percent purified waste vegetable oil. The announcement comes during Campus Sustainability Month, an international celebration of sustainability in higher education.
The biofuel is a product of a proprietary refinement process used by a New England-based producer. The purified waste vegetable oil is carbon neutral and currently heats 36 percent of the College campus. Keene State intends to grow the use of the biofuel to heat more of the campus over the coming years, as it is a vital part of attaining the College's sustainability and climate commitments, in addition to cultivating a more diversified and resilient heating fuel portfolio. During August 2016, Keene State met the demand for heat and hot water entirely through the use of purified waste vegetable oil.
"Sustainability is a core value at KSC – in fact, the College was one of the original signatories of the American College and University President's Climate Commitment, now titled the Carbon Commitment. The College continues to develop projects and an overall plan to significantly reduce greenhouse gas emissions campus-wide," said Director of Campus Sustainability, Cary Gaunt. "After checking with industry leaders, we have found that KSC is the only college or university to use purified waste vegetable oil to heat a campus. By choosing to replace polluting No. 6 heating fuel oil with an innovative new fuel derived entirely from waste cooking oil, we are taking bold steps to demonstrate our values by significantly reducing our greenhouse gas footprint and improving the wellbeing of the people on our campus and the surrounding community."
"Keene State College's decision to switch their heating fuel to 100 percent used cooking oil is an innovative example of reducing operational greenhouse gas emissions, supporting a local business, and improving the air quality around their campus. It's also a testament to the many benefits of working toward the goal of carbon neutrality," said Second Nature Senior Manager Steve Muzzy, whose organization works with colleges and universities to advance principles of sustainability in higher education.
The waste vegetable oil, with renewable energy incentives, offers a cost that is comparable to the No. 6 fuel oil that the College was using for most of its heating needs. Minimal upfront cost and staff time were necessary to begin using the waste vegetable oil derived biofuel, and the environmental benefits are significant for the campus and the greater Keene area. In addition to using vegetable oil for fuel, Keene State is making plans for its own used cooking oil to be recycled for use as heating oil.
"I feel a great sense of pride being a part of a community that is actively searching for ways to reduce their carbon footprint. The progress that is being made shows the dedication and concern that KSC has for our planet," said Keene State environmental studies major and Eco-Rep, Victoria Drake. "The switch to purified waste cooking oil demonstrates how our campus strives to support just one of their many values. This step forward proves our commitment to sustainability, and I hope that it serves as an example for other colleges and universities as well."
Related Stories