Sport, Recreation Management: Internship Gives Wings to Chase Lambert's dream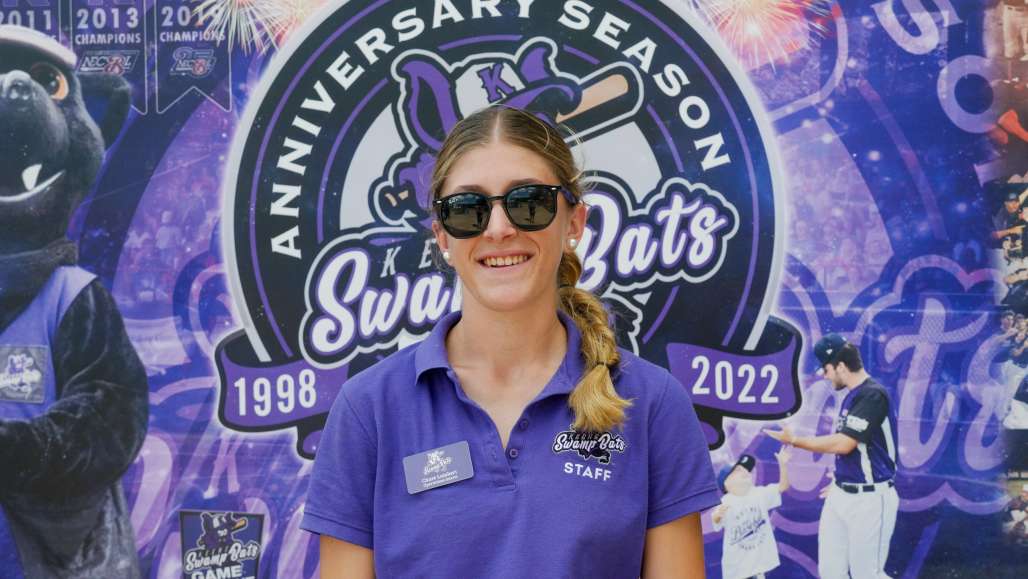 In her years at Keene State, one might say that Chase Lambert's eyes – and ambitions – have widened.
To Chase '23 and to those who know her best, her shift to a Sport and Recreation Management Major sounds and feels so right.
It is now the laser-like focus of her remaining education, she says. Thinking big picture, the field hockey standout from Suffield, Connecticut, says she imagines going to law school to become a sport-contract lawyer.
"My classes have sparked my interest in that field," says the affable Chase, who will serve a second season as captain of the Owls in the fall.
Toward that end, Chase is interning this summer with the Keene Swamp Bats, a regular contender in the New England Collegiate Baseball League, which features 13 teams in all six New England states and boasts of nearly 150 Major League alumni.
Offering growth opportunities to college students that will help them reach their professional goals is a big part of our organization, says Kevin Watterson, the Bats' president.
Its internship program focuses on four areas of academic discipline: social media, game-day operations, broadcasting, and baseball analytics.
One of eight Swamp Bats interns this summer, Chase has taken on some of the most difficult responsibilities in her operations role, including lead intern for the organization's popular baseball camp, which drew almost 300 youths to its two-week program last month.
Connecting with parents, campers, coaches, and players, Chase managed the most successful baseball camp in the Bats' history, Watterson says.
"She handled high-stress situations with ease," Watterson says. "One of Chase's attributes is her ability to assist her peers in executing their goals."
"Chase understands the importance of customer service, always focused on what is best for our sponsors and our fans," Watterson says. "When a task is assigned to Chase, we know the outcome will be a positive one. We are proud to call her one of our own."
Another of the interns, Rachel Valentine, a recent graduate of Ithaca College, has accepted a full-time position with the NFL's Green Bay Packers in charge of three of the team's social media platforms.
An offensive midfielder with six goals in 49 career games, Chase is regarded as a grind-it-out type of player. And a strong leader. "On the field, and in school, I always want to be the best version of myself, and you can only achieve that if you set your mind to something."
Says Amy Watson, the Owls' field hockey coach:
"I remember talking to Chase when she switched her major to sports management, and I remember her feeling like it just clicked. Chase knew from the start she wanted a career in athletics, and like so many the obvious choice seemed to be education. I give her credit for really exploring her options."
Chase calls her classes "insightful and tailored perfectly to her field of study" and what she anticipates in the real world. She is buoyed by Keene State's reputation for graduating job-ready, highly employable talent.
"When I changed my major, I did feel like I was going to be behind, but I was not," she says. "Instead, I feel more prepared than ever."
The internship, she adds, has given her unique insight into the role that community can play in sustaining a successful sports organization.
"Getting to feel it firsthand, in my college town, is something special. Talking to fans who come to every game rain or shine, hearing their stories, the wins, the loses and the memories from the past 25 years. I would say that has been the most rewarding part. That and knowing I might be making a small impact."
Related Stories