From TEDx Talk to TV Research, Grad Found Host of Opportunities at Keene State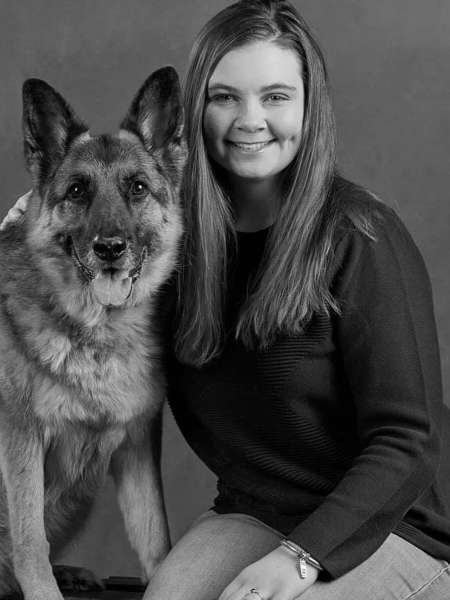 What does it mean to make your own adventure at Keene State? Ask Mackenzie Donovan, who graduated in May. As a student, she:
Gave a TEDx talk
Tromped around campus with her dog, Rue, who she trained to sniff out an insect that destroys ash trees
Worked as a resident assistant in a dorm and as a teaching assistant
Won a research grant that paid her to spend a summer studying a late-night news-comedy show
Cowrote a paper with a professor that was recently published.
Pretty adventurous!
A communication major, English/writing minor, Mackenzie works as a project coordinator for a software development firm, a job she says reminds her of studying at Keene State, where her coursework frequently involved working as part of a team on projects.
She decided to study communication after meeting Amber Davisson, an associate professor in the Communication and Philosophy Department who has written extensively about the ways social media interacts with celebrity culture and with politics.
Mackenzie applied for a Keene State SURF – Summer Research Fellowship – grant to do research with Davisson along the same lines. She spent the summer before her junior year watching more than 200 episodes of Last Week Tonight with John Oliver, a late-night HBO news satire show.
"We were looking at what's called transmedia storytelling," Mackenzie says. She kept notes on times when John Oliver told his audience to do something, like donate money to a cause or call government officials.
It was a way for Oliver to get the word out about stories that most news sources were ignoring, she says. For instance, Last Week Tonight publicized the issue of families weighed down medical debt, and raised money to cancel nearly $15 million dollars of that debt.
The result of the research: an article authored by Prof. Davisson and Mackenzie titled "Breaking the News … on a Weekly Basis: Trolling as Rhetorical Style on Last Week Tonight." If was published in July by the journal Critical Studies in Media Communication.*
What was it like to watch 200 hours of TV for research purposes? "I enjoyed it," says Mackenzie. "Some of it was pretty funny. And, yeah, I got paid $4,000 to watch You Tube. That's pretty cool."
Even cooler: as an incoming first-year student, she didn't know the kind of opportunities she would find at Keene State even existed. She learned about the TEDx Keene event, for example, because she happened to see a flyer about it on campus. She typed up a quick proposal for a TEDx talk on her phone, sent it off, and was accepted. She met Prof. Davisson, who was offering pointers to the student speakers, and learned about the communication major from her – and went on to become her research assistant.
As it turned out, Mackenzie's adventures at Keene State led directly to work post-college. She landed her first job after graduation because of her research work; she got her current job because of the TEDx talk. "I just was not aware of the opportunities that existed for people who got a humanities degree," she says.
Learn more about Keene State's communication major
Related Stories