Communication & Philosophy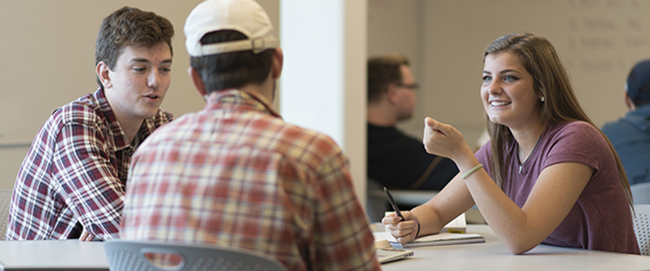 Fundamental in Everyday Life
We all communicate, whether we talk with family members, deliver public speeches, write legal documents, direct movies, or create websites like this one.
But why do we communicate? What are some theories and philosophies that guide why we think, speak, and see in the ways that we do? And how might we communicate better, for example, more ethically and in a way that can be understood by someone from another culture?
---
A Diverse Perspective of Vital Fields of Study
On your way to earning a degree in Communication, you will explore a variety of academic areas and study communication from a perspective based in the humanities. Our students develop skills and knowledge at the heart of higher education in the liberal arts, enriching their personal lives and facilitating professional success.
Here are examples of what you will study:
Classical and contemporary theories of persuasion
Ethics and logical argumentation
Philosophy of law (including ideas about liberty, justice, and the origins of governmental authority)
Interpersonal, intercultural, and organizational communication
Presidential and political rhetoric
Media studies (of photography, film, and television, for instance)
---
A Degree for Career Communicators
"I enjoy learning about a topic in class and being able to use it directly once I walk out the door."
- Colin Daly, Communication major
Communication and Philosophy graduates possess an academic background that prepares them for a range of professional pursuits. They gain intellectual tools needed for a lifetime of learning and career success as they go on to graduate and professional schools or careers in:
Teaching
Writing
Law
Human Resources
Media
Public Relations
Politics
Social activism
---
Practical Experience Throughout the Program
Hands-on, useful, and relevant experience allows our students to make exceptional progress toward their goals after graduating. Throughout your course of study, you will learn by doing through a range of options, including:
Public speaking competitions
Undergraduate research
Internships
Service learning within the Keene community
A significant step toward future success: a mandatory senior project, requiring design, implementation, and public presentation of original research – a key asset for job interviews and graduate school applications
---
Dr. Sander Lee, Professor of Philosophy, with students attending the KSC Honors Program.
Our faculty's diverse scholarship allows students to earn a rare undergraduate degree, combining communication and philosophy. Faculty expertise ranges from interpersonal, intercultural, and health communication to the rhetoric and philosophy of language, film, aesthetics, ethics, criminality, race, gender, and sexuality. More about A Distinctive Blend of Faculty
---
---
Wise up!
Contact Admissions
Request information
Cheryl Martin
Administrative Assistant
603-358-2770
Admissions Office
800-KSC-1909
229 Main Street
Keene, New Hampshire 03435