Cirque Alfonse Presents Family Circus at the Redfern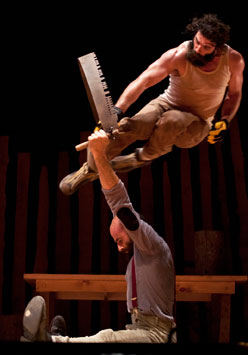 Daring aerial and circus acrobatics combined with astounding feats of agility and strength, inspired by North-American lumberjacks and logging, will thrill people of all ages when Cirque Alfonse performs Timber! on Saturday, February 1, at 2 p.m. at the Redfern Arts Center at Keene State College. Tickets range from $40 to $25 and $5 for KSC students. For tickets, call the Box Office at 603-358-2168 or order online at www.keene.edu/racbp.
In their premiere American tour this hilarious circus troupe features log-walking, spoon-clacking, hatchet-juggling, clog-dancing, and even hijinks on an outhouse. Timber! offers a smorgasbord of family fun based on the logging tradition with circus troupers performing daring knife tricks and acrobatic feats to the toe-tapping sounds of live Quebecois folk music. Cirque Alfonse creates a colorful, energetic scene of agility and strength while they juggle axes, duck and dive between whirled-about saws, and execute daring handstands, balancing acts, and acrobatic flips on stage.
London's Telegraph states, "Timber! is one of those shows that makes you want to run away and join the circus." And Canada's Le Devoir, calls it "Simply jaw-dropping."
Timber! conjures up the smell of fresh-cut pine logs, the mighty feats of legendary lumberjacks, and the comraderie of logging camps and country farms all accompanied by live music and songs from the circus' rural birthplace in French-speaking Canada. Cirque Alfonse, established in 2005 is a young circus company from Saint-Alphonse-Rodriguez in the province of Quebec. Its founding members have all worked with some of the most renowned "nouveau cirque" companies around the world. This troupe is comprised of a team of professional acrobats graduated from the École nationale de cirque de Montréal, as well as a professional dancer, an ex-skiing champion, and three talented and versatile musicians. This brave and creative group of performers is blazing a creative path that no one has yet dared to explore with Timber!, blending the arts and techniques of the circus and infusing them with the most picturesque facets of traditional Quebec folklore.
In collaboration with the wild and wooly Cirque Alfonse performance, the Redfern sponsored a Best Beards at Keene State College contest. Winners of Best Beard and Best Effort will be announced a few days before the show. A photography exhibit of all people, both male and female, who entered the contest will be displayed in the lobby from January 28 to February 2. A post-show meet and greet reception with the circus troupe will follow the February 1 performance. A circus workshop for people with circus skills will take place on Friday, January 31, at 1:30 p.m. at the New England Center for Circus Arts in Brattleboro, Vt.
The Redfern performance of Cirque Alfonse's Timber! is funded in part by the Expeditions program of the New England Foundation for the Arts, made possible with funding from the National Endowment for the Arts, with additional support from the six New England state arts agencies.
About Redfern Arts Center at Keene State College
The Arts Center is named in honor of Dr. Leo F. Redfern, Keene State College President from 1969 to 1979 for his vision, commitment, and eloquence on behalf of the arts that made funding and construction of the facility a reality. In 1981, KSC inaugurated this new performing arts center, with the goal of providing unforgettable artistic encounters for the campus and community. Since then, the Redfern stage has hosted hundreds of amazing shows, from internationally renowned artists to emerging young talents to KSC's own student performers. Over the years, the Redfern has expanded its outreach programs, curricular and community partnerships, becoming an indispensable resource for the Keene community and beyond.
Related Stories