Keene State's Hungry Owl Food Pantry Recognized by New Hampshire Food Bank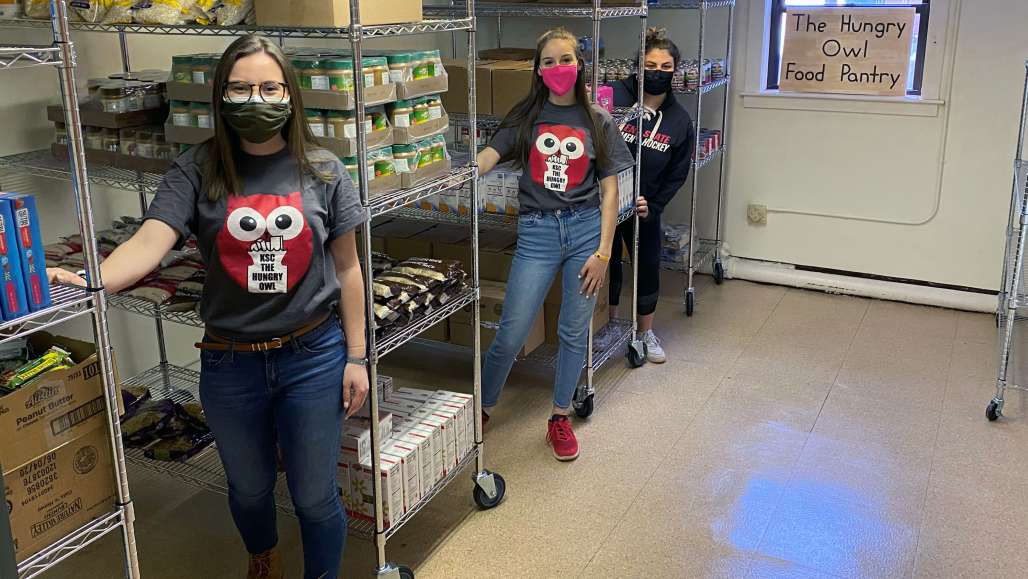 Keene State's Hungry Owl was recognized by the New Hampshire Food Bank in the monthly spotlight section of the agency's newsletter for the service that the food pantry provides to Keene State students suffering from food insecurity.
The Hungry Owl is an on-campus student-run food pantry that provides nutritious foods and personal care items for Keene State students, faculty, and staff who are in need. The food pantry is located in the basement of Joslin Hall and has five satellite locations around campus. Originally, the Hungry Owl only provided non-perishable foods to the community but has expanded to providing fresh produce and hygiene items as well.
The New Hampshire Food Bank praised The Hungry Owl for implementing innovative practices in distributing products to the Keene State community, such as contactless pickup and online ordering, satellite locations around campus, and confidential delivery of food and hygiene products to students quarantining off campus.
"We feel honored to have been recognized by the New Hampshire Food Bank for the work that we are doing. It encourages us to continue to be creative in how we try to meet the needs of our students, faculty, and staff who may be struggling with food insecurity," said faculty advisor Professor Dena Shields. "Our ability to provide resources to students is only possible with the generous support from those in our Keene State College and Keene communities, and we are very grateful."
The food and products that The Hungry Owl provides are donated to Keene State by the New Hampshire Food Bank, C&S Wholesale Grocers, The Monadnock Food Co-op, and through collected donations from the Keene State community itself.
The Hungry Owl provides a safety net for those in the Keene State community who are food insecure in an effort to lower the stress and anxiety of having to find money to provide these necessities. The Hungry Owl can also help individuals apply for SNAP benefits and find rent relief services.
One thing that The Hungry Owl said they would like to get assistance with is spreading the word about what they do and who is able to use their services. Student volunteers say that many students are nervous to come to the food pantry because they feel that other students "need it more" or are embarrassed. "We recognize that those students, too, may be going hungry or struggling to buy food. We have plenty of food for anyone that needs it. If students come and get food from us, it allows more money for books, rent, clothes, or anything else that they need. Or maybe they could just work fewer hours," said Dena.
With COVID-19 playing a role in keeping students local, rather than traveling home for weekends and holidays, The Hungry Owl also eases the stress of finding food during these more challenging times.
"I wish more people took advantage of what we have to offer," said Samantha Dost '20. "One event in particular that I think did a lot of good was the Thanksgiving basket giveaway. This helped to provide about 40 people with Thanksgiving meals. Things like that help bring our community together and help us to take care of one another. We want all of our students, staff, and faculty to be fed and perform the best that they can."
The Hungry Owl can be found on Facebook, Instagram and on keene.edu.
---
Getting Food from the Hungry Owl
There are 3 ways of getting food from the Hungry Owl
Stop by our main location in the basement of Joslin during our open hours. Hours are:

Monday: 2:00pm to 5:30pm
Thursday: noon to 2:00pm

Place your order online and then pick it up at our main location in the basement of Joslin during open hours. You will choose your pick-up time when placing your order.
Stop by any of our satellite locations and take what you would like from the shelves. Note that there is more of a selection at the main location. Here are the satellites locations:
We also provide support to students that need help with completing SNAP applications.
Related Stories