Mentorship Support for Multicultural, LGBTQ Students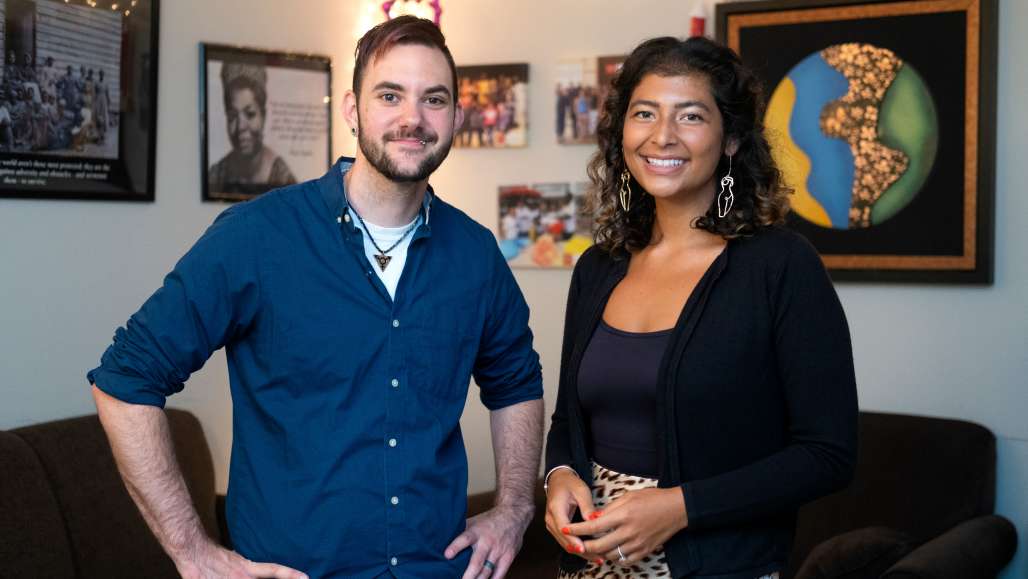 This fall, students of color, LGBTQ students, and other students served by Keene State's Office of Multicultural Student Support and Success will have the chance to be matched up with a mentor from the faculty or staff.
The mentorship program is one of many ways the office fulfills its mandate of helping students not just with day to day issues but with achieving their goals for college and beyond, notes Hunter Kirschner, program support assistant for LGBTQ students.
His office-mate, Kya Roumimper, explains it this way: "This is an opportunity for any of the students we serve to be paired with mentors who have agreed to spend the year-long process of getting to know the students, building relationships, and helping to guide them in a reciprocal way, so they're both learning from each other," says Kya, who is coordinator of multicultural student support & success & equity education.
Mentors commit to attending a training session and then getting together regularly with their mentee over the course of the year. They'll offer information and advice, help their student find resources and networks, and be both advocate and cheerleader for the student. The relationship may include discussion of the student's academic field and career plans, but will also be personal. Mentees and mentors may share similar interests, goals, identities, or personality styles that will make them a good fit.
Kya and Hunter will make the matches based on mentor and mentee responses to questionnaires but also their personal knowledge of the students, faculty, and staff members.
"We know the value of mentorship programs," says Kya. "We know that building social capital builds power. It helps retention rates. We know that when students are feeling confident in their space here and the networks that they have, they're telling other students that this is a place for them and that they feel welcome here. Data says that mentorship programs work. And we also know that it can't just be academic and it can't just be career focused. It's going to have to be a mix of everything, because when we're supporting the students we're supporting the whole student."
It's also a great opportunity for faculty and staff to connect with students in a new way, says Hunter.
Kya and Hunter's office is housed on the second floor of the Student Center in a comfortable space where students can drop by, relax, work on class assignments, and hang out. Twice a week, students gather there for Crafternoon, a crafts-making session. Other programs include Out and About, a monthly group for LGBTQ students, staff and faculty, and a circle for women students of color that meets every other week.
"We have an open-door policy," says Hunter. "Students can drop in if they have a question, if they just want to hang out and chat, plug in, anything."
Kya adds, "Students feel that they can relate to us, and we can often relate to students. It's nice to hear students say that we're approachable. We're willing to talk to them about the hard stuff and the fun stuff. We talk about immigration and society, and we also talk about music with students. We're not just here for when people are questioning things or when people are in distress or crisis. We really are here for students and we want to show up for them in all the ways they need us and all the ways they have capacity for."
To learn more about the mentoring program or other programs of the Office of Multicultural Student Support and Success, contact Kya at Kya.Roumimper@keene.edu or Hunter at Hunter.Kirschner@keene.edu.
Related Stories