Flag Raising Ceremony Celebrates International Cultures at Keene State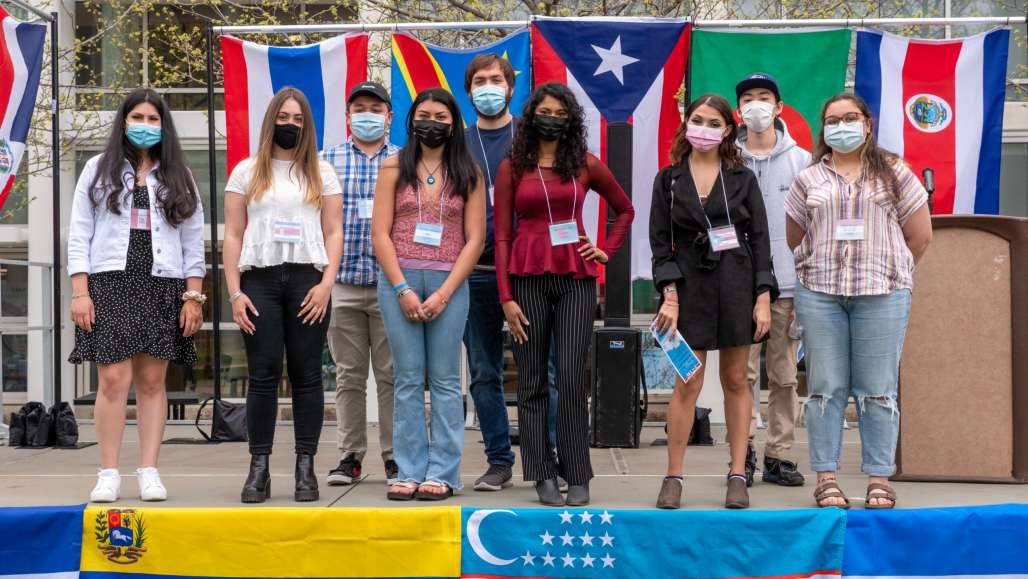 Each spring, students with international ties are celebrated and honored at the annual Flag Raising Ceremony. At this year's event, 14 students raised 13 flags, which are the most countries represented at any ceremony in the event's history. These nations included Bangladesh, the Democratic Republic of the Congo, Costa Rica, El Salvador, Japan, Mexico, Nicaragua, Peru, Puerto Rico, Syria, Thailand, Uzbekistan, and Venezuela.
All students who have an identity or connection with another country are invited to participate. Students could be here on an international visa, an exchange student, born in another country, have a parent born in another country, and/or self-identify as cross-cultural. This year's event was sponsored by the Global Education Office, Office of Multicultural Student Support and Success, the Student Center, and the Global Cultural Club. During the event, participants addressed the crowd and talked about their culture or their experience at Keene State. Students who couldn't present in person prepared a short video that played in the Lantern Room. Foods from different cultures were also served.
"Flags represent borders, but we also want to break down borders in many different ways," said Steven Spiegel, associate director of the Global Education Office. "The main goal is to welcome, accept, and honor those from different cultures."
"Ever since I moved from Mexico to New Hampshire in 2012, I've always felt secluded from my own culture, often having to adapt to my environment and neglect speaking my first language," said Oscar Munoz Franco. "Since coming to Keene State, I've met people from all around Latin America and have grown more comfortable with expressing myself and my own culture, especially after joining Global Culture Club."
"This event is important because it gives people a chance to learn about cultures apart from their own and it gives the speakers the chance to embrace their culture on a bigger platform," said Ellieanna Vicente. "My culture has taught me to be strong, hardworking, and above all to love. Amor con amor se paga, which translates to 'love is rewarded with love,' is a widely-used saying that shows how the Puerto Rican culture displays an abundance of love within everything."
"I come from Thailand, where the culture is fun, laid back, and food is the most important thing in our everyday life. For example, I would ask, 'Have you eaten anything yet?' as a greeting," shared Gap (Suthasinee) Bardis. "I feel that Thailand and the United States have many things in common, such as the variety of culture, foods, people, and education. Without the freedom to be here at Keene State, I would not step out of my comfort zone to follow my dream to become a registered dietician."
Paula Durant said, "Costa Rica is a peaceful country, as we do not have a military, and believe in something called Pura Vida, which translated from Spanish means 'pure life.' Pura Vida means that you are grateful for what you do have in life instead of dwelling on the negative. This term reflects our country and our people well. We are very happy people who appreciate our environment every day."
The Flag Raising Ceremony acknowledges that while Keene State may be small, there is an abundance of cross-cultural students who are a part of the college community. Keene State is dedicated to creating a diverse and welcoming environment for current and future students, especially those who have an identity or connection with a culture outside of the US.
Related Stories