Students Get Close-Up Look at Industry in Keene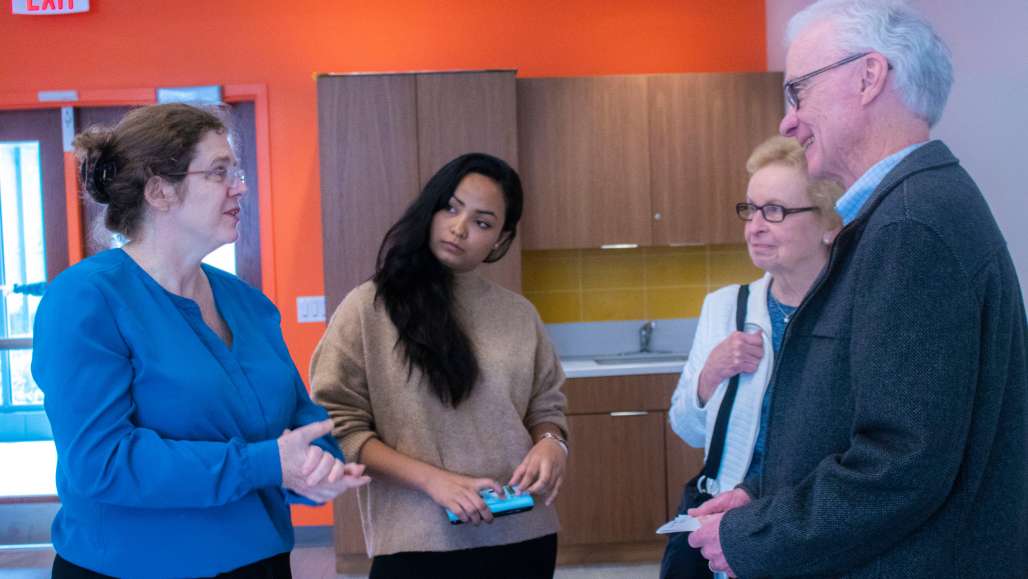 The city of Keene was the research lab for students in an economics class taught by Professor Marie Duggan this spring. Called De/Re-Industrialization: Keene in the Global Economy, the class looked at Keene's industrial base, much of which was sold off from private local ownership between 1990 and 2019. Add that to a national loss of one-third of industrial jobs in the first decade of the millennium, even as small high-tech machine tool firms in Keene expanded, and there's a lot to explore.
Prof. Duggan's students did so in a few ways: by learning the history and economic theory around issued faced by industrial plants; by touring local manufacturing companies; and by interviewing long-time managers of local companies.
To share what they've learned, the students put together blogs about their projects and their findings, which can be accessed through the course website.
Jesse LaBarre, who grew up in nearby Fitzwilliam and is the son of a machinist, wrote that he and his family have seen the effects of the decline of manufacturing in Keene. He interviewed Len Chaloux, a Keene State grad who in 1997 started Moore Nanotechnology Systems, a maker of ultra-precision machining systems for the optics, defense, aerospace, and other industries. Mr. Chaloux, coincidentally, was awarded an honorary Doctor of Science degree by the College at this year's commencement.
Jesse's blog includes a bio of Mr. Chaloux, as well as a timeline of the company. He also wrote about visits to two other local plants – ABTech in Fitzwillam and Corning, Inc.'s Keene facility.
Sophomore Chloe Labrie took on the question "How does corporate ownership affect the community through its philanthropic outreach?" It's a question that's important to her as a biology and secondary education double major: she spends a lot of time in the College's Putnam Science Center, which was made possible in part by the work of James Putnam, whose family owned Markem Company (now Markem-Imaje), and who was tabbed as capital campaign chair for the drive to raise money for the science center.
Chloe interviewed Joe Baute, who served as Markem CEO from 1979 to 1993. A clip from their conversation is posted on her blog. In her post "Stakeholder vs. Shareholder," Chloe considers the difference in community engagement after a company is sold, using Markem, which was sold to Illinois-based Dover Corporation in 2006.
"Because Markem was no longer a community company, community outreach was less important because the new owners had little to no connection with the town of Keene," she wrote. "When a company is owned by a distant corporation, ties between people are more impersonal and it is clear that employees miss the personal connection once seen in the company. Unfortunately, many companies in Keene have experienced this. What effect will distant corporate ownership have on the community of Keene? Only time will tell."
Another student in the course, Virginia Van Zandt, talked with Don Brehm, who invented a commercial air bearing in 1962 that spawned his company, Pneumo, and later companies. He told her about the post-World War II industrial boom that brought jobs galore to Keene and Cheshire County.
Virginia noted that the human-to-human aspects of industry are even more critical than high-tech innovation:
"This course on re/deindustrialization in Keene has taught me the value of innovation and technology, but most importantly how the quality of our working relationships determine our own personal metric of success," she wrote.
Related Stories