Learning a Language Opens Doors to World Travel for Spanish Major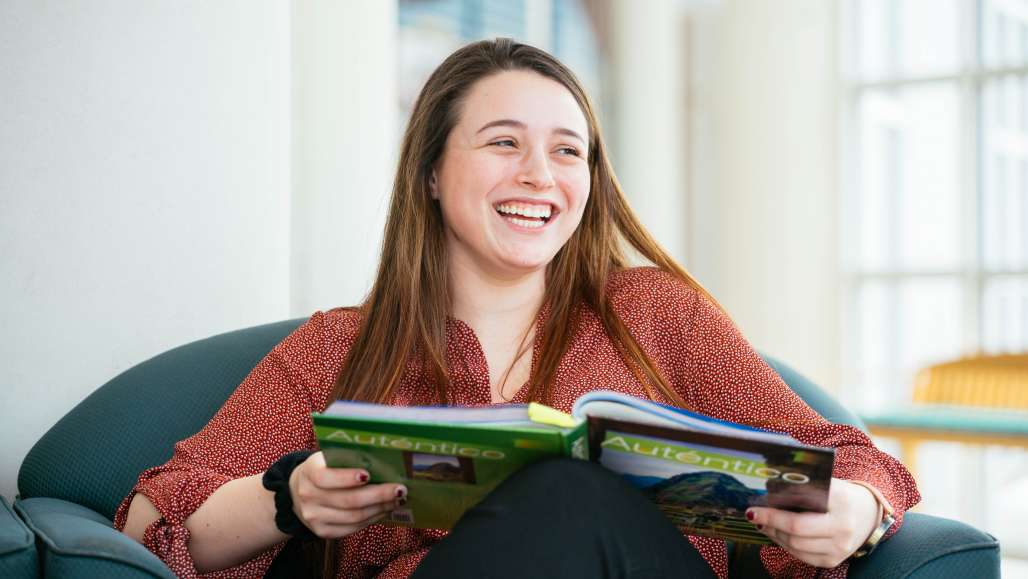 Keene State senior Savannah Bynum always knew she was going to major in secondary education and Spanish. When she learned that by attending Keene State she could graduate with a degree and her teacher's certification, she knew it was the place for her.
"I always wanted to become a teacher, I just didn't know what subject to teach," she said. "My freshman year of high school I took Spanish and fell in love with language and learning languages, and now here I am."
As a language major, Savannah was most excited to study away, which is a requirement for both Spanish and French majors. "I came to Keene State knowing I wanted to study abroad. I think it's an experience that everybody should have," she said.
Savannah spent the spring semester of her sophomore year in Ecuador because she had never been to South American and wanted to learn about a new culture. She discovered a love of dance. "The salsa, bachata, and merengue are my favorite! We would dance all week," she said. "I love the music, the food, everything – I love it all!"
By taking extra credits while studying in Ecuador, Savannah got ahead of the needed credits to graduate, which gave her the opportunity to take a leave of absence during the spring semester of her junior year. How did she spend that time? By teaching English as a foreign language to students in Costa Rica, Colombia, and Peru.
"I applied for and received my Teaching English as a Foreign Language certification and went through a program called International Volunteer Headquarters, which placed me at teaching jobs in each country," she said. "I spent six weeks at each location. It was amazing."
As a secondary education major, Savannah also needed to spend a semester student teaching, which she's been doing this past semester at Pinkerton Academy in Derry, NH. Her experience teaching abroad impressed the instructors; she's currently teaching Spanish I, Spanish III, and AP Spanish to high school students.
"I think it's really cool to be able to communicate with people in other languages. When kids see that they are able to do that and their face lights up, it's really priceless to see students realize that not only can they speak English, but they can now speak Spanish. It opens up a whole new world for them," said Savannah.
Savannah's best advice for Spanish majors? "Take as many opportunities as you can. Use language, because the more you speak, the better you'll get. Lose the fear of making mistakes because it's the only way you can learn," she said. "Also, when studying abroad, it's important to stay with a host family because then you make connections in that country. To really get the culture, you need to immerse yourself in it, especially if you are learning a language. You don't get the same experience and you don't get the same growth unless you are speaking with people who are native to that language."
After Savannah graduates from Keene State this spring, she's moving to Costa Rica to work as a field manager for Maximo Nivel, an organization that creates study abroad and educational travel experiences for students, volunteers, and travelers.
Related Stories