Faculty News: A Sampling of Recently Published Books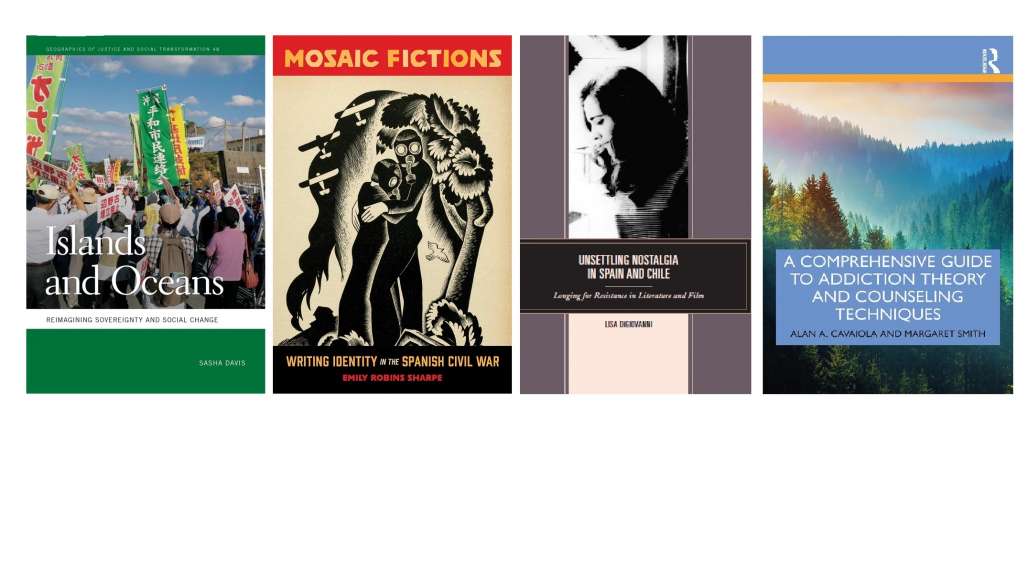 In addition to their work in and out of the classroom supporting students, Keene State professors pursue research and creative projects. Here's a sampling of books published by faculty members this academic year.
Lisa DiGiovanni, of the Modern Languages and Cultures Department and the Holocaust and Genocide Studies Department, is the author of Unsettling Nostalgia in Spain and Chile: Longing for Resistance in Literature and Film. The work was published in the fall by Lexington Books.
In her teaching, DiGiovanni aims to challenge students to question their assumptions and to gain depth of cultural and historical knowledge. In her research, she focuses on writings and films that reveal the multiple traumas brought on in periods of government repression and militaristic culture, with a focus on particular regimes in Spain and Chile.
Her new book looks at the way writers and filmmakers have framed stories about life under violent dictatorships in 20th-century Spain and Chile. She uses the term "unsettling nostalgia" to describe the complexities of memories and emotions around movements of political resistance and revolutionary struggle.
Emily Robins Sharpe, a professor of English who also teaches in the Holocaust and Genocide Studies and the Women's and Gender Studies departments, is the author of Mosaic Fictions: Writing Identity in the Spanish Civil War, just out from the University of Toronto Press.
The first book-length critical analysis of Canadian Spanish Civil War literature, Mosaic Fictions focuses on works by Jewish Canadian authors writing at a time of a developing North American multiculturalism. By placing them among Jewish, black, immigrant, female, and queer writers, the book establishes a new approach to understanding Spanish Civil War literature.
Robins Sharpe has taught the literature that she analyzes in Mosaic Fictions in her classes at Keene State.
Sasha Davis, who teaches courses in geography, environmental studies, and sustainability at Keene State, is the author of Islands and Oceans: Reimagining Sovereignty and Social Change. The book was released in April by the University of Georgia Press.
The term "sovereignty" is used by both people who want self-rule and by those who want to dominate over others. But what exactly does it mean? Davis takes a look at how sovereignty functions as well as its dangers, promises, and limitations as a political strategy. Islands and Oceans draws on research Davis conducted in Korea, Guam, Yap, Palau, the Northern Marianas, Hawai'i, and parts of Japan – all places with hybrid or contested arrangements of sovereignty. The book is part of the University of Georgia Press's Geographies of Justice and Social Transformation series.
On his website, Davis states: "I research and write about political change, social movements, environmental issues, and efforts to create more inclusive and sustainable communities. My research has long focused on Asia and the Pacific, but I am now working on applying the lessons from international movements to US political activism."
Due out in June from Margaret Smith of the Public Health Department is A Comprehensive Guide to Addiction Theory and Counseling Techniques, coauthored with Alan A. Cavaiola, a professor in the Department of Professional Counseling at Monmouth University.
Published by Routledge, the text is aimed at mental health professionals and undergraduate and graduate students. It provides an overview of counseling theories and ways to put the theories to use in substance use disorders and addiction counseling, along with related techniques and interventions.
The book reports on cutting-edge evidence-based research on neuroscience as well as psychological and sociocultural theories explaining the biological, psychological, and social influences of substance use disorders. It discusses using risk factors in assessing someone with a potential substance use disorder. And it offers help in applying theory to practice via intervention techniques and case studies. Learning opportunities and key terms are highlighted to help students practice theories, interventions, and techniques.
Related Stories