Senior Molly Maxham: In Pursuit of Anthropology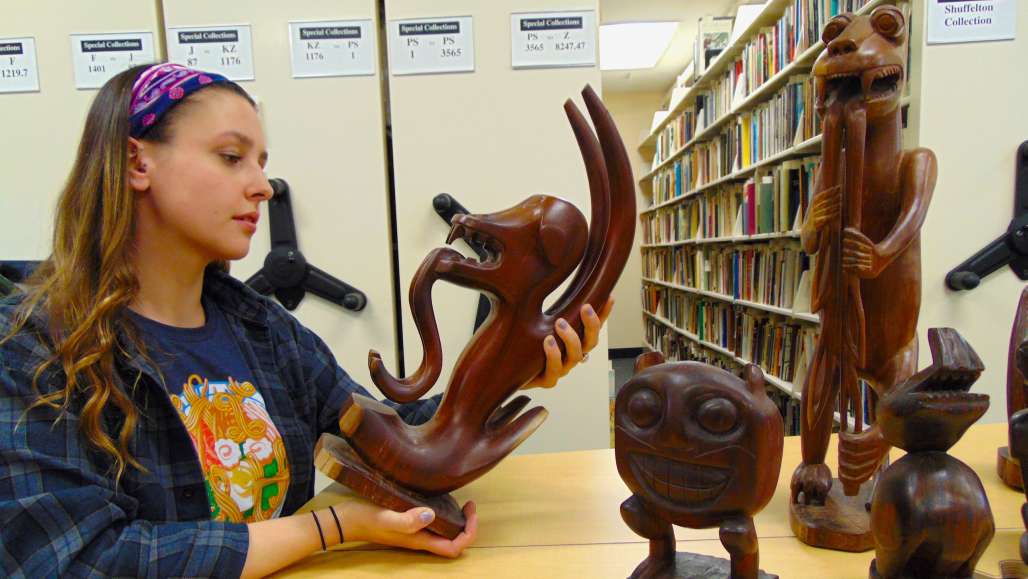 Molly Maxham's advice for young people? Travel.
"Put yourself out of your comfort zone," says the anthropology major from Fairfield, Connecticut. "If you keep pushing yourself, you realize that you're more capable than you initially thought. That's the beauty of losing yourself: you're really finding yourself."
Molly knows this first hand. An uninspired student in high school, she took a gap year before college and participated in a yearlong program, Thinking Beyond Borders, that brought her to seven countries over the course of eight months. "I went to Ecuador, Peru, Thailand, Cambodia, South Africa, and India," she says.
At each place, she stayed with an indigenous family, took part in the work they did, and studied sustainability, biology, and development as it pertained to that region. "In Thailand we harvested rice, and in South Africa we worked in the townships with HIV and AIDS patients, and in India we taught English," she says. "Each country was really different, and we really got to immerse ourselves."
She learned as much about herself as about the countries she visited. "There's so much that lies beyond myself and what I think exists, and it was a relief to realize that there's something way bigger than me, and that I need to accept that and really get into that," she says.
She applied to Keene State from Thailand. She liked the location of the college – far enough from home to give her some independence, but still within a three-hour drive, not to mention close to skiing and outdoor recreation – and appreciated the accommodations Keene State would make for her ADHD.
A visit to campus convinced Molly that Keene State was the right choice. But what would she study? She thought about the experiences she most connected to on her gap year, and remembered the anthropologist she met in Ecuador. "He said, 'It's up to me to encapsulate and capture and document and record everything that's happening in this culture and that has happened" – before the modern world encroaches and it's too late.
"I thought, Wow, that's really powerful," Molly says. So she enrolled in an anthropology class with Professor Rosemary Gianno, and realized that anthropology is exactly what she wants to do with her life.
She's got a good start already. Now a senior, she was chosen to be the Orang Asli Student Fellow for her final semester at the College. Through the fellowship, she earns a stipend to work with the College's Orang Asli Archive, a special collection of documents, film, tapes, and recordings relevant to the Orang Asli, the indigenous people of Peninsular Malaysia.
Specifically, she's studying the dugout canoes of the Orang Asli, and will be presenting her work at the College's April 13 Academic Excellence Conference.
Molly's goal is to live in South America and do field work (she's also studying Spanish at Keene State), and she eventually hopes to go on to graduate school.
"I really want to be able to explore different cultures and understand 'Who are we?' and 'Who are they?,'" she says. "Asking those questions is really important."
Related Stories