Dancing to the Beat of a Different Drummer: Olivia Miller in Ghana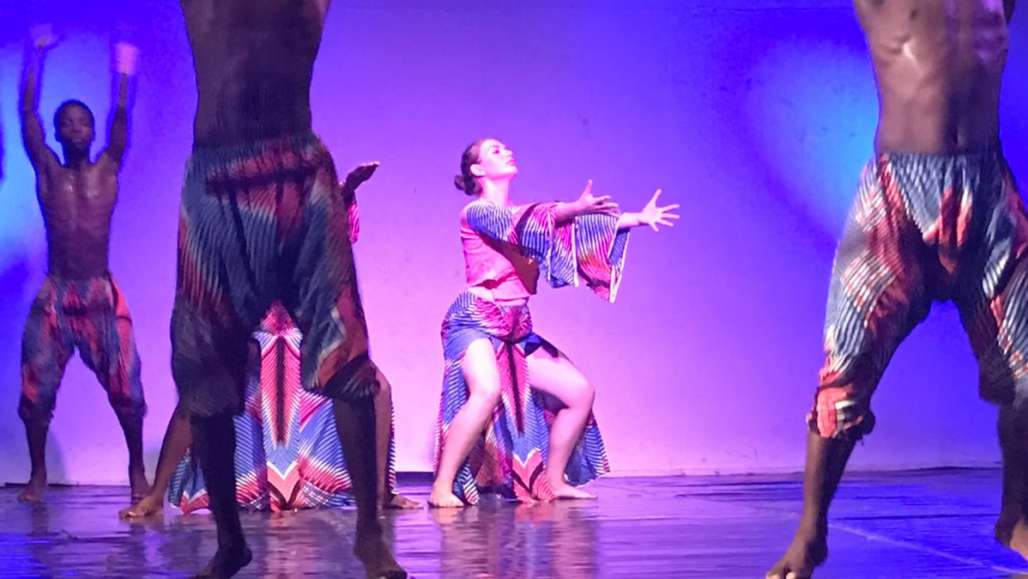 Current senior Olivia Miller, who's minoring in dance and majoring in anthropology and sociology, recently returned from a semester in Ghana, where she immersed herself in traditional Ghanaian dance. At the request of recently retired KSC Artist in Residence Marcia Murdock, Miller wrote a paper on her experience as a substitute for a Dance History class. The assignment directed her to focus on what she'd learned about the specific dances she studied and "where they originated and the reasons behind the movements." She was also to address what she'd learned through the dancing and drumming that she would not understand by only watching or using traditional research methods.
It wasn't easy for even an experienced Western dancer to learn the techniques required in Ghanaian dance, but it opened a new world of cultural understanding for Miller, who's from Holderness, NH. "Dance does not stop at technique, posture, and rhythm," she noted. "It is embodied knowledge. Movement can allow us to understand and appreciate the way that other people live their lives. Having the opportunity to learn just a few of the traditional dances of Ghana, I better appreciate Ghanaian lifestyle and culture."
One of the most challenging aspects of the experience was understanding how to move to a drum beat. "The dance is done in response to the drums, which to an international student was a huge learning curve," she explained. "I have never had to rely so much on my concentration to be able to perform a dance correctly."
"Focus duriing the Damba-Takai, a celebratory dance from the Northern region of Ghana, is extremely important because the drums have a language of their own. As the drummers gain intensity, the movements become faster. It is important to make eye contact with your partners when performing this dance as it is meant to be a happy celebration and to encourage people to come together.
"I struggled the first few weeks of class because I was so unfamiliar to the reliance I had on the drummers. While my muscle memory was working to remember the actual movements, my brain was focused on listening to the drums so that I knew what movement was next. The style of movement was also unfamiliar to me, and I felt pressured to give my dancing some 'Ghanaian flare,' a flare that I could not replicate. I remember the moment when this dance clicked for me. I was put into a group made up of international and Ghanaian students. Performing in this small group really made a difference because I was making eye contact and smiling with my fellow group members. I discovered then that I knew the sounds of the drum well enough to not have to solely focus on the drummers, and I could actually enjoy the dance. And that's when I understood the 'Ghanaian flare.'"
The experience certainly expanded Miller's cultural understanding – not only as she learned a new way of dance, but for how her practice opened doors into the culture in ways that more casual visitors could ever understand. "It was nothing that could have been taught to me from a textbook," she said. "I had to feel these things to get a glimpse into village lifestyle. I was able to learn so much about the Ghanaian culture through dance and movement. Participating in various dance shows and celebrations I was able to create life-long friendships and everlasting memories. Because I was able to dance with my Ghanaian peers I now better understand their culture and why they rely so much on each other. I felt an overwhelming sense of community during my four months in Ghana."
Miller has applied to a Fulbright Student scholarship so she can return to Ghana after she graduates from KSC and do research on the communicative properties of traditional dances.
Want to know more about her experience? Here's a video Miller created from her study:
Related Stories