Scientist Alum Offers Helping Hand to Other Female Biology Grads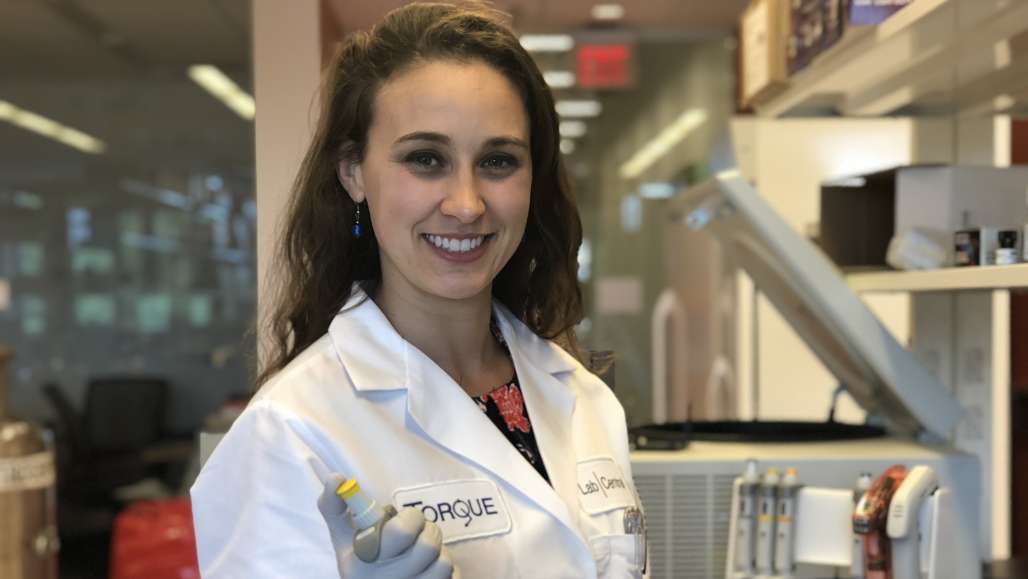 Christine McInnis '10 has a couple of related passions: science and supporting other women in science. In recent months, she's made connections for two young alumna that landed them jobs, and gave a third advice on her job search.
McInnis had worked with strong female scientist mentors in the Biology Department at Keene State, in her first post-college job at a UMass-Boston laboratory, and at Brandeis University, where she earned a PhD in neuroscience. When she learned that wasn't the norm, she wanted to find ways to help promote women in science.
"I am heavily involved in advocating for women scientists," says McInnis, who works at Torque Therapeutics, a Cambridge, Massachusetts, biotech firm, doing research on immunotherapy to treat cancer. To connect postdoctoral academic researchers with post-docs who have moved into jobs in private industry, she's established programs at both at Brandeis and Brigham and Women's Hospital, where she was a postdoctoral fellow. She also directs Membership and Volunteer Engagement with the Healthcare Businesswomen's Association's Boston chapter.
Last winter, at the suggestion of Keene State Biology Professor Loren Launen, McInnis arranged for Rachel Klaski '17 to interview for a bachelor's-level position at Torque. McInnis had connected with Rachel when she spoke to Launen's senior seminar class about academic and industry paths for graduates in the sciences.
Klaski was hired at Torque, and is now an associate scientist on McInnis' team working in immunotherapy. "She is great," McInnis says of her fellow alumna. "She's got just the perfect attitude. She is very focused and professional, and her work very much matters to her."
When she heard that another recent Keene State grad, Casey Kimball '17, was finishing up an internship and looking for full-time work at either Intellia Therapeutics or Platelet Biogenesis, McInnis used her network to connect her to people at both of those companies. Kimball now works as a research associate on the analytical development team at Intellia, a Cambridge biotherapeutics company.
"Christine was incredible," Kimball says. "She has connections all over in the Boston biotech area. I owe her a great deal for all of her help and I only hope that I can do the same for future KSC grads as I grow in this industry."
McInnis helped out 2018 grad Haley Zanga, who was debating whether to look for work in an academic lab or in private industry. Because Haley's ultimate goal is to apply to medical school, McInnis recommended that she seek an academic job because that would be looked upon favorably by med school admissions offices. Zanga is now working in a lab run by Harvard and Mass General Hospital. Read more about Haley here.
"Scientists are historically not accustomed to networking," says McInnis, who is doing her part to change that. "You get these jobs in pharmaceutical and biotech industries by pairing your skills and education with networking. Having someone vetted as a quality person helps potential employers really consider the applicant as a total package, and helps their resume make it to the top."
Related Stories