'18 Keene State Biology Grad Heading To Harvard and Mass General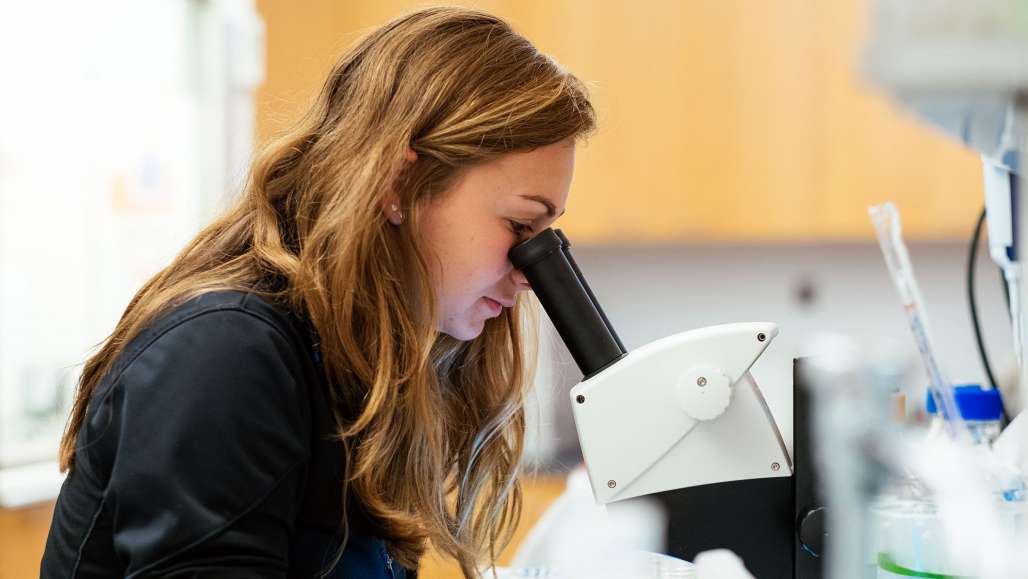 After studying regenerative properties in planarian worms with Biology professor Dr. Jason Pellettieri, Keene State biology graduate, Haley Zanga '18, is moving on to work in a lab run by Harvard and Mass General Hospital. The new alumna will join Dr. Amar Sahay at the Center for Regenerative Medicine, where Haley will conduct experiments to identify ways to treat mental illnesses and age-related diseases.
"Many of the things we did with Dr. Pellettieri were based around developmental and regenerative cell biology," she said. "For the Mass General study, we're working with a mouse animal model rather than planarians, and this work is more neuroscience based. We'll be working on mental illnesses and age-related diseases like Alzheimer's, PTSD, and dementia. We need to have a better understanding of how the neuronal circuits work and that is exactly our focus."
Haley always planned to work in the Cambridge area after graduating, and Dr. Pellettieri was aware of her desire to work in academia rather than industry. As a result, Dr. Pellettieri connected Haley with academic colleagues in the area.
"Dr. Pellettieri reached out to a couple of labs that we collaborate with at MIT and Harvard, but they weren't looking for a research tech. He then reached out to a friend he knows from Johns Hopkins University, who has a lab where I could work as a research technologist."
The friend, Dr. Amar Sahay, currently serves as associate professor of the Department of Psychiatry and Center for Regenerative Medicine at Mass General, and principal faculty at the Harvard Stem Cell Institute. There, he and his team, including Haley, will conduct in-depth research. Her time at Keene State has qualified and prepared Haley to participate in this advanced level of scientific inquiry.
"My research with Dr. Pellettieri prepared me to go on to do this. If I didn't have my research experience, I wouldn't feel prepared at all. I've learned time management skills, critical thinking, organizational skills, as well as the bench skills that I'll transfer over into this new job. They set me up for success," she said.
Related Stories