The Business of Fun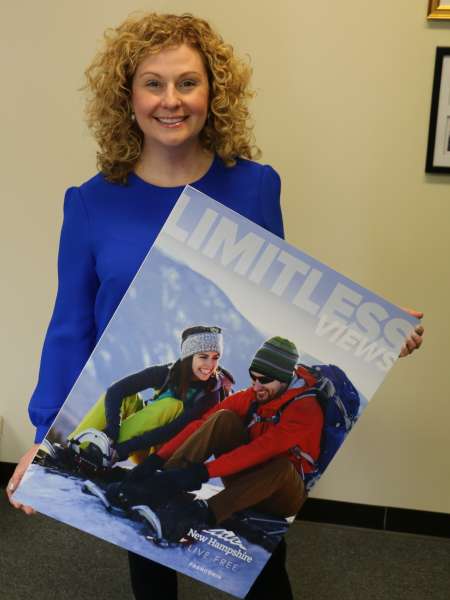 "While it's a fun topic, it's very serious business for the State of New Hampshire," says Victoria Cimino '00 of travel and tourism, an industry she's in the business of promoting.
As director of the New Hampshire Division of Travel and Tourism Development, Cimino, with her staff, is responsible for marketing the state to potential visitors from around the country, Canada, and overseas locations. Her division also oversees New Hampshire's 12 safety rest areas, including the Hookset welcome centers.
Appointed to her position in 2014 by then-Governor Maggie Hassan, Cimino sharpened the focus of the advertising produced by New Hampshire Travel and Tourism. Out went static images of covered bridges and maple trees in muted colors; in came brightly clad skiers barreling down the slopes and white-water rafters plunging their paddles into a churning river.
The current campaign represents an intentional shift away from the "sleepy, passive stuff," says Cimino, who notes that the while the earlier images are lovely and iconic, they don't exactly project energy. "Would those images make you want to come to New Hampshire?" she asks.
The state agency takes a multi-pronged approach to tourism promotion, capitalizing on the variety of leisure activities available in what's a relatively small geographic area – from the beaches of Rye to the mountains of the North Country to the museums and nightlife of Manchester. "We have a robust program designed to communicate that we have diversity within proximity," says Cimino.
Through television commercials, digital display ads, social media ads, transit advertising, billboards, and more, NH Travel and Tourism reaches out to potential visitors in the target markets of Boston, New York, Toronto, and Montreal. Judging from the increases in revenue from the Rooms and Meals Tax – 5 to 7 percent each year over the last couple of years – the strategy is working. That tax is the second largest revenue generator for the state, which is why tourism is often called the state's second largest industry.
In fact, travel spending supports 37,000 jobs in New Hampshire. In 2016, it totaled $5.35 billion from 10.6 million visitors to the state. Cimino and her team, via their award-winning marketing efforts, are responsible for bringing in $831 million in annual visitor spending. That's tax money for the state, she notes, but it's also revenue for the lodging, restaurant, retail, and outdoor recreation sectors.
A management major and French minor at Keene State, Cimino held a public relations position with the Greater Manchester Chamber of Commerce before landing her first job in the tourism sector – as communications manager at the agency she now directs. That led to work as director of international marketing for the Massachusetts Office of Travel and Tourism. She'd also held PR and marketing jobs when the opportunity to lead the New Hampshire Division of Travel and Tourism Development arose.
Luckily for Cimino, the business of fun is fun in and of itself. "I'm very lucky to be in a position where I'm responsible for the promotion of a destination as amazing as New Hampshire," she says. "I consider myself very fortunate."
Related Stories