Momentum: The Big 'Thank You'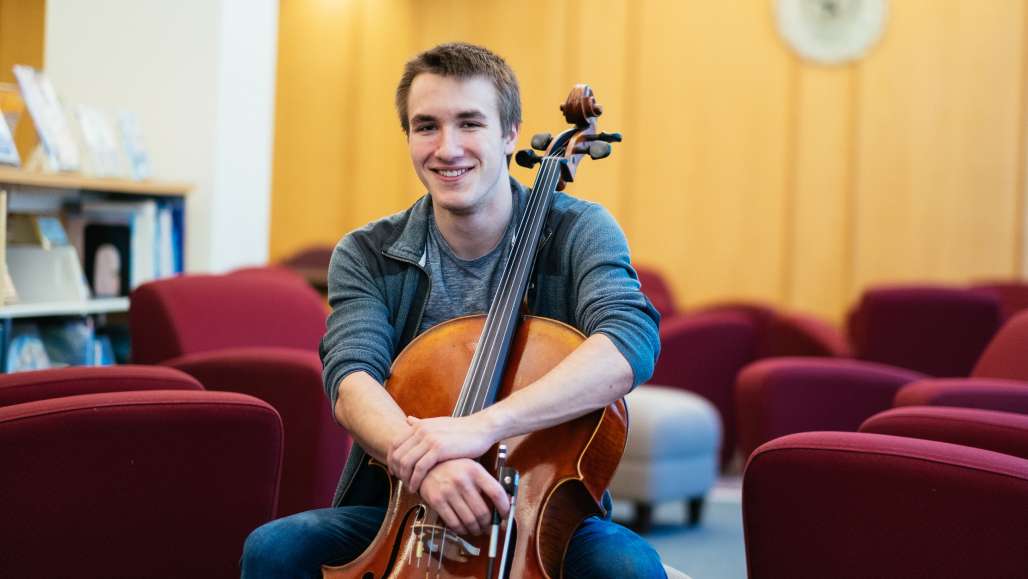 Keene State College students who benefit from scholarship aid had a chance to say "Thank you!" on Friday, October 13, at a reception for donors who give to funds that benefit student success.
The event, called Momentum, is held annually to recognize contributors to the College and provide them an opportunity to meet and hear from some of the young people they have helped through their generosity.
Among those young people at the 2017 Momentum celebration were Jessica Vandevord '18, a chemistry major, and Geoff Edwards '19, a music major, who both spoke at the gathering in the Mabel Brown Room.
Vandevord, a recipient of the Dean's Scholarship, the Markem-Imaje Manufacturing Scholarship, and the Summer Undergraduate Research Fellowship, told those gathered that "These scholarships have directly and positively impacted my academic success and played a crucial role in my personal development over my time here at Keene State College."
Through the Summer Undergraduate Research Fellowship, or SURF grant, as it is known on campus, Vandevord spent the past summer working in Professor Brian Anderson's chemistry lab on research that focuses on the synthesis of a molecule that has anticancer, antibacterial, and catalytic activity. Her experience has prepared her to apply to PhD chemistry programs for next year. "I am so thankful for the opportunities I have had, which may not have been possible without the scholarships I have received," she said.
Edwards, who performed on his cello with a string ensemble during the Momentum celebration, also received a SURF grant. He spoke about his summer project, analyzing three piano pieces and applying that analysis to a piece that he wrote. The fellowship, he said, has benefited him personally and in his educational plans. His goal is to work toward a doctorate in music theory.
Learn more about giving to support Keene State College students.
Related Stories