GO STEM! Encourages Middle School Girls to Explore Technical Fields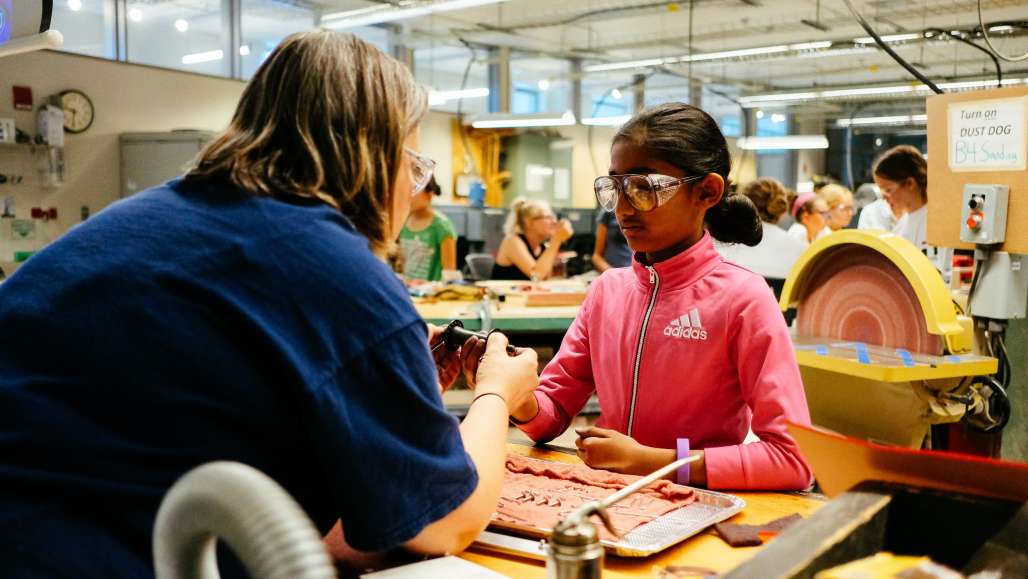 Everybody knows that men dominate the science and technology fields, right? Well, the remarkable success of GO STEM!, held for the second summer as part of Keene State's Kids on Campus program, is going far to change that perception. Designed to encourage middle school girls to explore the STEM (science, technology, engineering, and math) disciplines and develop the confidence they need to pursue whatever career path they choose, GO STEM! once again made a real impact on 23 local girls' lives.
Whereas last year the focus was on solar technology, this year's theme was wind, according to Susan Silk '75, M'00, a KSC alum and retired Keene High career counselor who managed the program. The girls designed and constructed wind vanes from bicycle parts donated by the Bellows Falls Community Bike Project, a non-profit that recycles bikes and teaches bike repair skills.
The girls used a CAD (computer aided design) program to create their own designs and laser cut those designs into acrylic. Keene State Professor Lisa Hix, the SPDI department chair, and Phyllis Marinoff, instructional assistant at the Gilsum STEAM Academy, developed the project and set up the equipment for the week's activities. They had the girls learning about the applications of "simple machines" by taking apart wheel bearings and bending and cutting metal. The teachers mentored the girls as they fabricated their creations in the TDS Center's Metals and Prototyping Lab by drilling, tapping, bending, and milling their upcycled bike parts to assemble their wind vanes. They also learned good work-safety practices as they operated the machines and equipment.
During the week, professional women from different technical fields were invited to speak to the participants to help them understand the many career opportunities and demonstrate that the girls could indeed be successful in engineering and the sciences.
"Go STEM is important because the teachers here are showing us that girls can make valuable contributions to the STEM fields and that we're just as smart and work just as hard as any man," explained Soleil Laganiere, a seventh grader from Winchester Middle School.
And the parents whose daughters attended were equally enthusiastic. "The knowledge gained in one week will last Avery a lifetime," said Chris Verville, Avery's mom. "Her enthusiasm has grown exponentially since STEM last year. She thought the design process was so much fun. She really enjoyed cutting the spokes on the wheel."
And not only did the girls learn as individuals, they also benefitted from the teamwork. "They learned about collaborating with others and establishing relationships with other young women who are also interested in STEM fields," said Julia Imbarrato, 2016 teacher of the year at Keene High School and former adjunct biology faculty at Keene State.
"Increase the age allowed so our daughter can be part of this again next year," recommended Jason and Karen Whittemore, whose daughter Alice is now in eighth grade at St. Joseph Regional School in Keene. "Make it a two-week course."
Related Stories